If you are a photography lover, you will always be looking for new ways to present your photos. Changing background, adding effects to the sky, altering the background weather, applying more vibrant filters, etc., are a few things that can just enhance any image. However, you will need a sky changer app or background change app to revamp photos and make them more attractive. In this article, we are going to share online and mobile sky changer apps so you can edit the perfect photos without installing heavy professional tools on your Desktop or laptop. So let's get into it.
Part 1: Best Sky Changer Apps Online
Let's start with the online sky changes that can be used to replace any image's current sky with a new effect or a different background altogether.
1.1 TopMediai BG Eraser Online
TopMediai BG Eraser Online is the easiest and fastest online sky changer that is developed based on AI technology and machine learning. The user-friendly online platform automatically deletes the existing sky and replaces it with amazing presets. Besides, the tool can also upload a custom sky background to your images.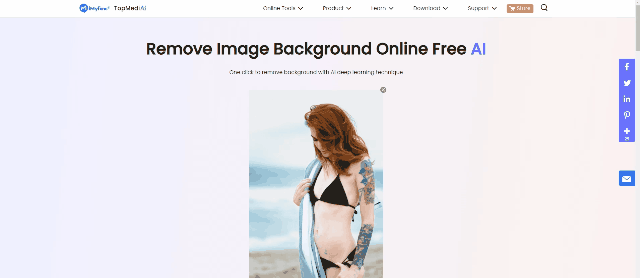 Here is how to use TopMediai BG Eraser Online as a sky changer:
Step 1: Upload Image
Visit the official page of the online sky changer and tap on Upload Image to import the photo you want to edit.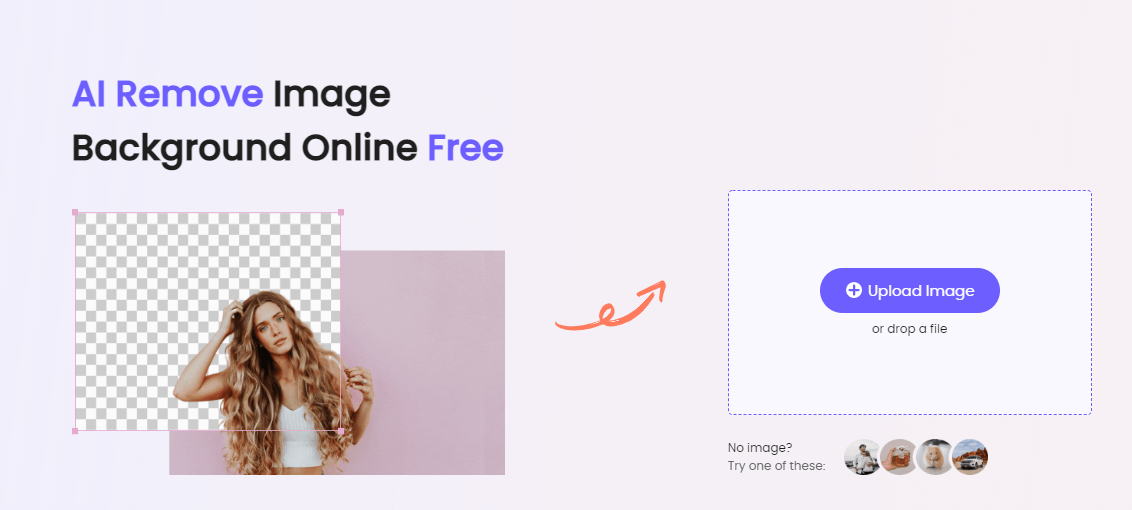 Step 2: Remove Background
Tap on Remove Background after photo upload, and the AI technology will process it to give you a transparent background.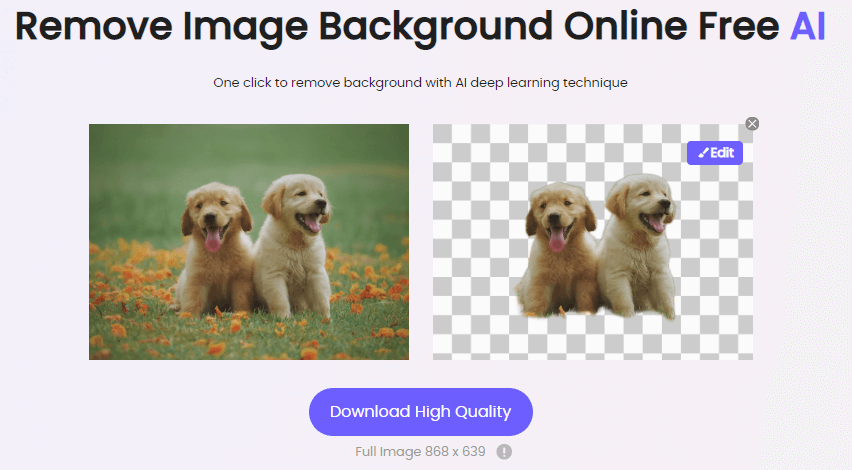 Step 3: Add New Background
Choose a plain background, upload an image or select the template.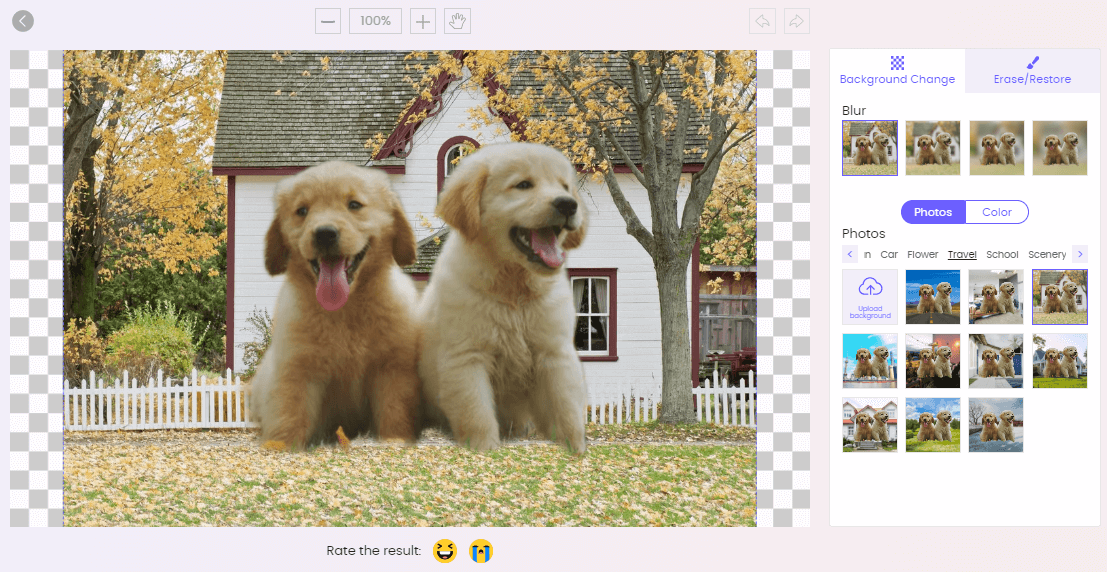 Now tap on Edit to add a new sky or background to your photos. You can choose from already given presets or choose a custom sky image saved on your phone.
Step 4: Download Edited Photo
Once you're satisfied with the background replacement, hit the Download button and save the edited photos to your device.
Highlights of the online sky changer
AI-technology.
Free and online platform.
Automatic and manual background change.
Background change and other editing options.
One-click background removal.
Custom sky changer.
1.3 Remove.bg
Remove.bg is also an online sky changer platform that can be accessed from your phone's web browser without installing any app. The single-click background change platform also uses artificial intelligence to detect and delete the background. After getting rid of the current background, you can add the new one to your photos. Remove.bg is free, user-friendly, and accurate!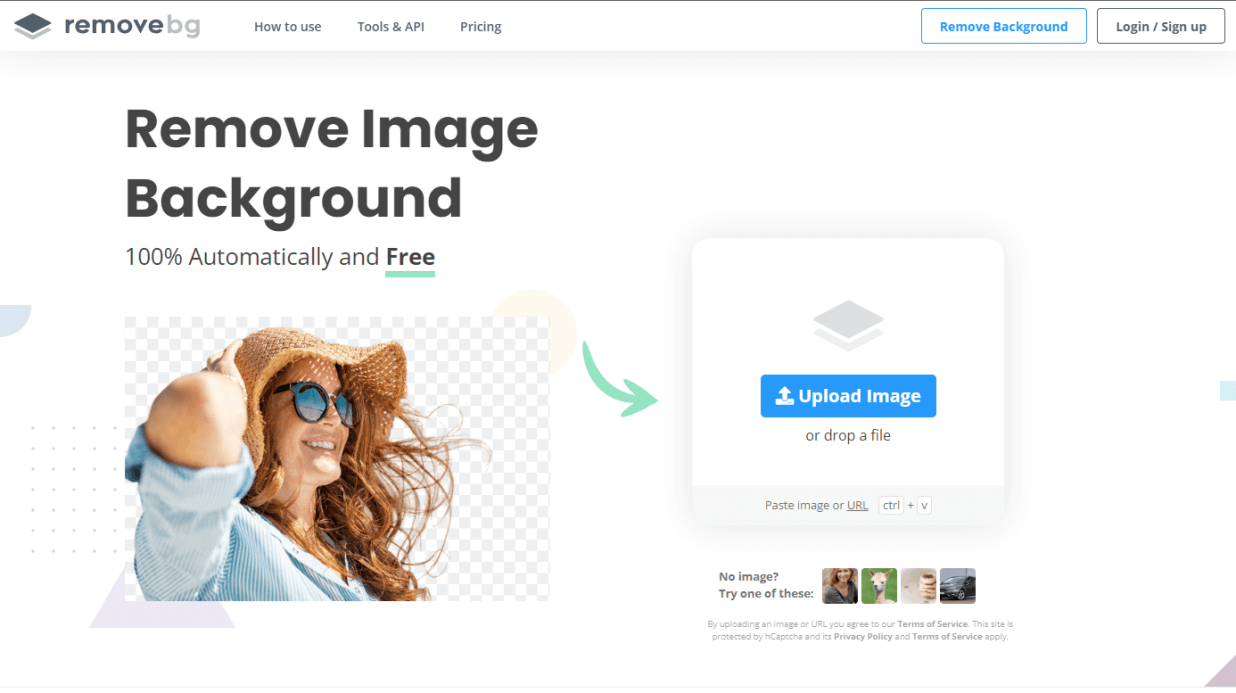 The main highlights of the sky changer platform are:
Key Features
Online platform with 100% accuracy.
Artificial intelligence working behind editing.
Automatic and manual background change.
Batch uploading and editing are available.
Integrates with your work software like Photoshop, Figma, WooCommerce, etc.
One-click sky changer.
Here is how to use the remove.bg sky changer platform and level up your regular photos:
Step 1: Upload the Image
Visit the online background removal tool and upload the image by clicking on the button or drag-and-drop feature.
Step 2: Automatic Removal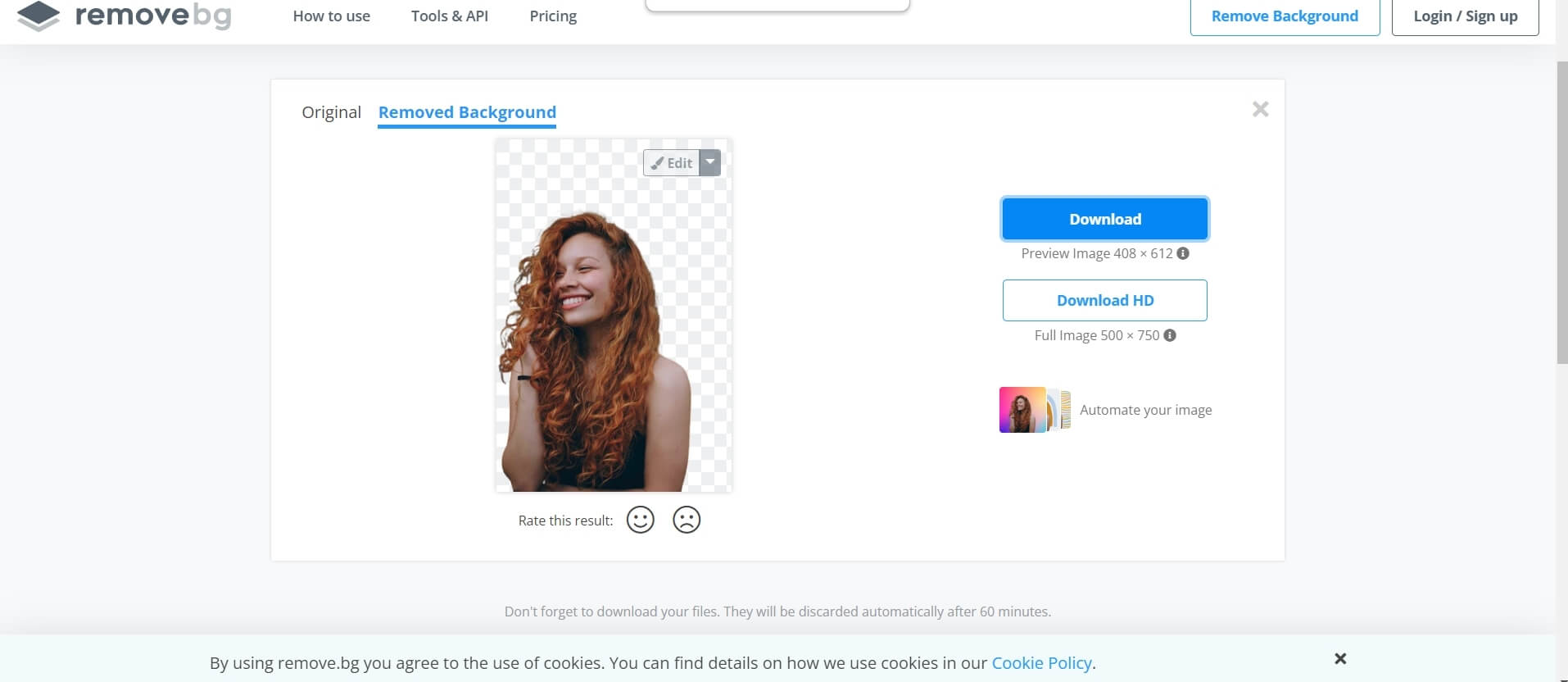 As soon as the file upload completes, the automatic tool detects and removes the image's background.
Step 3: Add New Background
Tap on Edit and start editing the background of the image. You can add a night sky, a cloudy one, a funky one, or anything you like in the photo's background. You can also upload a custom photo as a new background.
Step 4: Save The File
Download the image by clicking on the download button.
Part 2: Sky Changer Apps For Android & iOS
And If you want a sky changer installed on your smartphone, here are some solutions for you to try on your Android or iOS smartphone.
2.1 Leaplight by Lightricks
If you want a basic sky changer to add effects to your photos, change the current background with another one, or add clouds, sunsets, northern lights, etc., Leaplight by Lightricks is a good pick. You can not only change how the sky looks in your photos but also capitalize on editing tools like light adjustment, adjusting contrast, temperature, saturation, etc., and revamp your selfies or potrait photos completely.
Supported OS: Android and iOS
Editor's Review: Beware that you won't be able to add your own custom images to replace the current background. The app is free and recommended when you are looking to play with lighter skies, as darker skies are not well-handled with the tool.
2.2 YouCam
YouCam Perfect is a selfie camera paired up with some really cool photo editing features that you must consider. The app can work as your sky changer tool, background replacement tool, or anything you want to beautify or transition your photos. You can select from the templates or add your own sky to the photos. The app has a dedicated sky changer icon to facilitate smartphone users.
Supported OS: Android and iOS
Editor's Review: The app is free to install and use. You can add effects or change settings while you are doing photography with the selfie camera. However, you can also edit your captured images for retouching, adding new skies, adding effects to skies, or changing the background altogether.
2.3 Picnic
Picnic- Weather Genie Photo is also a smartphone application that you can capitalize on as a photo sky changer app. The quick and accurate app lets you mask the sky and change it according to your requirements with a single click. Whether you want to match your foreground with the background or want the sky color to enhance your photo, you can go for the Picnic app. You can make sky replacement but cannot upload your own photos as new background
Supported OS: Android and iOS
Editor's Review: It is a free and fast app for sky replacement but has not as many features and adjustments as the Lightleap app. You can just add effects to your photos but not go for a complete replacement like the online tools we shared.
2.4 PhotoDirector
PhotoDirector is our next pick for sky-changer apps on smartphones. The AI-based application works on your smartphones and is pretty accurate when it comes to eliminating unwanted objects, changing backgrounds, adding effects, or making advanced edits to your regular photos.
You can even make your images more professional and bolder with the bokeh of the app. For sky editing, you can add decorations to the existing sky to make it look attractive or add a completely different sky with custom images.
Supported OS: Android and iOS
Editor's Review: The app is free to use and great if you are looking for a quick go-to editing app on your Android phone. If we review the sky-changing feature, the blender option can actually do wonders to enhance your basic selfies with preset skies like sunsets, clouds, starry skies, etc.
2.5 Adobe Photoshop Mix
Adobe Photoshop is a professional tool that advanced photo editors and photographers use to edit photos. Adobe has also developed solutions to facilitate mobile users, Android or iOS. Adobe Photoshop Mix is a solution that Android and iOS users can use to edit their photos and use as a sky changer or background replacer. You can play with image exposure, saturation, clarity, contrast, etc., to alter the sky or bring in a completely new background by removing the existing one.
Supported OS: Android and iOS
Editor's Review: Adobe Photoshop Mix can be trusted as a sky-changer app for both Android and iPhone users. However, if you want to replace the existing background completely, you will have to sign up with a premium subscription to use Adobe's background remover.
2.6 SkyLab
SkyLab is indeed a great choice as a sky changer app on your Android or iOS smartphone. The advanced blending and background replacement let you add effects to the current background of the photos. Several templates with additional elements in the app are just what you need to revamp your photos. The best thing about the sky changer app is the selection of presets for skies. From a stormy sky to gorgeous sunsets, fascinating clouds, northern lights, etc., all are available for you to add to your photos.
Supported OS: Android and iOS
Editor's Review: SkyLab is a great option for those who want to keep the current background of their photos but level up by adding effects, applying filters, using presets, etc. Besides, you can also capitalize on the custom tools of SkyLab to enhance your photos.
Part 3: Conclusion
Conclusion
We have shared the best apps and online solutions that can be used as sky changers for mobile users. You can install the apps from Google Playstore or App Store and level up your selfies or portrait photos. However, the benefits of
online background changes
are that you can edit your photos from mobile as well as your PC. All you need is a web browser and a stable internet connection to make the edits.
If we have to pick the best sky changer, TopMediai BG Eraser Online is a perfect one for users of all devices. Besides, the AI technology eliminates the need toremove the background manually. Remove the background with a single click and add the background of your choice within a few clicks using TopMediai.