Video quality matters. Whether you're a content creator, filmmaker, or just a casual videographer, you want your videos to look their best.

Fortunately, advancements in technology have made it possible to enhance video quality using AI online, and what's even better, many of these tools are free to use. In this guide, l will explore the top 5 online options, and explain why choosing an ai online video quality enhancer is a smart move.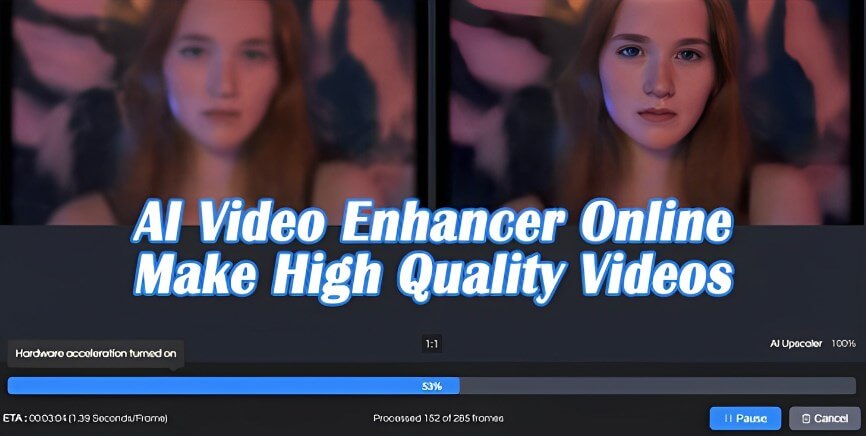 Part 1: Why and What is AI Video Enhancer Online?
Video content has exploded in popularity, with platforms like YouTube, TikTok, and Instagram dominating the digital landscape. However, not all videos are created equal. Poor lighting, shaky footage, and low resolution can make your videos less engaging and professional. This is where AI video enhancers come into play.
AI video enhancers online are online tools that use artificial intelligence algorithms to improve the quality of videos. They can enhance various aspects of a video, including resolution, sharpness, color balance, and more. These AI algorithms analyze the existing video and apply enhancements to make it look better while reducing noise and artifacts.
Part 2: Best 5 AI Video Enhancers Online Meet Your Needs
TopMediai is an all-in-one AI audio and video resolution studio. With its powerful AI algorithms, it can enhance video quality, improve audio clarity, and even upscale low-resolution videos. The intuitive interface makes it easy to use, and it's suitable for both beginners and professionals.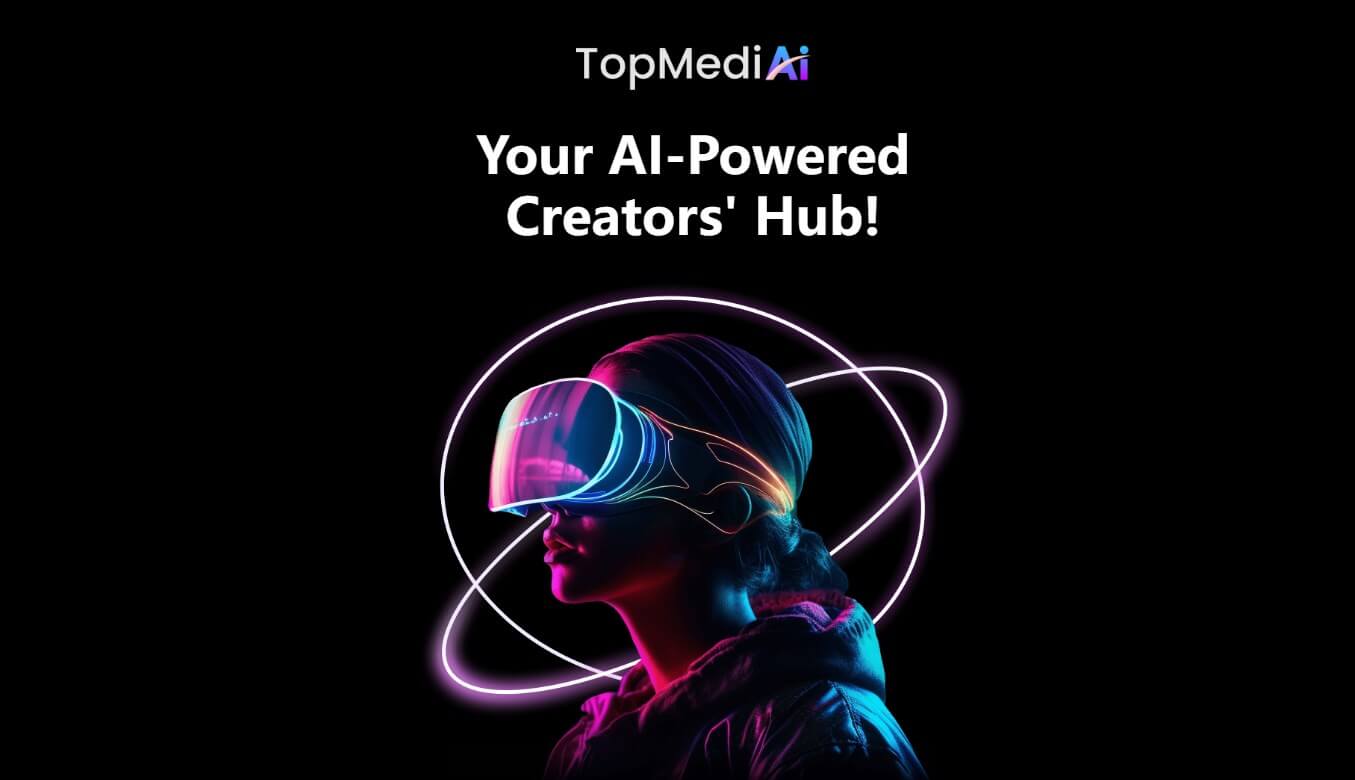 AI-powered enhancement for more accurate improvements.
Support for various video formats.
Support and Updates: Offers customer support and regular updates to improve performance and features.
Fast processing times.
No watermarks on enhanced videos.
Access to customer support and documentation.
Integration with online storage services.
Cutout.pro is a versatile AI video enhancer that specializes in background removal and video enhancement. It can remove unwanted backgrounds, add effects, and enhance video quality with just a few clicks. It's perfect for creating captivating video content.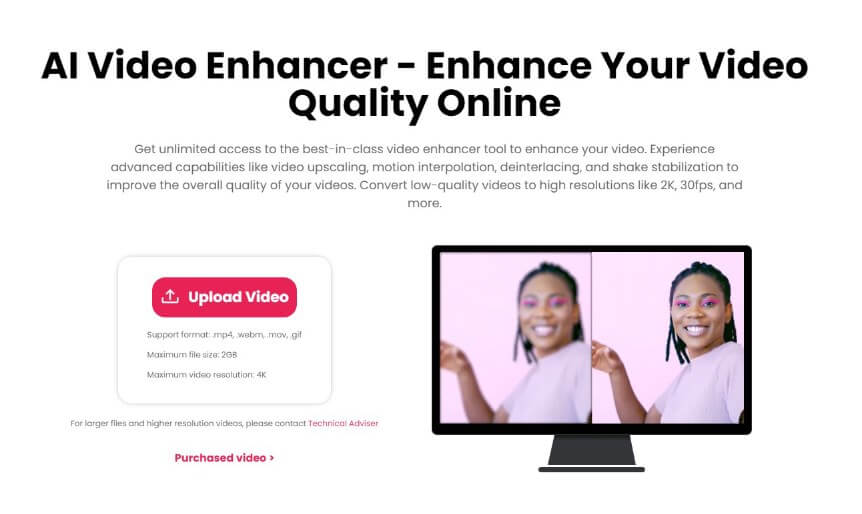 Highlights: Perfect for slow motion, Elevate Your Filmmaking, Turn Your Personal Videos into Professional-Looking Footage.
Pricing: Pay as you go, $19/minunte.
Limitations: Maximum file size: 2G, Maximum video resolution: 4K, Maximum frame rate: 30FPS.
Flixier is a cloud-based video editing platform that incorporates AI video enhancement features. It offers real-time collaboration, making it an excellent choice for teams. With Flixier, you can enhance video quality, add transitions, and create stunning videos effortlessly.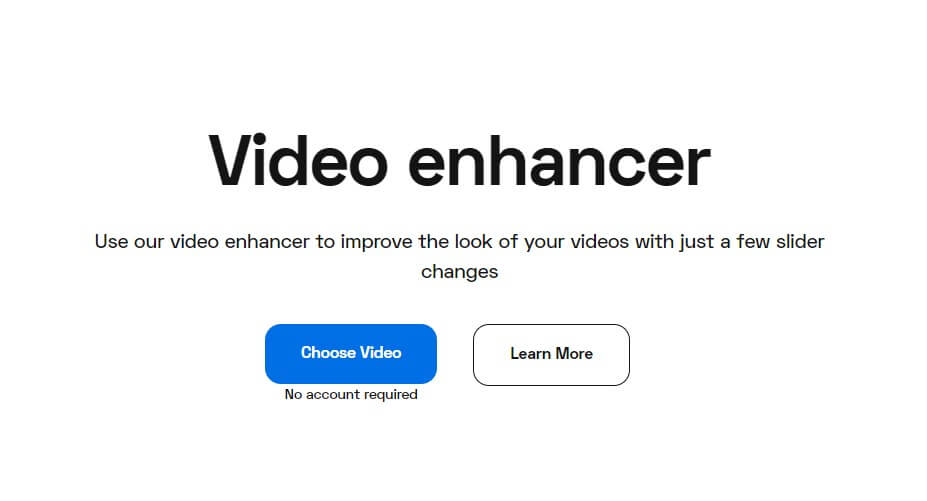 Highlights: 50 GB of Cloud Storage, Unlimited Collaborators, Full Transitions, Motions and Graphics library, Unlimited Project and Media back-up, Work with others.
Pricing: At least $20/Month, up to export 300 minutes of videos.
Limitations: You need to download the software to experience all the functions.
Kapwing is a popular online video editing platform that includes AI-powered video enhancement tools. It's known for its simplicity and speed. You can quickly enhance video quality, add subtitles, and apply various effects to make your videos stand out.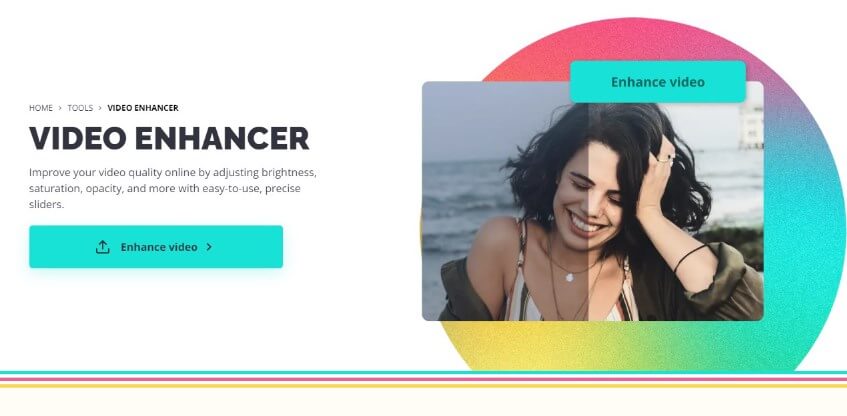 Highlights: Unlimited cloud storage, Brand Kit and custom fonts, No Kapwing watermark on your creations
Pricing: At least $16/Month, up to export 120 minutes of videos.
Limitations: You need to download the software to experience all the functions.
Veed.io is an online video editing platform that offers AI-driven video enhancement features. It's user-friendly and perfect for beginners. With Veed.io, you can enhance video quality, add captions, and even generate subtitles automatically.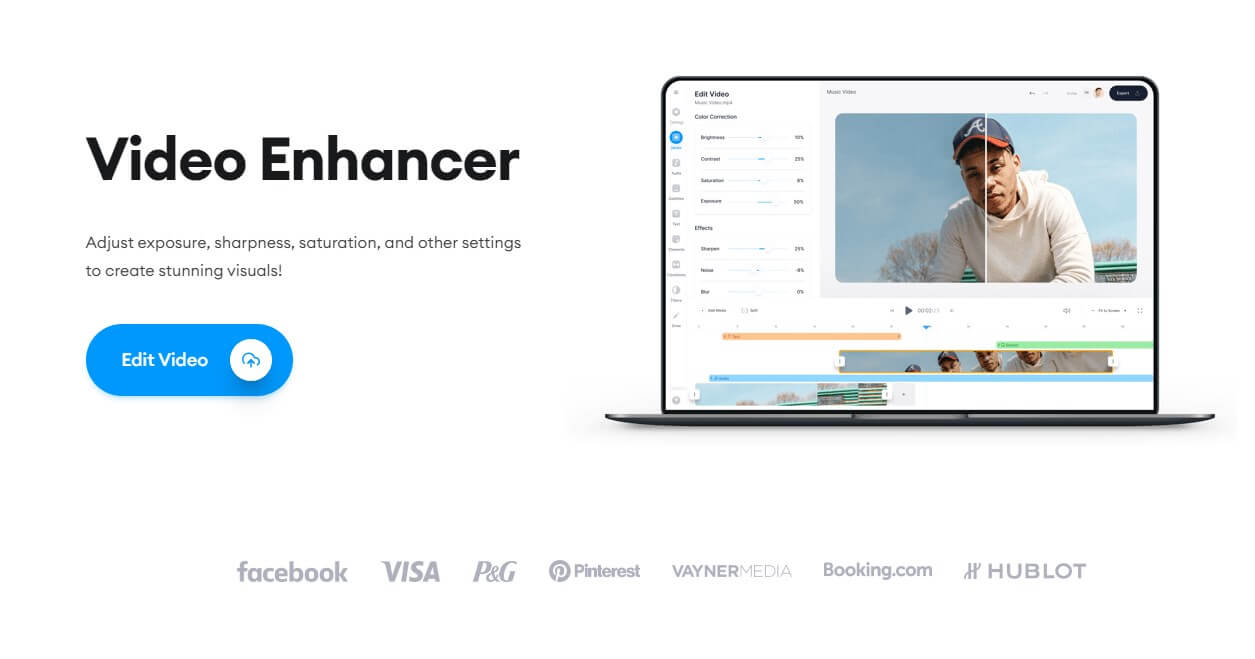 Highlights: One- Stop video recording and editing.
Pricing: At least $25/Month, up to export 25 minutes of videos.
Limitations: Export in 1080p video quality.
Part 3: Why Choose Online Video Quality Enhancer?
Here are some advantages of
Online
Video Enhancer:
Accessibility: Online tools are available from any device with an internet connection, making them convenient and accessible.
Affordability: Many online video enhancers offer free or affordable pricing plans, reducing the cost barrier for users.
Ease of Use: Online tools often have user-friendly interfaces, making video enhancement accessible to beginners.
No Installation: Online enhancers require no software installation, saving you valuable storage space.
Many users think that online products are not as professional as the softwares. This concern is resonable. In this case, you can make your final decision based on the following conditions.
Choose an Online Video Enhancer If:
You need quick and easy video enhancements without the hassle of software installation.
You're working with a limited budget.
Collaboration and accessibility from multiple devices are essential.
Choose Video Enhancer Software If:
You require advanced video editing and enhancement features.
Privacy and data security are paramount.
You have the technical skills and resources to manage software installation and updates.
Part 4: TopMediai - AI Audio&Video Resolution Studio
TopMediai deserves a closer look due to its exceptional AI video enhancement capabilities. With its easy-to-use platform, bundles with many useful tools: Text to Speech, AI Song Cover, Free Voice Changer, Vocal Remover, Background Remover, Watermark Remover, AI Art Generator, Passport Photo Maker and so on, you can enhance video quality, improve audio, and make a complete audio and video production effortlessly.

TopMediai offers a seamless experience for those looking to enhance their content, making it a top choice in the world of AI tools studio.
Part 4: Hot FAQs about AI Video Enhancer Online
1 Can I enhance videos in bulk or process multiple videos simultaneously online?
Yes. Many online AI video enhancers provide batch processing options, allowing you to enhance multiple videos at once, which can be a time-saver for content creators.
2 Do online AI video enhancers require high-end hardware or software downloads?
No. Online AI video enhancers are designed to work on standard devices with internet access, eliminating the need for high-end hardware or software installations.
3 Is there a maximum file size or duration for videos that can be enhanced online?
Yes. This is also a drawback of online products. Online video enhancers often have limitations on file size and video duration. Be sure to check these limitations on the specific platform you're using.
Final Thoughts As l draw this discussion to a close, it's clear that video quality is the linchpin of success in our digital age. The emergence of AI video enhancers has simplified the once-complex task of transforming everyday videos into captivating, visually stunning content.

With a range of options available, including TopMediai, Cutout.pro, Flixier, Kapwing, and Veed.io, the possibilities are boundless.