Karaoke is quite popular these days because of social media and various short video applications. People love to sing karaoke, and this is the reason that there are many songs converted to karaoke. Karaoke is just the music without the actual wordings so that people can sync their singing to the music of the song. In this article, we will discuss different types of online tools that can convert mp3 to karaoke for free. We will tell you how you can mark karaoke without any hassle.
In this part of the article, we will list and discuss a few online MP3 to Karaoke converters that users can use for free. These tools offer an excellent result after conversion and are safe to use. The data or file uploaded is completely secure and is not exploited by any means. Here are a few effective conversion tools.
1) TopMediAi Vocal Remover Online
The first mp3 to karaoke converter that we will talk about is TopMediAi Vocal Remover Online. It is a reliable tool and completely safe to use. TopMediAi Vocal Remover Online not only converts mp3 to karaoke but also allows everyone to edit the music to each individual's liking. It has different adjustable volumes of instruments that make the music even more soothing than the original.
The tool is very simple and easy to use, and beginners can also convert any song/mp3 to karaoke without any hassle. It takes only a few clicks and minutes.
Let us see what steps go into converting mp3 to karaoke using TopMediAi Vocal Remover Online.
Step 1: As it is an online tool, go to its website. You will see two different options here. The first is "Vocal & Background Music" while the second one is "Vocal & Instrument". Click on "Vocal & Background Music" to convert mp3 into karaoke.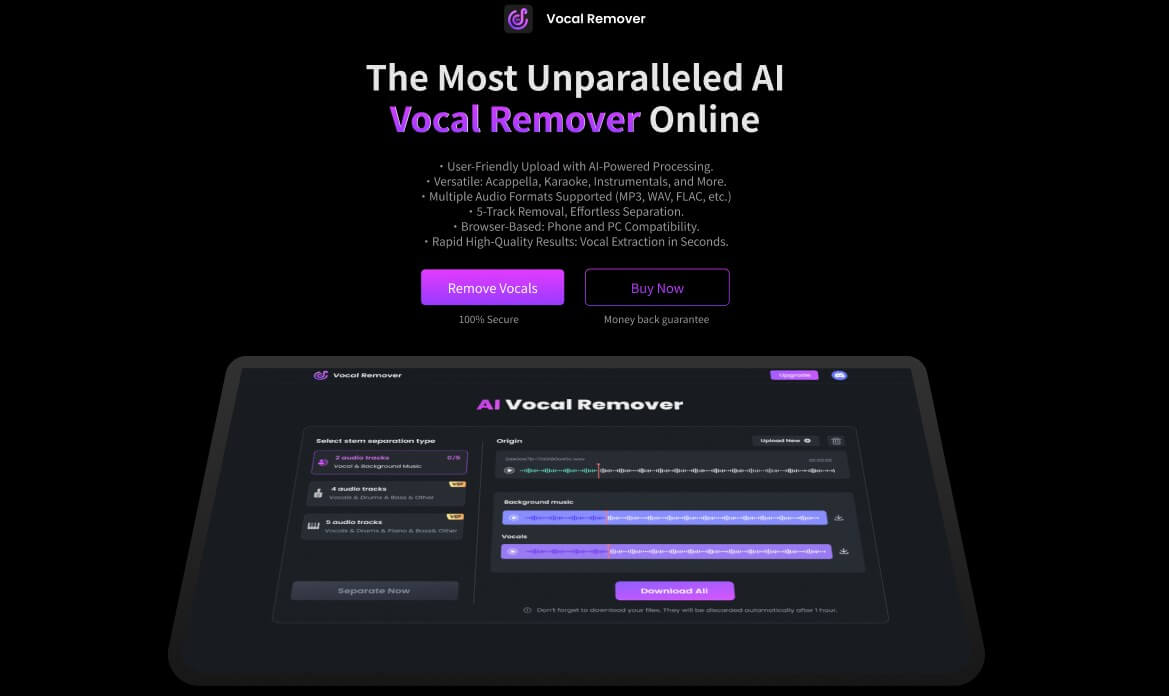 Step 2: The tool will then ask you to import the audio file. The user can either browse the music file or simply drag and drop it into the box. The AI algorithm of TopMediAi Vocal Remover Online will remove the vocals from the music and make it karaoke in a few seconds.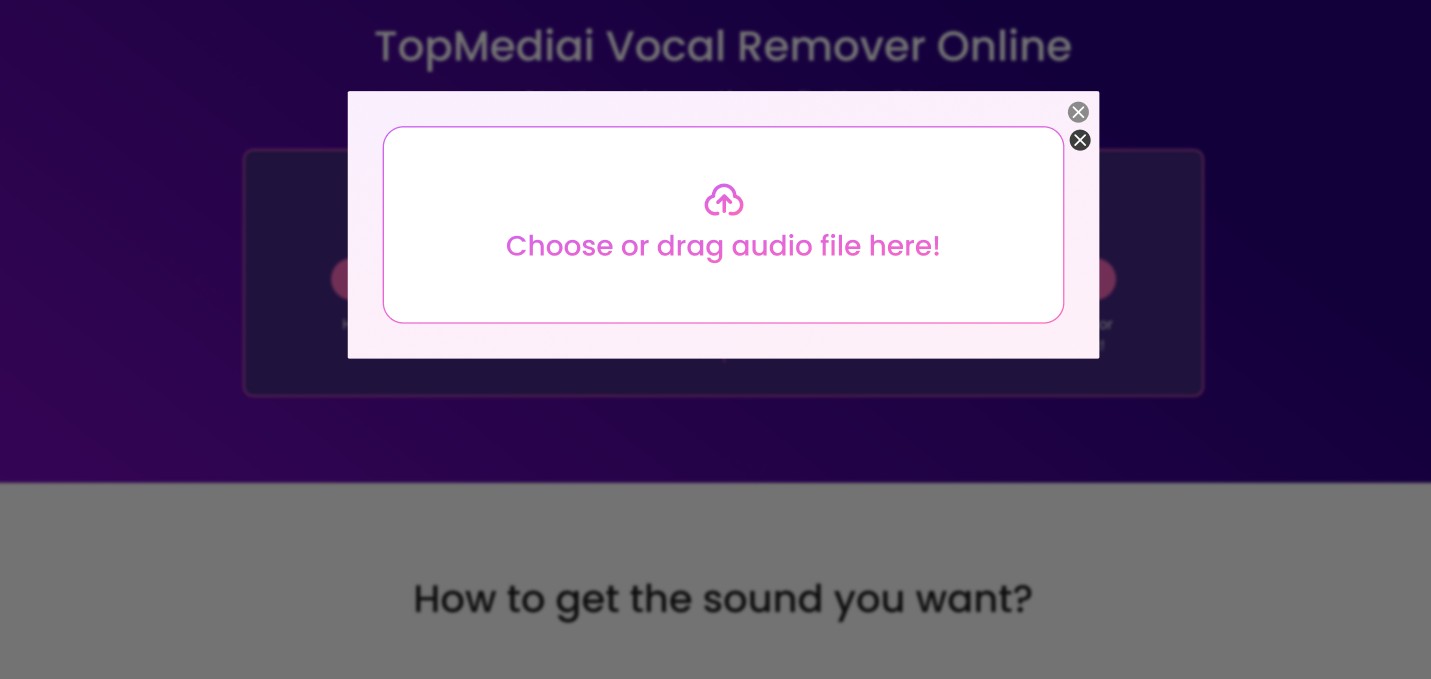 Step 3: The conversion process is lightning fast, and the quality of the audio is not compromised at all. The user then gets to download the music with different options, including vocals, drums, bass, piano, and others. After finalizing, click on "Download" to save the converted karaoke to your computer.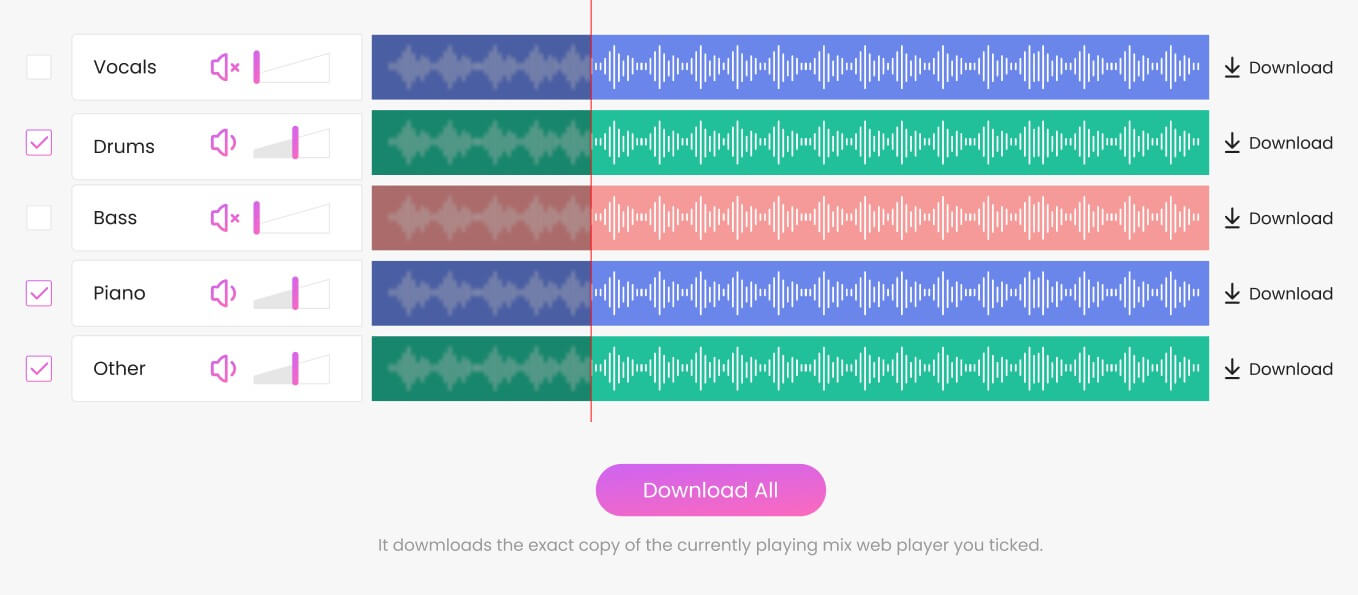 2) Vocal Remover Pro
The second tool that we are going to discuss is Vocal Remover Pro. It is also a free online tool that converts mp3 to karaoke easily. It has an interesting feature where the user can paste the URL of a YouTube video, and this tool will convert it into karaoke as well. The user has the option to upload an audio file or YouTube link to convert into karaoke. Here are the steps to convert mp3 or YouTube video to karaoke using Vocal Remover Pro.
Step 1: Go to the Vocal Remover Pro online website. Here, you will see different options. Choose your music file or paste the YouTube video URL.
Step 2: Enter the verification code, agree to the terms and service of the website, and click on "Create karaoke Track". The tool will then process the file, and your karaoke will be ready in no time.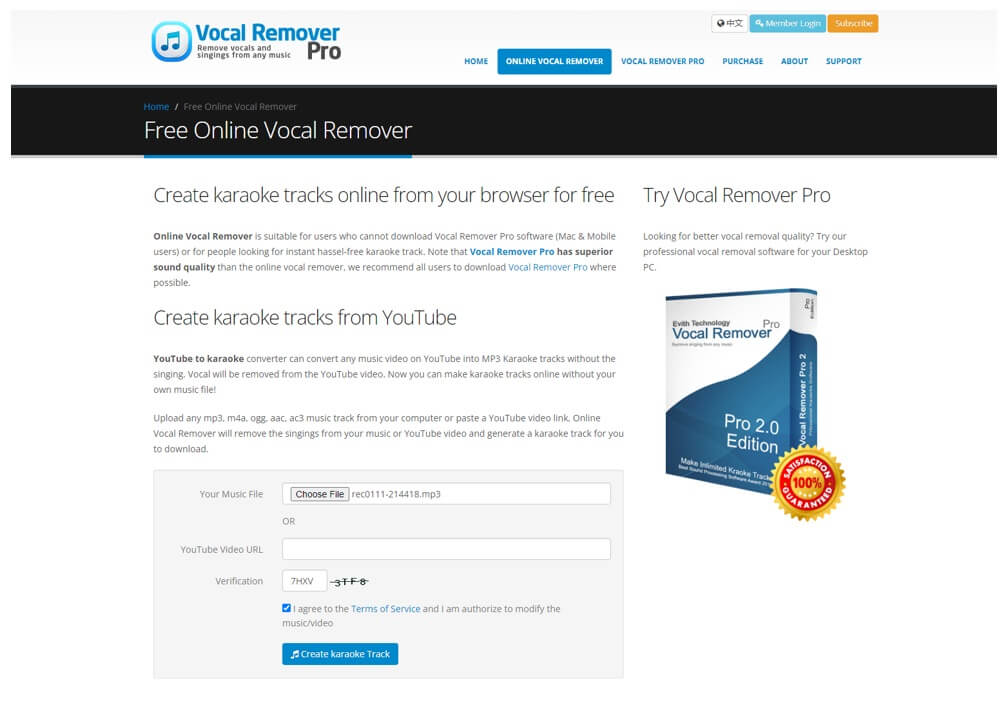 Step 3: The user can then listen to the karaoke and then click on "Download" to download it to the computer. However, it also has a feature where it allows the user to share the audio file to different social media websites.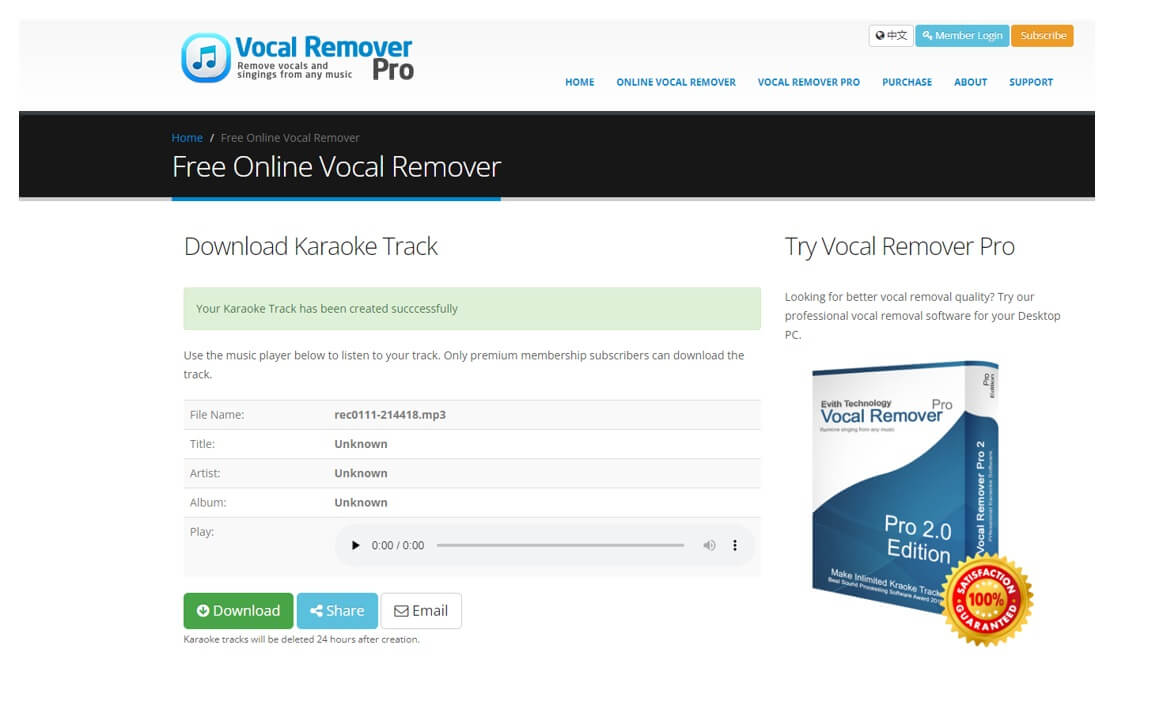 3) Conversion Tool
Another online tool that can convert mp3 to karaoke is the conversion tool. This tool can convert any URL file into karaoke by removing its vocal. It doesn't mean it can only convert YouTube videos but any video. It is just as simple as any other conversion tool. The user just needs to browse any music file or paste any video URL, and the website will then ask the user about the method. The method includes different voices and instruments. Moreover, the user gets to choose the output audio format. It can be either MP3, FLAC, or WAV.
Step 1: Go to the website of the conversion tool. Under the section "Source file", there is an option to upload the file or paste the remote URL. Choose the one that suits you.
Step 2: Once the file is uploaded or URL is pasted, click on audio format and method. Choose individual options separately depending on your requirement. Hit "Start Conversion".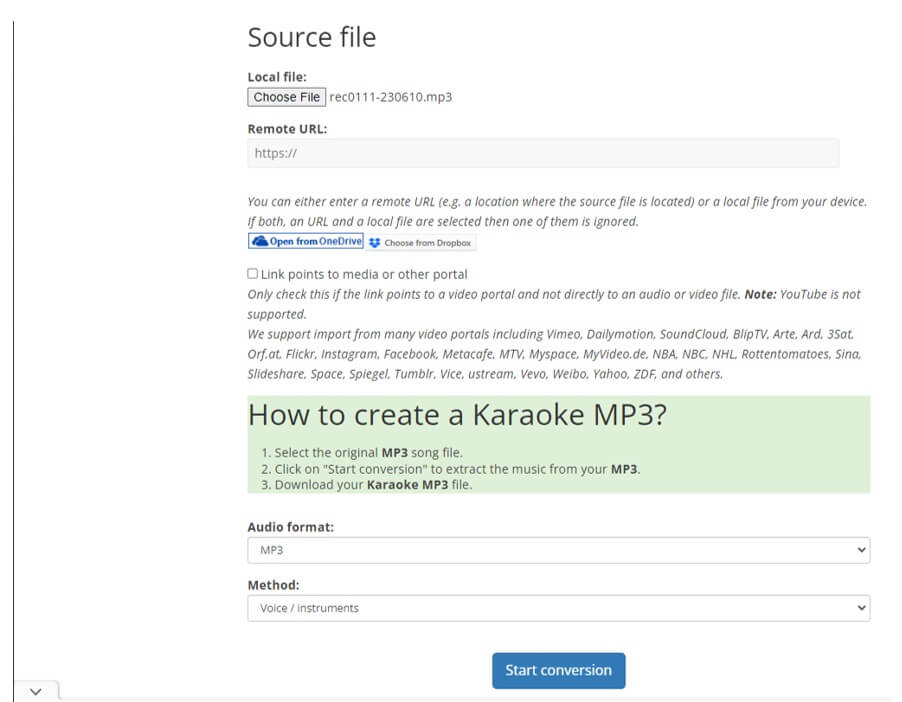 Step 3: The website will take a few seconds to process your remote URL or audio file and convert it into proper karaoke. The user can then use the QR code to download the file or hit "Save" to save it to Dropbox, OneDrive, or Google Drive.
FAQs - Can I Remove Vocals from a Sound
1) Can I remove vocals from a sound
Yes, it is possible to remove vocals from any audio file. You can use TopMediAi Vocal Remover Online. It will remove the vocals in a few seconds and convert your audio into karaoke. It can be used to convert normal songs.
2) Is TopMediAi Vocal Remover Online free to use?
Yes. TopMediAi Vocal Remover Online has a trial version that is free to use. However, some of the features are limited to premium users only. But if the objective is to convert MP3 to Karaoke, then the trial version will work fine for everyone.
Conclusion
There could be different reasons why anyone would want to convert MP3 to karaoke. The music extracted from the audio file can be used for multiple purposes. Although there are different online conversion tools available, TopMediAi Vocal Remover Online is the best among all. It is because it has a user-friendly UI. It is very easy and quick to convert the MP3 to karaoke with this tool, and it is completely safe. Go to the TopMediAi website and start converting your MP3 to karaoke.