Audacity is a versatile and powerful audio editor that has gained immense popularity among music enthusiasts, podcasters, and content creators. One of its standout features is the ability to remove vocals or background music from a song, allowing you to customize your audio projects as per your requirements.

In this article, l will guide you how to remove vocals from a song on Audacity, making it an essential skill for anyone looking to manipulate audio tracks.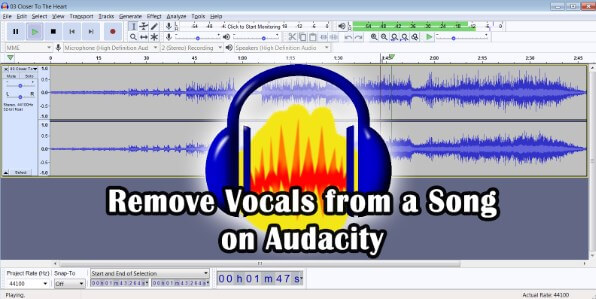 Part 1: What is Audacity?
Audacity is a versatile and open-source audio editing software available for Windows, macOS, and Linux. It's widely used by audio enthusiasts, podcasters, and musicians due to its robust features and user-friendly interface. With Audacity, you can record, edit, and manipulate audio files, making it the perfect tool for various audio-related tasks.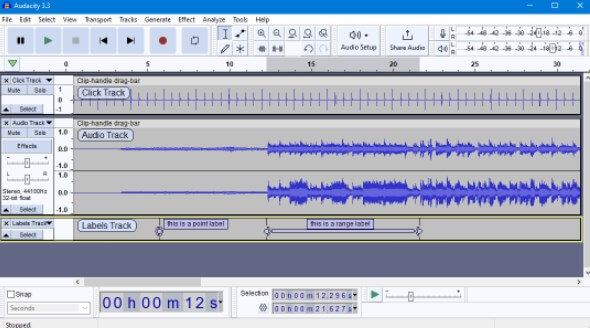 Part 2: How to Remove Vocals from a Song on Audacity?
#Step1. Download and Install Audacity: Start by downloading and installing Audacity on your computer. It's available for Windows, macOS, and Linux.
#Step2. Import Your Song: Open Audacity and import the song from which you want to remove vocals. Click "File" > "Open" and select your audio file.
#Step3. Split Stereo Track: Once your song is loaded, go to the drop-down menu on the left of the audio track and select "Split Stereo Track." This will separate the vocals (center) from the instrumental (sides).
#Step4. Invert and Mix: Select one of the split tracks (either the left or right, it doesn't matter) and go to "Effect" > "Invert." Now, select both tracks and go to "Tracks" > "Mix" > "Mix Stereo Down."
#Step5. Adjust Audio Levels: Fine-tune the audio levels to ensure that the vocals are effectively removed. You may need to experiment a bit with this step to achieve the desired result.
#Step6. Export Your Edited Track: Once you are satisfied with the result, export your edited track by clicking "File" > "Export" > "Export as MP3" (or your preferred format).
Related Read: How to Easily Get an Acapella from Song >>
Part 3: Other Recommended Vocal Remover to Remove Vocal and BGM
TopMediai is an online vocal remover that allows you to upload your song and instantly remove vocals or background music. It's a quick and hassle-free alternative to Audacity, especially if you don't want to install software. It provides a user-friendly interface and a quick way to separate vocals from music tracks. Simply upload your audio file, and the tool will do the rest.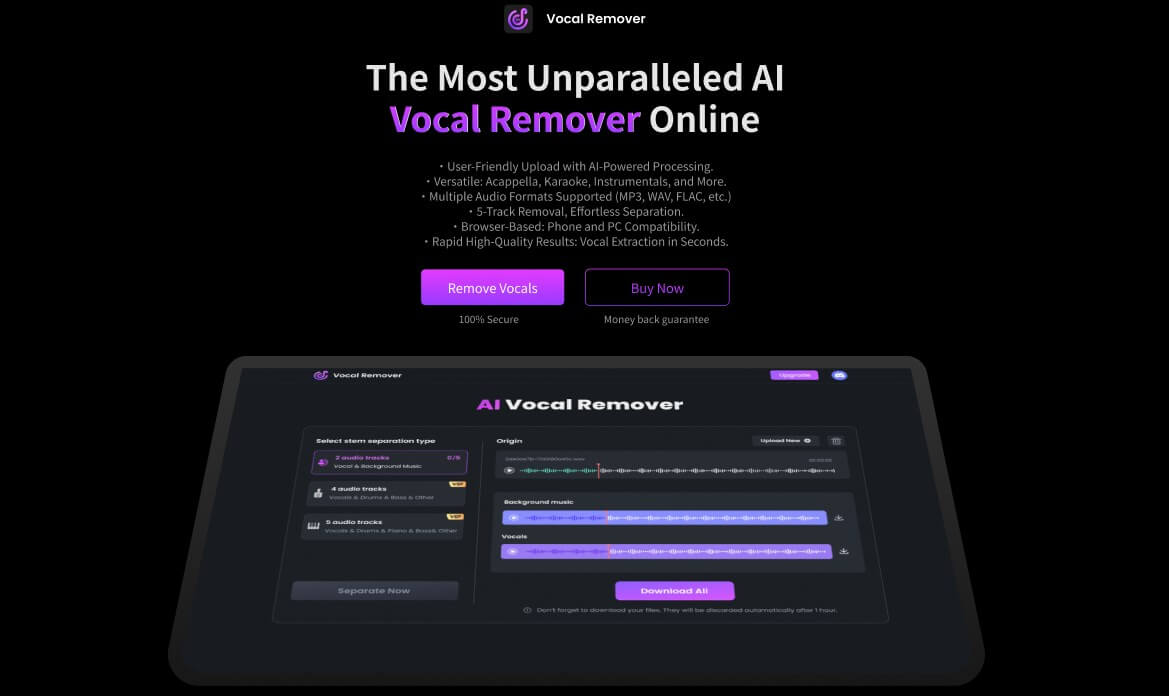 How to Remove Vocals and different instrumental with TopMediai Vocal Remover Online?
Step 1: Click 'Upload' button to import your song from device.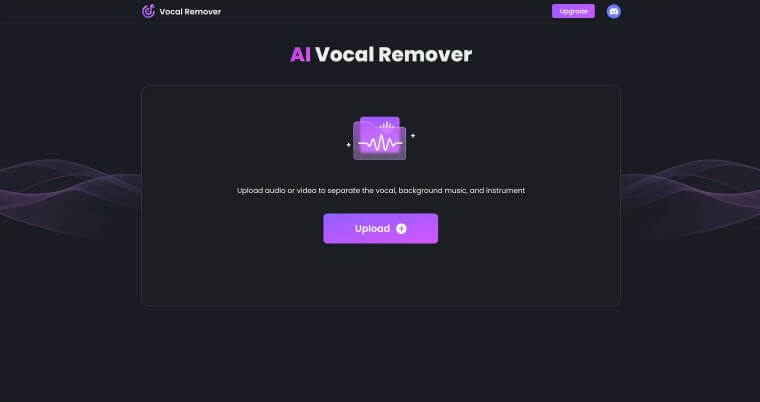 Step 2: Separate vocals from music in few seconds automatic with AI.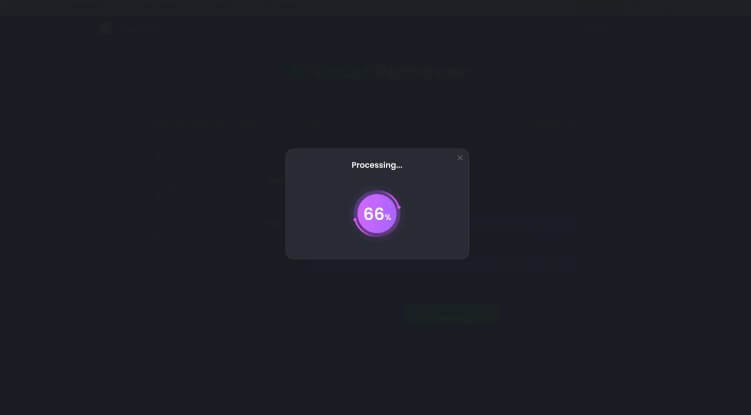 Step 3: Preview and save the extracted vocal/bgm/ instrumental track.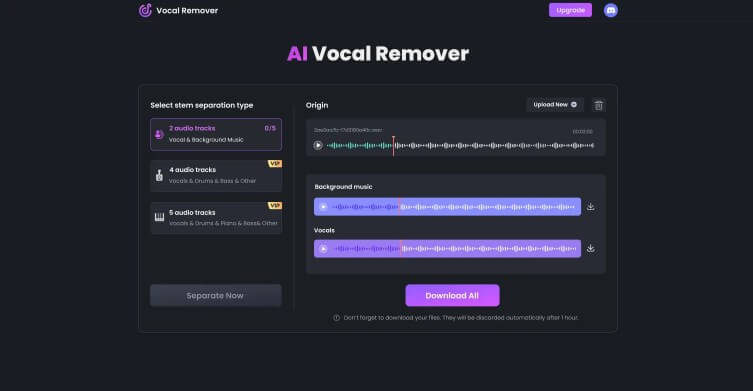 Audio Separation: Separates vocals from instrumental music in an audio track.
User-Friendly Interface: Easy-to-use interface for quick and simple operation.
File Format Support: Compatibility with various audio file formats.
Processing Speed: Efficient processing of audio files for fast results.
Audio Quality: Maintains good audio quality in both vocal and instrumental tracks.
5-track Separation, easily remove vocals and different instruments.
Part 4: FAQs about removing vocal from a song on audacity
1 Does Audacity work with all audio file formats?
Audacity supports a wide range of audio formats, including MP3, WAV, FLAC, and more. However, for best results, it's recommended to work with high-quality audio files.
2 Can Audacity completely remove vocals from any song?
Audacity can significantly reduce or remove vocals from a song, but the effectiveness depends on the audio track's original quality and how it was mixed. Some songs may have vocals that are challenging to completely eliminate.
3 Are there any alternatives to Audacity for removing vocals?
Yes. There are online vocal remover tools TopMediai Vocal Remover and dedicated software programs like Adobe Audition that offer advanced vocal removal features.
Conclusion Learning how to remove vocals or background music from a song using Audacity is a valuable skill for anyone involved in audio editing or content creation. Whether you're remixing music, creating podcasts, or customizing audio tracks, Audacity empowers you to take control of your projects. Additionally, exploring online tools like TopMediai Vocal Remover can provide convenient solutions when you need quick results.

So, don't hesitate to experiment and unlock the full potential of your audio editing endeavors with Audacity and other vocal remover options.