While text-to-speech technology can be a cost-effective and time-saving tool for content creators, it's important to select a voice that's appropriate for the specific content.

In this article, we'll introduce you to the best Bill Clinton Text-to-SpeechGenerator, which is an ideal tool for creating voiceovers for political content, as well as educational or training materials related to politics or history.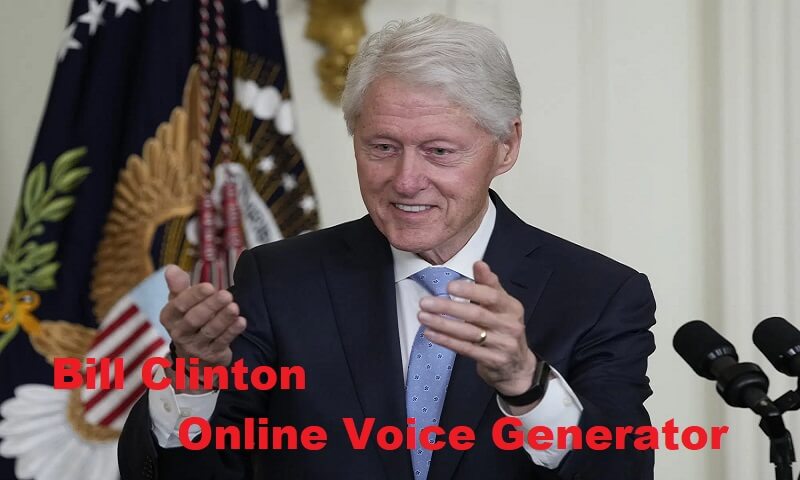 Part 1: What's the Type of Bill Clinton's Voice?
Bill Clinton, who served as the 42nd President of the United States, has an accent that reflects his Arkansas roots, including a Southern twang and drawl. He often uses varying intonation and pacing to captivate his audience and highlight important ideas.

In addition, Clinton is renowned for his capacity to express various emotions through his voice, such as kindness, empathy, humor, and enthusiasm. He can adapt his tone and inflection to suit the tone of his speech and engage with his listeners.

Part 2: Use Online Text-to-Speech to Generate Bill Clinton's Voice
1. TopMediai for Bill Clinton AI Voice
TopMediai is an online tool that utilizes advanced AI algorithms to convert written text into natural-sounding speech in various voices. It provides support for multiple languages and offers output formats including MP3, WAV, and AAC. Additionally, TopMediai offers useful features such as text highlighting and the capability to convert text from images or scanned documents.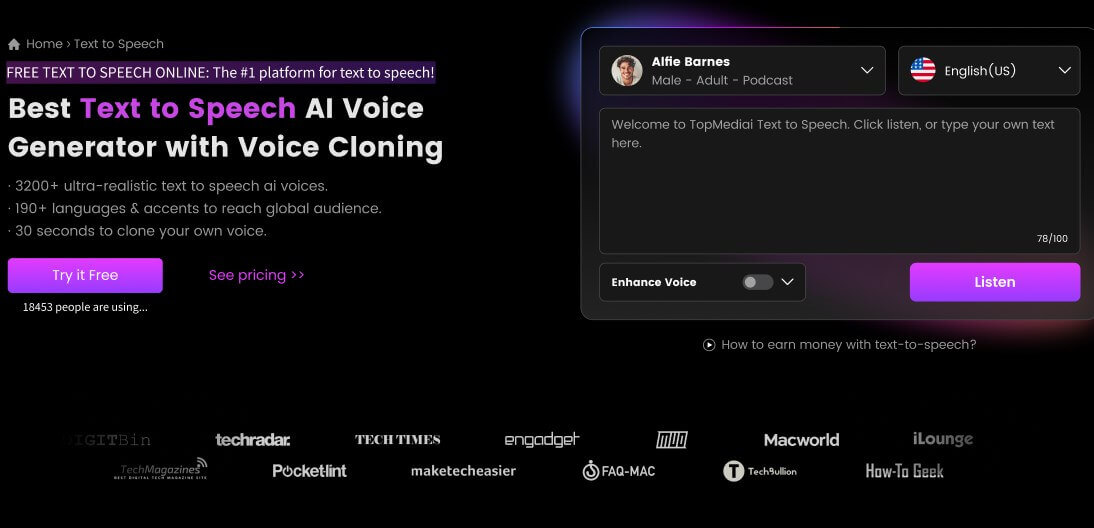 Step of Generating Bill Clinton's AI Voice:
Step 1: Go to TopMediai online voice generator .
Step 2: select the Bill clinton'voice from the options.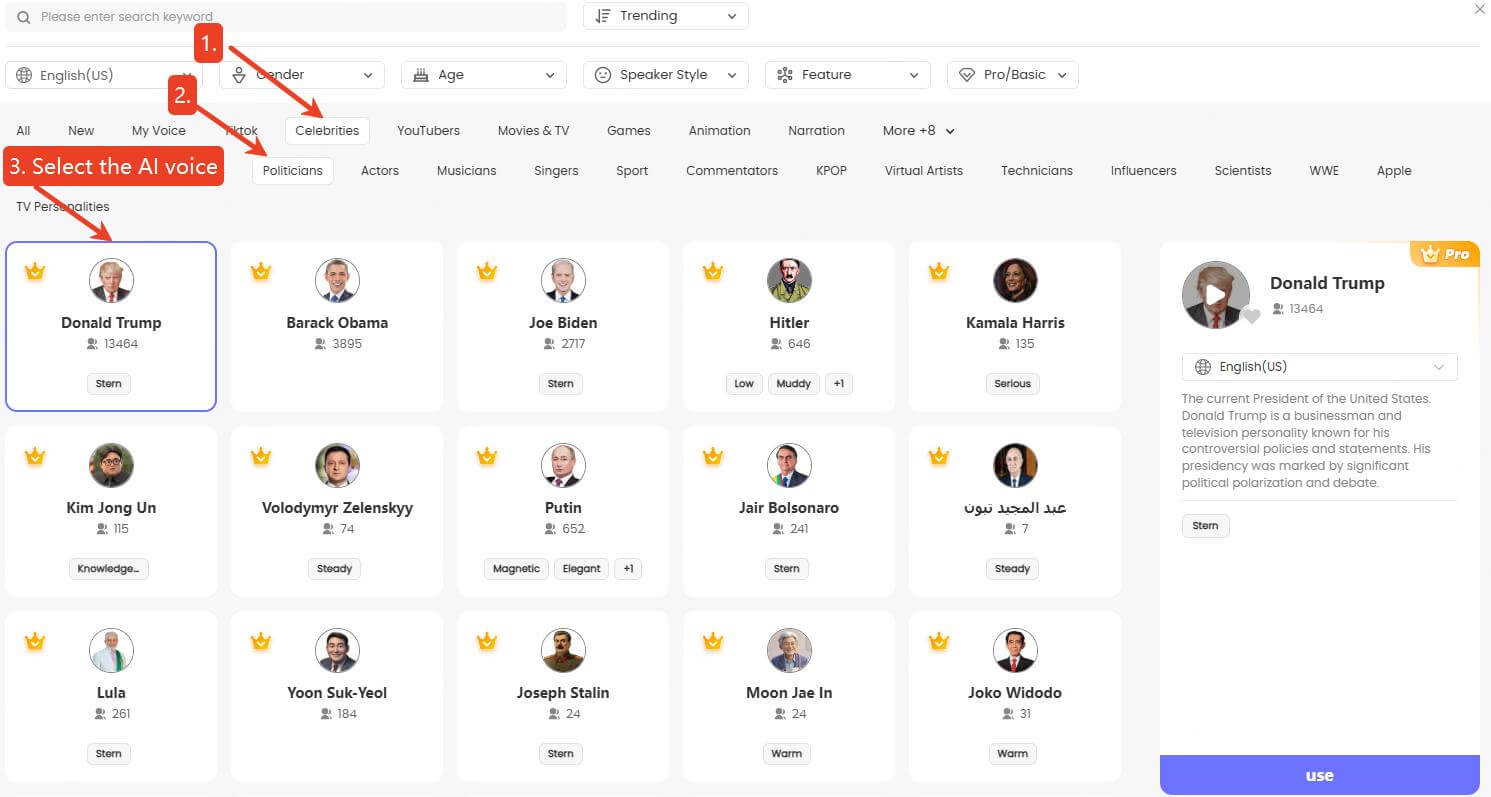 Step 3: Convert and then export the natural-sounding file
Key Features:
Speech Customizable like speech speed and pitch and say as.
More than 3200+ voices.
Multiple president ai voice like Trump, Obama, Biden,etc
More than 70+ languages.
More than 100+ character Ai voice like SpongeBob, Goku, Garfield, etc options.
Topmediai also provides voice change, watermark remove, Ai Paiting, etc
Pros
No install an Simply to use.

High-quality audio.

Intuitive and streamlined user interface designed specifically for your needs.
Cons
Must have a stable internet.
Part 3: Other Online AI Voice Generators to Create Bill Clinton's Voice
1. Resemble.Ai
Resemble.ai. It is a cloud-based platform that offers advanced AI voice cloning and text-to-speech technologies. With resemble.ai, users can create highly realistic synthetic voices that can be used for a variety of applications, such as voiceovers, virtual assistants, chatbots, audiobooks, and more.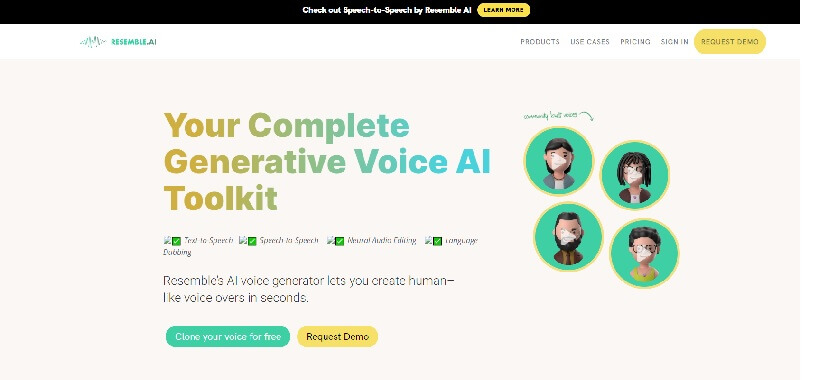 Key Features:
Users can create a synthetic version of their own voice or any other voice they want to clone
Can analyze the voice characteristics, such as tone, pitch, and cadence, and generate a highly realistic synthetic voice.
Offers a variety of voices with different accents, genders, and ages, allowing users to choose the one that best suits their needs.
Resemble.ai can be easily integrated into other applications and platforms
Pros
Used as an easy goku text to speech generator.

No need to download or install.

Supports multiple languages, making it accessible to a wider audience.

Intuitive and streamlined user interface designed specifically for your needs.
Cons
An stable internet connection is needed.
Part 4: Hot FAQs About Bill Clinton 2023
1What is Bill Clinton's legacy?
Bill Clinton's legacy is a matter of debate. Some of his accomplishments include balancing the federal budget, signing the North American Free Trade Agreement (NAFTA), and expanding access to healthcare. However, his presidency was also marred by scandal, including the Monica Lewinsky affair and impeachment.
2What is Bill Clinton's educational background?
Bill Clinton attended Georgetown University, where he earned a Bachelor of Science in Foreign Service. He went on to study at the University of Oxford as a Rhodes Scholar and later earned a law degree from Yale Law School.
Conclusion We previously mentioned that certain AI voice generators, such as those used to create the voice of Bill Clinton, exist. However, if you're looking to create a voiceover for your content, it's important to choose a natural-sounding voice generator with a wide range of voices and languages.

That's why I highly recommend trying TopMediai. It offers a variety of options and is sure to meet your needs. Give it a try today and you won't be disappointed.