If you're a fan of the hololive VTuber Mori Calliope, or simply in need of a unique and captivating voice for your creative projects, look no further than the Calliope Mori AI voice generator.

This article will guide you through the top choices for a voice generator to get Mori Calliope AI voice and provide step-by-step instructions on how to begin using them.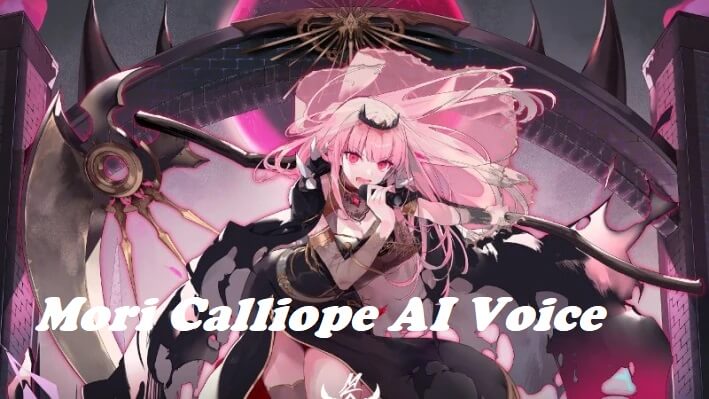 Part 1: Info of Mori Calliope
Mori Calliope is a virtual YouTuber (VTuber) and singer. She is part of the Hololive Production agency and debuted on September 8, 2020. Mori Calliope's character is a reaper who speaks English and Japanese, and she is known for her deep and raspy voice, which is often used for singing covers of popular songs on her YouTube channel.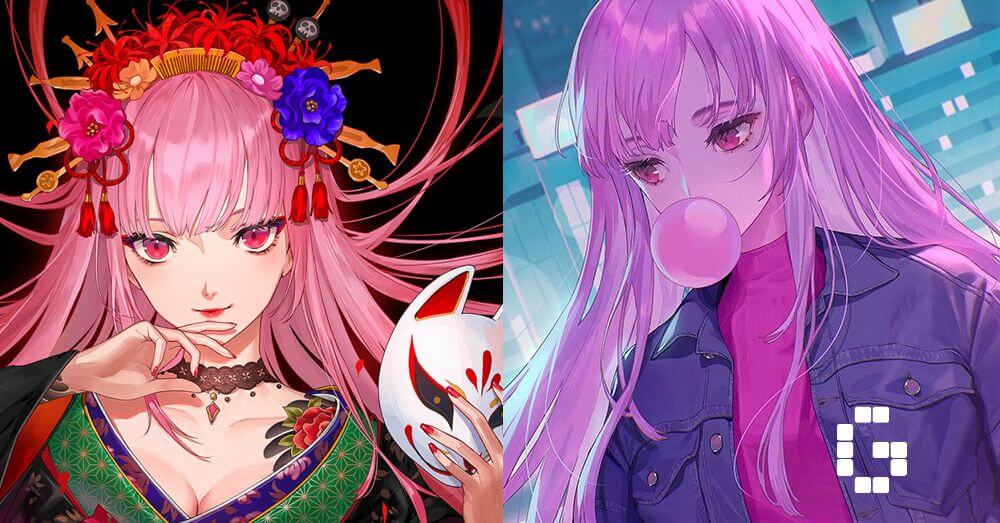 Mori Calliope has released several original songs, including "Excuse My Rudeness, But Could You Please RIP?", "ECHO," and "DEAD BEATS."
Outside of her music career, Mori Calliope often streams video games on her YouTube channel. She has a large following on social media, with over 1 million subscribers on YouTube and over 600,000 followers on Twitter as of September 2021.
Part 2: What is Mori Calliope Real Face?
Mori Calliope, who maintains social media accounts including Twitter, has refrained from unveiling her genuine face and has been seen donning a mask in a selfie video while communicating with her supporters. Her true identity remains undisclosed.
Nonetheless, purportedly, a snapshot of her face was discovered on Imgur by a user known as "Anonymous" following a comprehensive inquiry. Although more than 8,000 individuals have viewed the picture, it has not been validated as Mori Calliope's as she has not acknowledged it.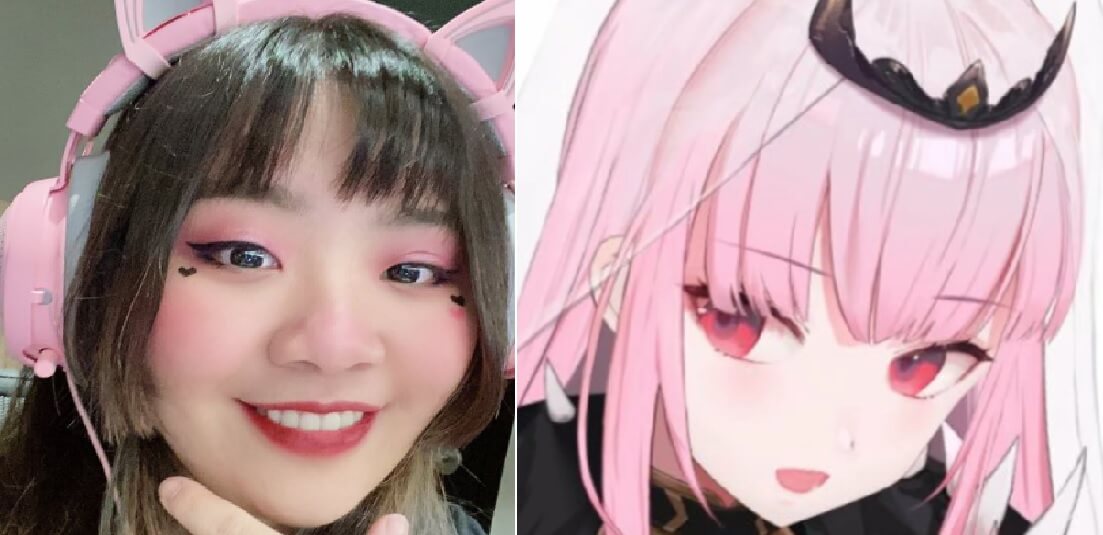 Part 3: Create Calliope Mori AI Voice with Best Voice Generators
TopMediai is an advanced online hololive AI voice generator equipped with cutting-edge technology. There are many Vtubers' voice models. Its real-time text-to-speech capabilities allow users to automatically convert the text into their desired Calliope Mori AI voice, while offering a diverse range of sound effects to choose from.
Though relatively new to the market, TopMediai has a myriad of features that are comparable to some of the best voice generators available.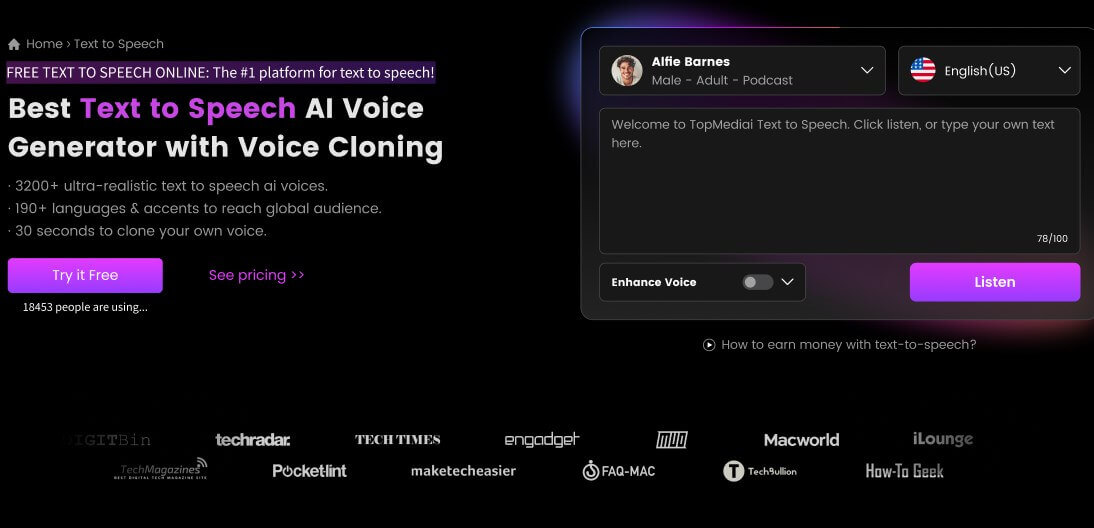 Easy steps to generate Mori Calliope AI Voice:
Step 1: Open TopMediai Text to Speech tool.
Step 2: Enter your desired text into the text box provided and select the Mori voice.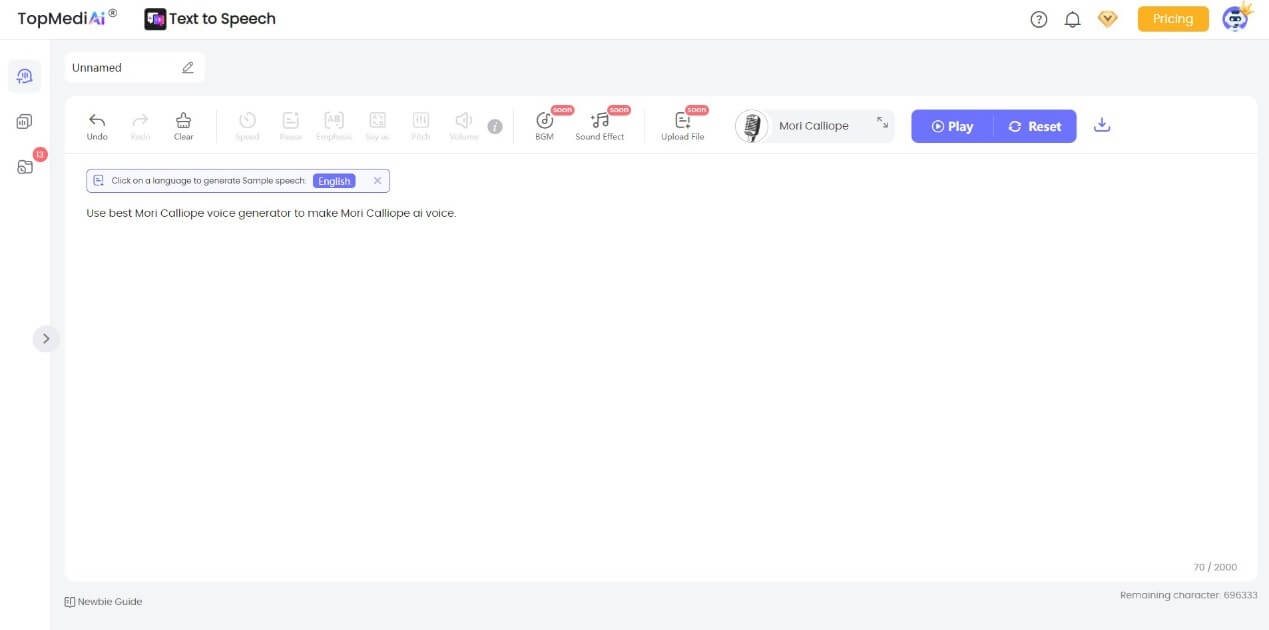 Step 3: Adjust the speed, pitch, and volume of the voice to your desired settings.
Step 4: Click the "Convert" button to generate your Mori AI voice audio file.
Generate AI voices in over 3,200 voices including not only Mori Calliope AI voice but also a number of cartoon characters.
Access to a vast library of premium voices.
Useful for various scenarios like conferences, classrooms, or online communication.
Multiple character text-to-speech voices available, including Hatsune Miku, The Simpsons, and Peter Griffin.
Supports to use it to create unique Calliope Mori AI voice in over 70+ languages, with the option to edit your text.
Save audio files in different formats.
Multiple functions including Text to Speech, Speech to Text, Audio Editing, etc.
Try TopMediai Voice Generator Now >>
2. Murf.Ai
Murf.Ai provides a realistic voiceover for various content types, such as videos. The onine Calliope Mori AI voice generator utilizes an outstanding deep learning algorithm to produce a voice that aligns with the text's tone and style.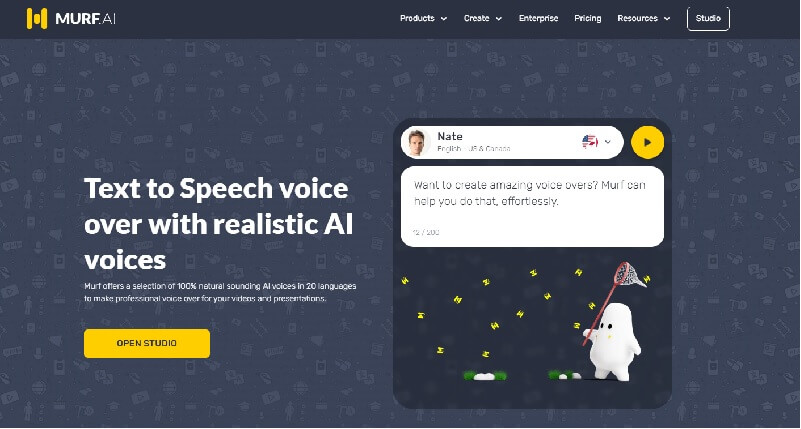 Murf Studio comes with a timeline feature for easy voiceover synchronization.
It provides royalty-free audio files that can be used in your projects.
Easily access to Mori Calliope AI voice.
User-friendly and secure platform for creating AI voiceovers.
Part 4: FAQs about Mori Calliope AI Voice
1How can I use Calliope Mori AI Voice?
To use Mori Calliope AI Voice, you can input any text into the generator, and it will automatically convert it into audio in Mori Calliope's voice. The generated audio can then be downloaded and used for various purposes, such as video or audio content creation.
2 How many languages are supported by Mori Calliope AI Voice?
Calliope Mori AI Voice currently supports English and Japanese languages. However, it is possible that additional languages may be used when you use Mori Calliope AI Voice Generators like TopMediai to make the voice.
3Is Calliope Mori AI Voice free?
Mori Calliope AI Voice is not free. It requires a subscription to the Hololive Production membership service, which offers various benefits including access to Mori Calliope AI Voice as well as other virtual YouTuber content and merchandise. But if you use TopMediai, it is available for you.
Conclusion In conclusion, if you're looking for an AI voice generator that can provide you with high-quality and unique Hololive AI Voice, Mori Calliope AI Voice is an excellent option to consider. With its natural-sounding voice and ability to generate voices in multiple languages, it is perfect for a wide range of projects.

And for even more options, you can check out TopMediai of AI voice generators that offer various features and customization options.