Welcome to the revolutionary Stephen Hawking Voice Generator. Inspired by the renowned physicist's distinctive voice, this cutting-edge tool allows you to recreate his iconic vocal style effortlessly. Immerse yourself in the captivating world of Stephen Hawking as you harness the power of AI technology.

Whether you're a scientist, educator, content creator, or simply a fan of his work, this voice generator opens up exciting possibilities for your projects.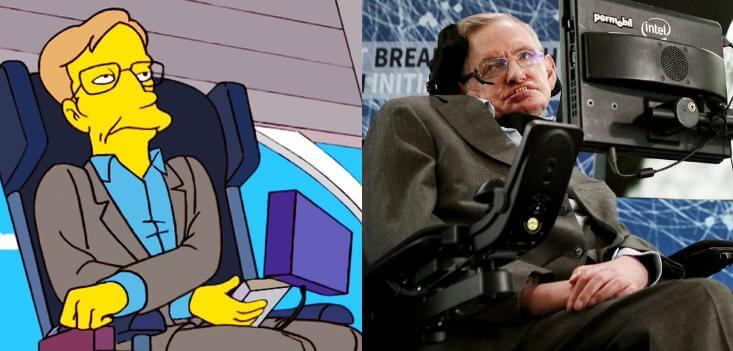 Part 1: Info of Stephen Hawking and Stephen Hawking Voice
Who is Stephen Hawking?
Stephen Hawking was a renowned British physicist, cosmologist, and author who made groundbreaking contributions to our understanding of the universe. He was born in 1942 in Oxford, England, and studied at the University of Cambridge, where he obtained a Ph.D. in cosmology.

Despite being diagnosed with a rare form of motor neuron disease at the age of 21, he went on to become one of the most influential scientists of the 20th century.
Hawking's work on black holes, the origins of the universe, and the nature of space and time helped to shape our modern understanding of physics and cosmology. He passed away in 2018, leaving behind a legacy of scientific discovery and popular outreach.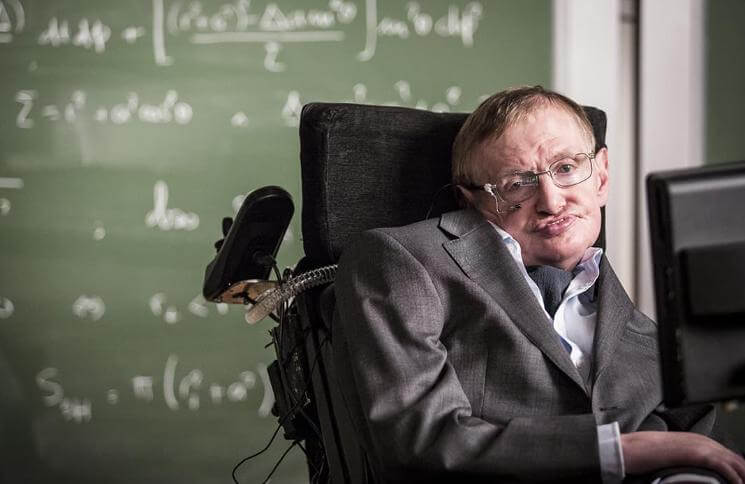 How is Stephen Hawking'voice?
Stephen Hawking's voice was a synthetic voice produced by a computerized speech system. The voice was created using a speech-generating device, which he used to communicate due to his motor neuron disease, which gradually paralyzed his body and left him unable to speak.
The voice was distinctive and robotic in nature, with a British accent and a slightly mechanical tone. It became one of the most recognizable and iconic voices in popular culture, and was widely associated with Hawking's intelligence, wit, and scientific genius.

In later years, Hawking used a more advanced voice system that allowed him to express a wider range of emotions and inflections in his speech.
Part 2: Best Stephen Hawking Text To Speech Voice Generator
1. TopMediai for Stephen Hawking Voice
TopMediai Text to Speech Online is a state-of-the-art text-to-speech (TTS) voice generator that utilizes artificial intelligence (AI) to create lifelike, natural-sounding voices.
Is a powerful tool for creating high-quality TTS voices, particularly for businesses or individuals who require custom voices for specific applications. However, it may not be the best option for those on a tight budget or for more complex voiceover projects.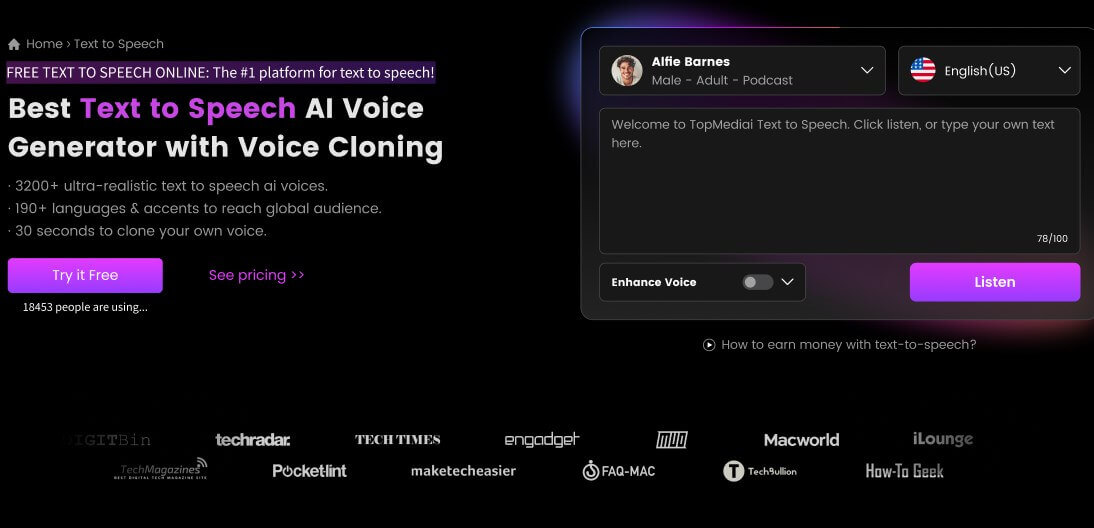 Key Features:
More than 70 languages and 3,200+ voiceover options are available after you complete text to speech filter.
Users can fune-tune their audio output via speed and volume controls.
A wide range of voices in different languages (70+) and accents.
Many more features to come, so stay tuned.
Trendy charaters like Walter White, Peter Griffin text to speech ai voices are available.
Pros
Used as an advanced Stephen Hawkingtext to speech Voice Generator.

No installation is required, and no prior experience is required.Multiple output format support.

3200+ expressive voice effects and filters with the support of 70+ languages.

Many other celebrity text to speech voices are also available.
Cons
You need an internet connection, which comes with an online-only tool.
Uberduck.ai is a text-to-speech (TTS) voice generator that uses artificial intelligence (AI) to create high-quality, natural-sounding voices. One of the key features of Uberduck.ai is that it allows users to create custom voices that can be used for a wide range of applications, including voiceovers, video narration, and virtual assistants.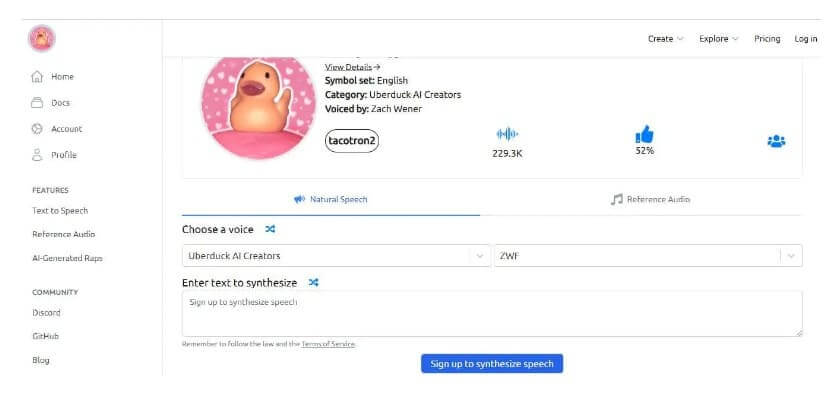 Pros
The AI technology is able to create voices that are very similar to natural human speech, with accurate intonation, pronunciation, and rhythm.
Cons
You need an internet connection, which comes with an online-only tool.

The cost, as the platform's pricing model can be quite expensive for regular users.
Lingojam is a free online text-to-speech (TTS) voice generator that allows users to convert written text into spoken audio. One of the key features of Lingojam is its simplicity, as it doesn't require any registration or software installation to use. Additionally, the platform offers a wide range of voices in different languages and accents, making it a popular choice for users around the world.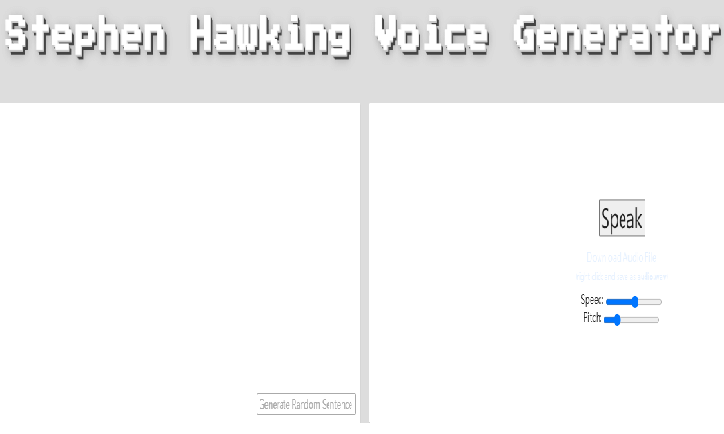 Pros
Free to use.

Offers a range of customization options, such as speed and volume controls, allowing users to fine-tune their audio output.
Cons
The generated voices, which may not be as accurate or natural-sounding as other TTS voice generators.

Doesn't offer any advanced features, such as the ability to create custom voices or integrate with other applications.
Part 3: FAQs About Stephen Hawking Voice Generator
1 How did Stephen Hawking communicate?
Answer: Stephen Hawking communicated through a computerized speech synthesizer. He used a single cheek muscle to type out words and sentences on a computer, which were then converted into speech by the synthesizer.
2 How can I get Stephen Hawking's voice on my computer?
Answer: Stephen Hawking's voice was trademarked and is not available for public use. However, there are several Stephen Hawking voice generators available online that use audio recordings of his voice to create TTS audio files.
3 What is a Stephen Hawking voice generator?
Answer: A Stephen Hawking voice generator is a type of TTS software that uses audio recordings of Stephen Hawking's voice to create realistic-sounding speech. These generators can be used for a variety of purposes, such as creating audio versions of text documents or as a novelty feature in apps or websites.
4 Are there any free Stephen Hawking voice generators?
Answer: Some Stephen Hawking voice generators may offer a free trial or limited version of their software, but generally, these generators are not free. You can have a try using TopMediai Text to Speech Online to generator realistic Stephen Hawking Voice.
Conclusion In conclusion, the Stephen Hawking Voice Generator offers an incredible opportunity to honor the late physicist's legacy. By replicating his unique voice, you can add an authentic touch to your educational materials, presentations, or artistic endeavors.

Experience the brilliance of Stephen Hawking through his voice, and let your projects resonate with his profound impact on the world.