Wondering generate someone's voice? If you're a fan of Michael Jordan, the legendary NBA superstar, you might be wondering how to generate Jordan ai voice using an text to speech AI voice generator.
l will guide you through the steps to achieve just that. Don't miss the reviews of Michael Jordan in the end.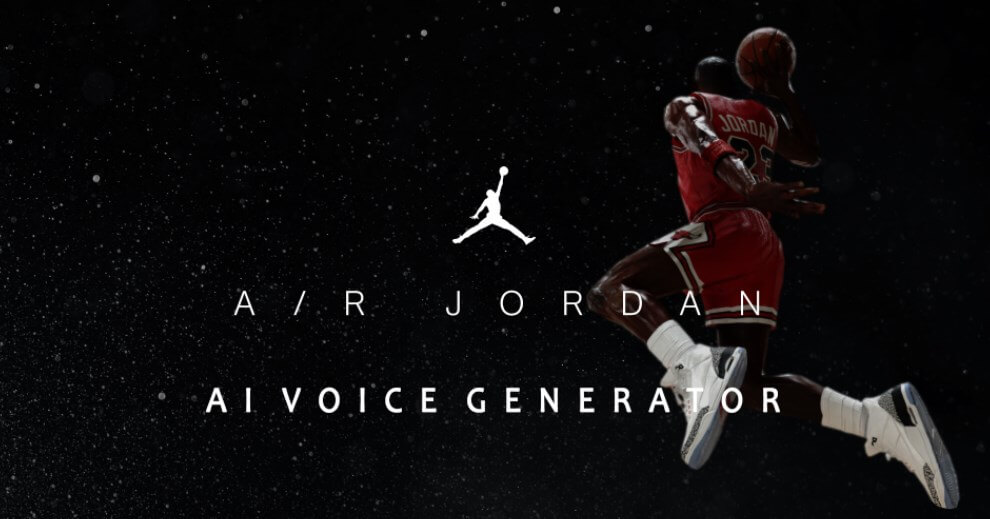 "I've never been afraid to fail."
— Michael Jordan AI Voice By TopMediai.
Part 1: How to Generate Michael Jordan AI Voice?[5 Steps]
To replicate Michael Jordan's distinctive voice, you can rely on AI voice generator capabilities offered by TopMediai. This powerful tool allows you to transform written text into high-quality, natural-sounding speech that closely resembles the voice of Michael Jordan.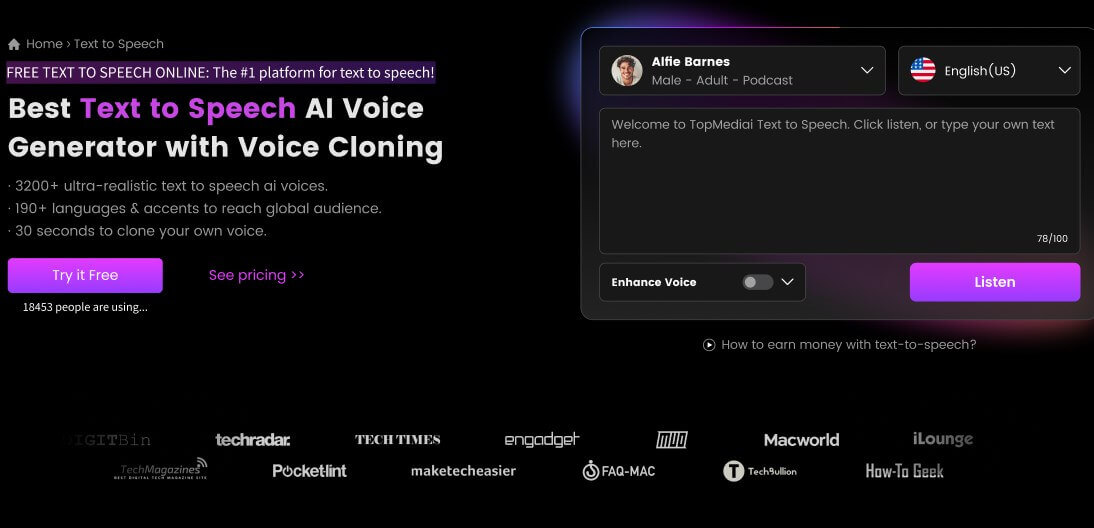 With just a few simple steps, you can generate audio files that capture the essence of this legendary basketball player. Whether NBA player, Football player or Celebrities, you could generate all their ai voices.
How to Use Text to Speech to generate Jordan AI Voice?
Step 1. Discover TopMediai AI Voice Generator.
Step 2. Select Michael Jordan AI Voice Model.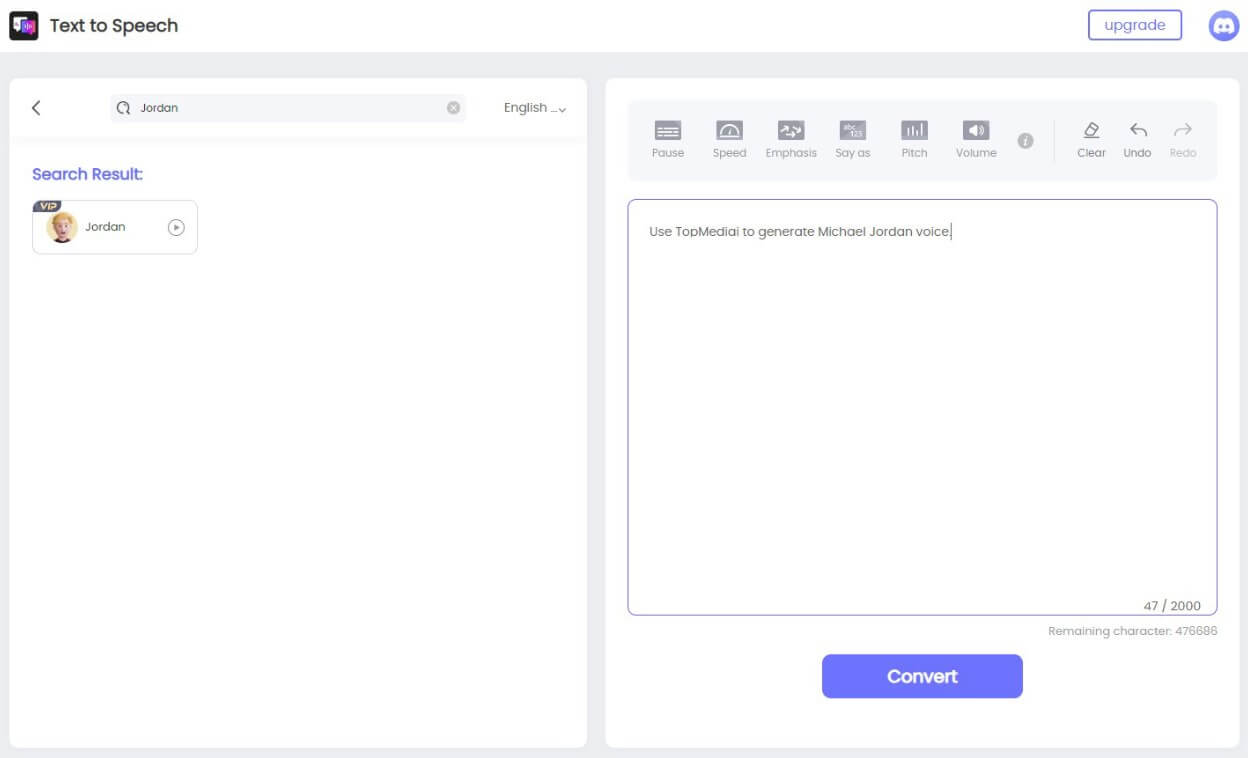 Step 3. Input your text in the box.
Step 4. Customize Voice Parameters (Optional).
Step 5. Click "Convert" button to generate Michael Jordan AI Voice.
Key Features:
Wide selection of voices, including famous personalities like LeBron James.
High-quality voice synthesis with excellent intonation and expression.
Multilingual support for creating voices in different languages.
Fast and efficient voice generation process.
Versatile applications across industries, from audio/video production to virtual assistants.
Reliable and secure, prioritizing data privacy.
Regular updates and improvements for the latest voice synthesis advancements.
Don't miss: Easily Generate Lebron James AI Voice.
Part 2: Who is NBA Super Star: Michael Jordan?
Michael Jordan, the iconic NBA superstar, is widely regarded as one of the greatest basketball players in history. Known for his exceptional skills, fierce competitiveness, and numerous accolades, Jordan's impact on the sport is unparalleled.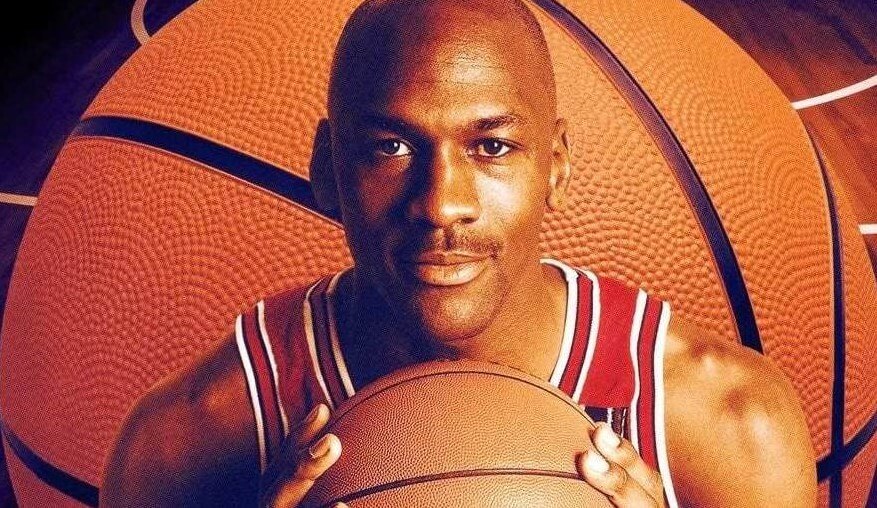 His six championships with the Chicago Bulls, along with his scoring prowess and defensive abilities, solidified his status as a legend. Beyond basketball, Jordan's global influence, marketability, and cultural significance have made him a household name.
Bonus: How is Michael Jordan's NBA Golden Time?
Michael Jordan's impact on basketball and popular culture is immeasurable. Relive his NBA golden era, from his championships to unforgettable moments, and appreciate his extraordinary feats on the court. Dive into classic games or documentaries to experience the excitement and relish the slam dunks and buzzer-beating shots that made Jordan one of the greatest athletes of all time.
Now with AI voice generators, enthusiasts can now experience the thrill of hearing Jordan's voice in a variety of contexts, from personalized voice messages to interactive experiences.
Part 4: FAQs about Michael Jordan Voice AI
1 When did Jordan retire?
Michael Jordan officially retired from professional basketball for the last time on April 16, 2003.
2 What teams did Jordan spend time with?
Chicago Bulls (1984-1993, 1995-1998): Jordan's iconic years were spent with the Chicago Bulls, where he achieved tremendous success, winning six NBA championships.
Washington Wizards (2001-2003): After his second retirement, Jordan made a comeback with the Washington Wizards, playing for two seasons before retiring for the final time in 2003.
3 How many companies does Michael Jordan own?
Michael Jordan owns several companies, including the Charlotte Hornets, the Jordan Brand under Nike, and has investments in the Miami Marlins. He also has ownership stakes in various restaurants. The exact number of companies he owns is not publicly disclosed.
4 What is Jordan doing after retirement?
Business Management The Charlotte Hornets, focused on business ventures and endorsements, engaged in philanthropy through the Michael Jordan Foundation, participated in golf tournaments, and pursued personal interests in entertainment and restaurants.
Conclusion Text to speech AI voice generators have opened up exciting possibilities for recreating the voices of notable figures like Michael Jordan. Although the Michael Jordan ai voice generated may not be the real Jordan's, it can still provide an enjoyable and unique experience.
Remember to choose a reliable AI voice generator like TopMediai and have fun exploring the various applications of this technology. Happy generating!