The Teenage Mutant Ninja Turtles (TMNT) have been a beloved franchise for decades, captivating audiences with their heroic adventures and quirky personalities. Now, get ready to experience TMNT like never before with the innovative TMNT AI Voice Generator!
Next, l'll explore how this cutting-edge technology brings the TMNT universe to life, allowing you to have mutant voiceover fun and much more.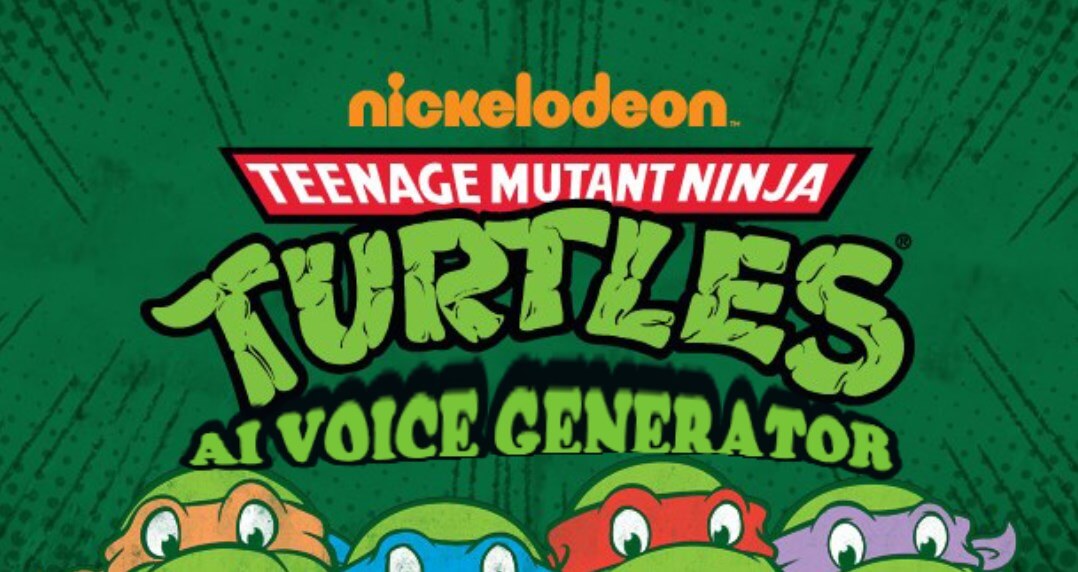 Part 1: How to Generate Teenage Mutant Ninja Turtles' AI Voice
Fans of the Teenage Mutant Ninja Turtles can now unleash their creativity and immerse themselves in the TMNT world. TopMediai TMNT AI Voice Generator uses advanced artificial intelligence and text-to-speech technology, providing users with the ability to replicate the voices of their favorite TMNT characters.

Whether you want to deliver a classic catchphrase as Leonardo, joke around like Michelangelo, or give instructions as Donatello, the possibilities are endless!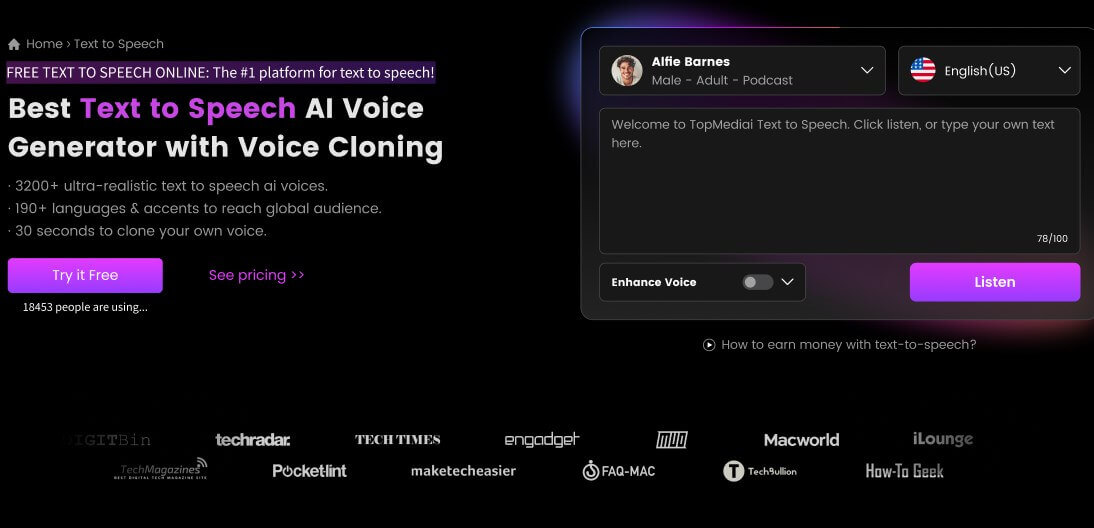 Highlights:
AI-Based Voice Generation for natural and realistic voiceovers.
Multi-Language(70+) Support for voiceovers in various languages.
Interactive Voice Experience for real-time conversations with virtual characters.
Extensive Character Selection, including historical figures and celebrities.
Integration of Audio Effects and Background Sounds for immersive voiceovers.
Real-Time Collaboration for collaborative voiceover projects.
How to generate TMNT Characters' AI Voice?
Step 1. Go to TopMediai voice generator tool.
Step 2. Choose a TMNT character's ai voice model (e.g., Leonardo).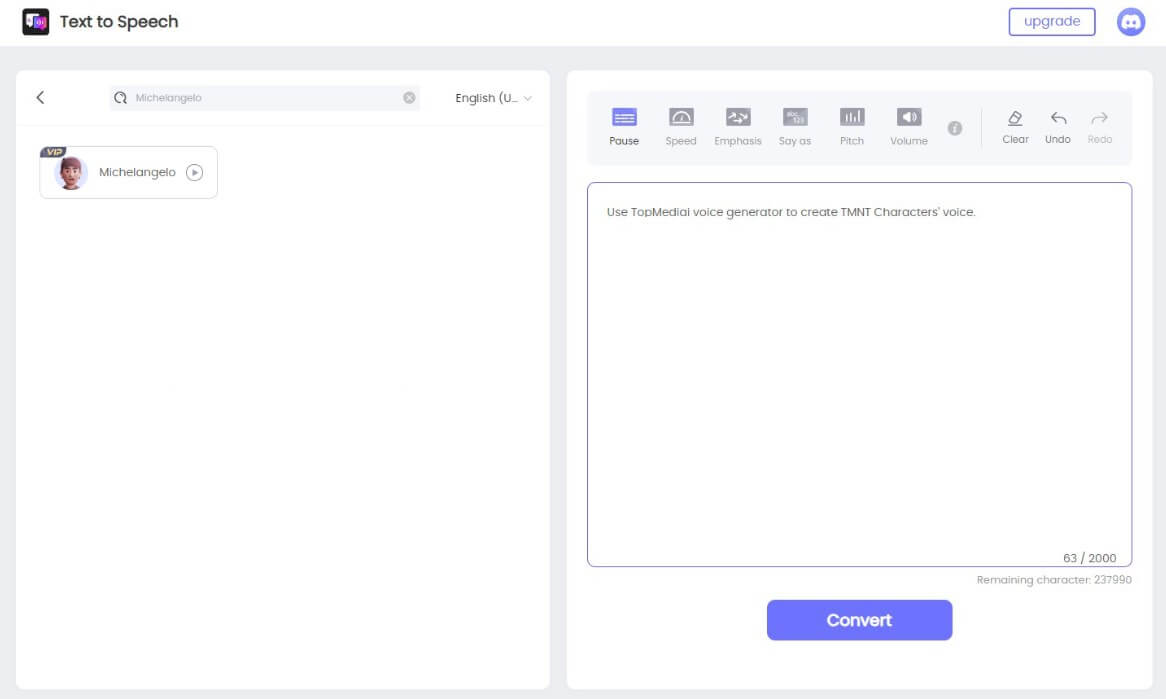 Step 3. Enter text for the character to say.
Step 4. Optionally adjust voice settings.
Step 5. Click "Convert" and access to the processing.
Step 6. Listen or download the voice output.
Step 7. Share and enjoy!
Part 2: Who are the Characters and Voice Actors of Teenage Mutant Ninja Turtles?
The Teenage Mutant Ninja Turtles (TMNT) franchise has seen several iterations over the years, each with its own set of talented voice actors who brought the beloved characters to life.
Leonardo:
Voiced by Cam Clarke (1987 animated series)
Voiced by Seth Green (2012 animated series) o Leonardo's character.
Michelangelo:
Voiced by Townsend Coleman (1987 animated series)
Voiced by Greg Cipes (2012 animated series)
Donatello:
Voiced by Barry Gordon (1987 animated series)
Voiced by Rob Paulsen (2012 animated series)
Raphael:
Voiced by Rob Paulsen (1987 animated series)
Voiced by Nolan North (2012 animated series)
Splinter:
Voiced by Peter Renaday (1987 animated series)
Voiced by Hoon Lee (2012 animated series)
Shredder:
Voiced by James Avery (1987 animated series)
Voiced by Kevin Michael Richardson (2012 animated series)
The TMNT AI Voice Generator allows you to join in on the excitement by creating your own voiceovers for your favorite scenes, or even craft entirely new scenarios for the turtles.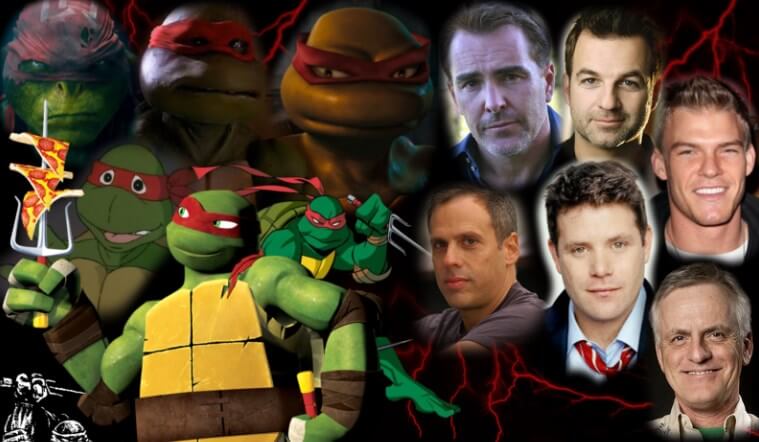 Part 3: TMNT: Mutant Mayhem Relesed on Aug. 2, 2023
"TMNT: Mutant Mayhem," the latest installment in the action-packed franchise, is set to hit the screens on August 2, 2023. Fans are eagerly anticipating the new adventures, villains, and plot twists that this movie promises to deliver.
Part 4: FAQs about TMNT's Voice AI
1 What is the significance of the colored masks worn by the Turtles?
The colored masks help distinguish the Turtles from each other. Leonardo wears a blue mask, Michelangelo wears an orange mask, Donatello wears a purple mask, and Raphael wears a red mask.
2 What are the names of the TMNT villains?
Some of the iconic villains the Turtles face include Shredder (Oroku Saki), Krang, Bebop, Rocksteady, and The Foot Clan.
3 What is the origin story of the TMNT?
The origin story varies depending on the adaptation, but the most common one involves the turtles being exposed to a mysterious ooze that mutated them into human-like beings. Splinter, once a pet rat, also underwent a similar mutation, becoming their wise sensei.
Conclusion TMNT text-to-speech Voice Generator revolutionizes ai voiceover fun for TMNT fans. With cutting-edge AI technology, users can now emulate the voices of Leonardo, Michelangelo, and other iconic characters, bringing their favorite mutants to life in their own videos.

Unleash your inner ninja and embrace the mayhem with this captivating text-to-speech marvel. Cowabunga!