Alexa, Amazon's voice assistant, was first introduced with the Echo device and has since become a common fixture in many households. Amazon has expanded the reach of Alexa by allowing users to install it on Android devices. As a result of its widespread use, people have begun incorporating Alexa's voice into their multimedia content, such as when reading text or streaming online.
If you're interested in using an Alexa voice generator, we'll explain how you can do so.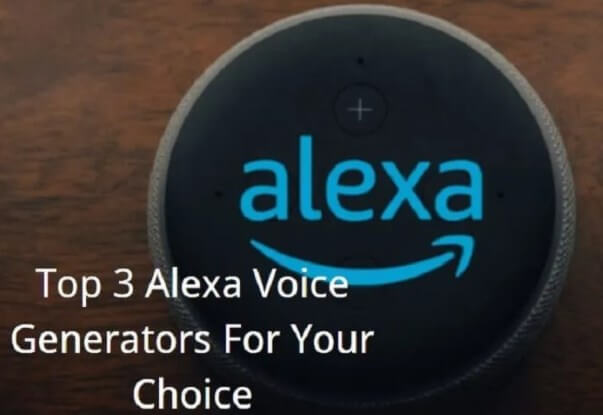 Part 1: Best Alexa Voice Generator - Get it Now!
TopMediai Alexa Voice Generator
TopMediai Alexa AI Voice Generator offers a range of features that make it an excellent choice for generating an Alexa-like voice. For starters, it provides users with a wide variety of voiceover options, including numerous languages and accents. This ensures that you can find a voice that closely matches Alexa's unique sound.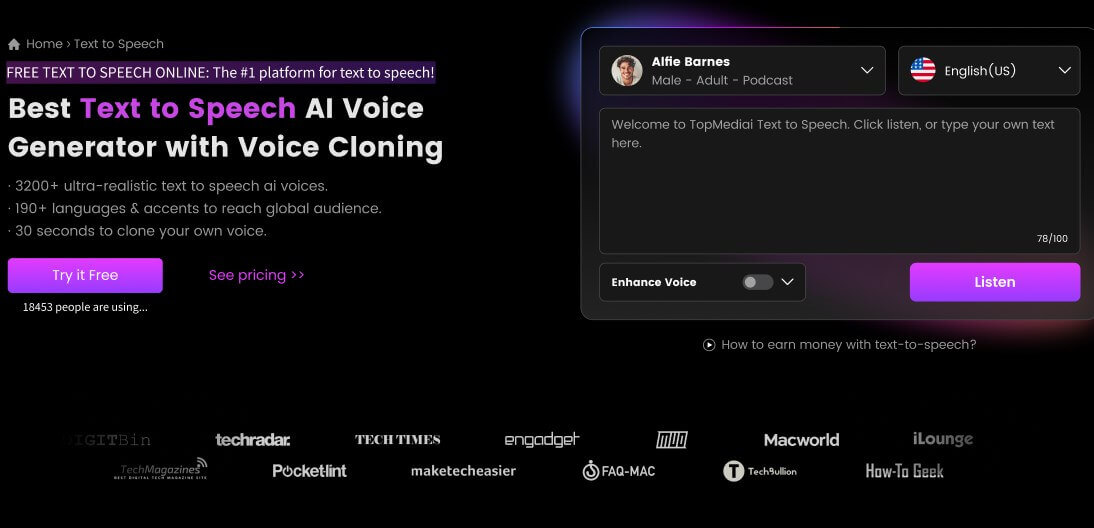 Easy steps to generate Alexa AI Voice:
Step 1: Open TopMediai Text to Speech tool.
Step 2: Enter your desired text into the text box provided and select the Alexa AI voice from the available options or Choose in the "Amazon".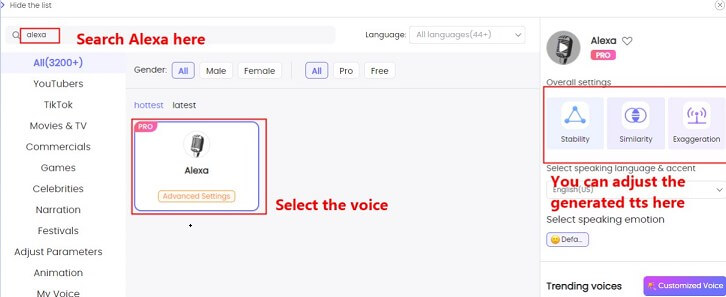 Step 3: Adjust the speed, pitch, and volume of the voice to your desired settings.
Step 4: Click the "Convert" button to generate your Alexa AI voice audio file.
Features:
More than 3200 voices and 80 languages.
It offers several tools to customize the generated voice further. You can adjust the pitch, speed, and tone of the voice, giving you complete control over the final output.
Its compatibility with various multimedia formats, including MP3, WAV, and AIFF.
You can use the generated voiceover in a wide range of applications, from video editing software to podcast recording tools.
Free for a limited time.
Part 2: Top 2 Alexa AI Voice Generator Software
1.Voxbox
Voxbox is an excellent AI dubbing software that can help you create Alexa AI voice, which is equipped with a range of built-in functions and versatile features.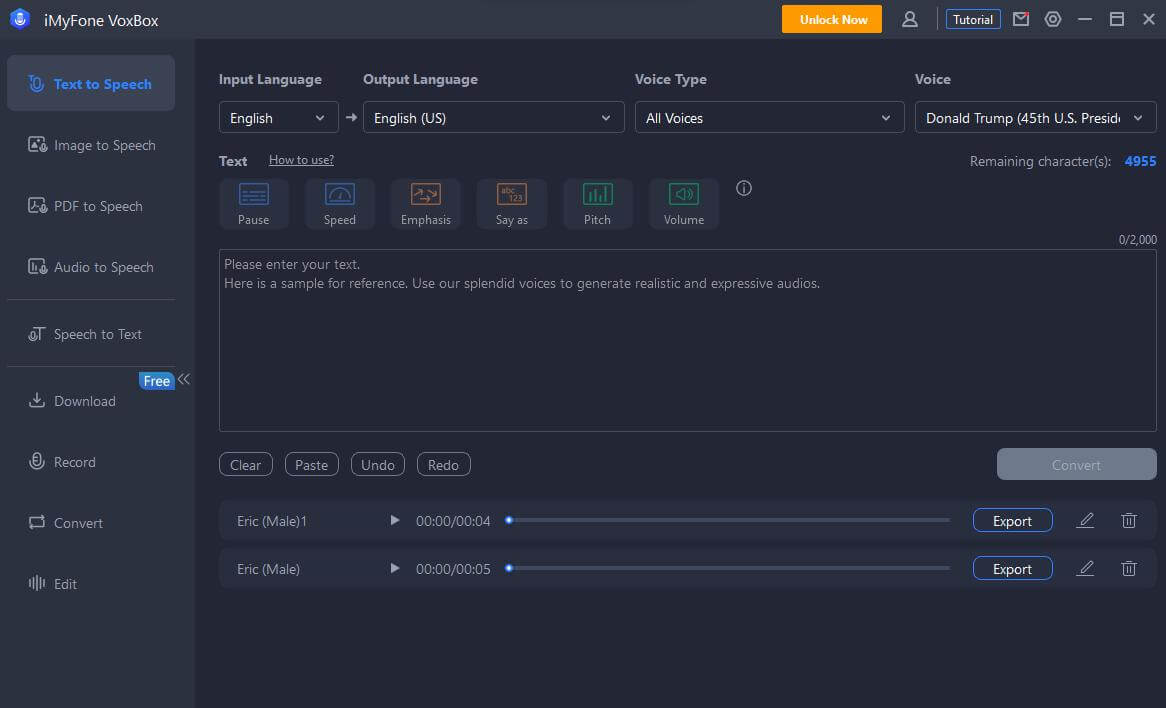 Features:
VoxBox boasts an extensive selection of over 3200 unique voices, including 40+ languages and 100+ accents
The process of generating a voiceover with VoxBox is quick and efficient, making it a convenient choice for users with busy schedules.
VoxBox is both secure and user-friendly, ensuring that users can generate high-quality voiceovers.
It provides users with multiple functions, including TTS, STT, cloning, conversion, recording, and editing.
2. Uberduck.ai
Uberduck.ai provides users with a comprehensive text-to-speech function that covers a vast range of languages and voices. This allows users to generate voiceovers in multiple languages with different accents.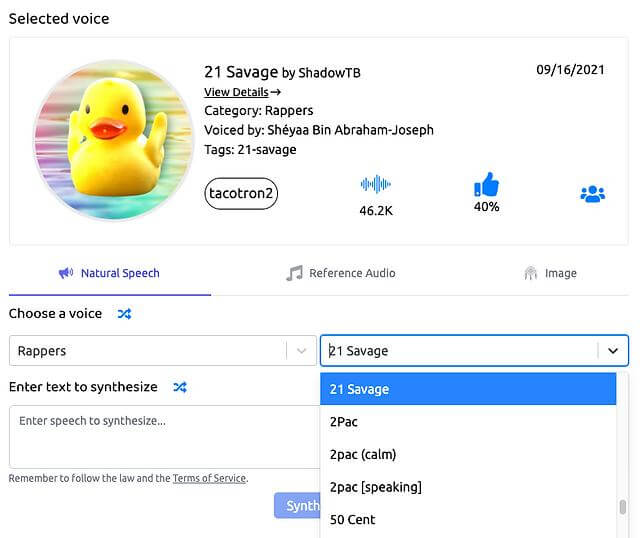 Features:
It has a user-friendly interface that allows users to make swift modifications when needed.
The audio output produced by the software is of high quality, resulting in realistic-sounding voices that are suitable for commercial ventures or presentations.
However, some features of Uberduck require subscription fees to access all the features offered by the program.
Despite the generally impressive quality of the voice output, some users may find it too robotic or challenging to comprehend when dealing with complex sentence structures or intricate subjects.
Part 3: FAQs About Alexa AI Voice Generator
1 How does an Alexa AI voice generator work?
An Alexa voice generator uses text-to-speech technology to convert written text into spoken words, mimicking the unique tone, pitch, and inflection of Alexa's voice. The software analyzes the text and generates an audio file that sounds like Alexa speaking the words aloud.
2 Can I use an Alexa AI voice generator for commercial purposes?
The answer to this question depends on the specific terms and conditions of the voice generator software you are using. Some Alexa voice generator tools may allow commercial use, while others may restrict it. It's important to carefully review the licensing agreements and terms of use for any software you plan to use for commercial purposes.
3 Are there any free Alexa voice generator tools available?
Yes, some Alexa voice generator tools offer free versions with limited features. However, most high-quality voice generators may require a paid subscription or a one-time purchase fee to access their full range of features and voice options.
4 Can I customize the generated voice to sound more like Alexa?
Yes, many Alexa voice generator tools offer customization options that allow users to adjust the pitch, tone, speed, and inflection of the generated voice to more closely match Alexa's unique sound.
5 Can I use an Alexa AI voice generator to prank my friends?
While using an Alexa voice generator to prank your friends may seem like a harmless joke, it's essential to obtain their consent before using their likeness or voice in any way. Additionally, some jurisdictions may have laws governing the use of someone's voice or likeness without their permission, so it's important to research the legal implications before using an Alexa voice generator for prank purposes.
Conclusion By using top Alexa voice generators like TopMediai AI Alexa Voice Generator , you also can generate voiceovers that sound like Alexa. With its extensive range of features, TopMediai offers many options that are not available in other tools or apps. Whether you need voiceovers for personal or commercial purposes, TopMediai is an excellent choice for achieving high-quality results.