Discover the World of Juice Wrld Voiceovers: How to Use Text-to-Speech to Generate a Juice Wrld AI Voice for Your Projects.

Learn how to use a professional Juice wrld Ai voice generator to convert your script into a voice that sounds like Juice Wrld. Follow me and l will guide you through the process of creating Juice Wrld ai voiceovers for your projects.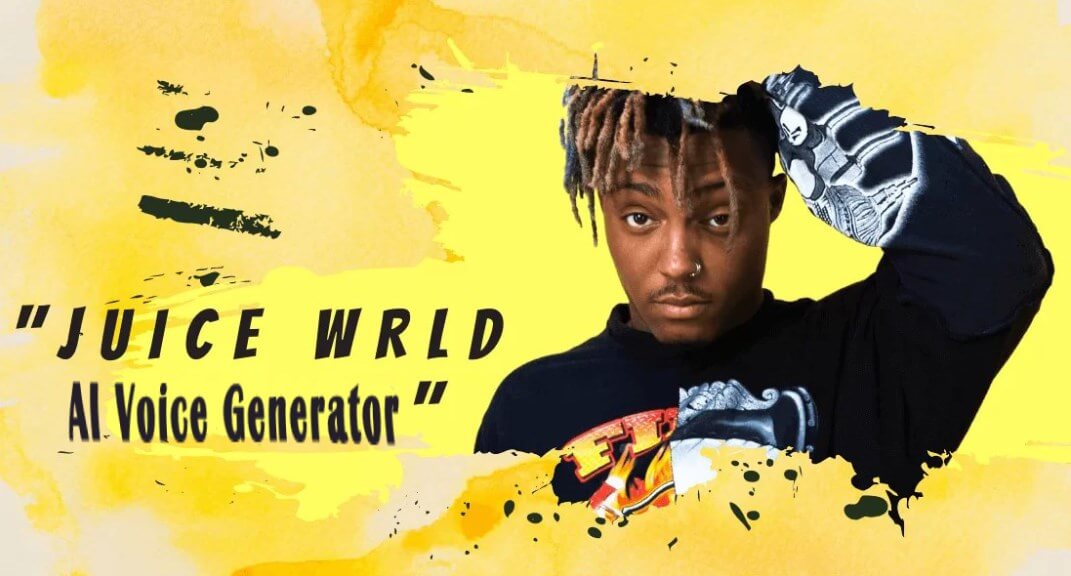 Part 1:Who is Juice Wrld?
Jarad Anthony Higgins, better known as Juice Wrld, is a renowned American rapper and songwriter specializing in hip-hop and emo rap music.

His unique voice has garnered a massive fan following, making him a king of the rap music industry. Due to his popularity, many fans desire to convert their subtitles or scripts into his voice using text-to-speech technology.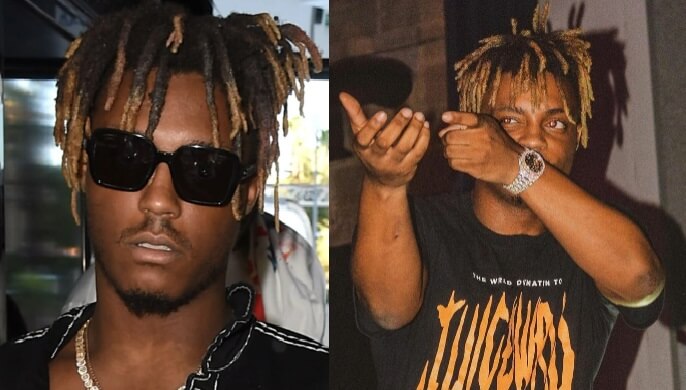 Part 2: Explore 4 Online Juice Wrld Voice Generators - Get Juice Wrld Ai Voice Now!
1. TopMediai - Juice Wrld AI Voice Generator
The first one, TopMediai Juice Wrld Ai Voice Generator is a fantastic option that provides a variety of character and rapper voices, not only have Juice Wrld AI voice, but also Eminem AI voice and Kanye West voice, enabling you to animate your text and make it more captivating.
The Juice WRLD AI voice generator TopMediai text to speech offers a powerful tool for content creators and musicians to infuse their work with the iconic voice of Juice WRLD.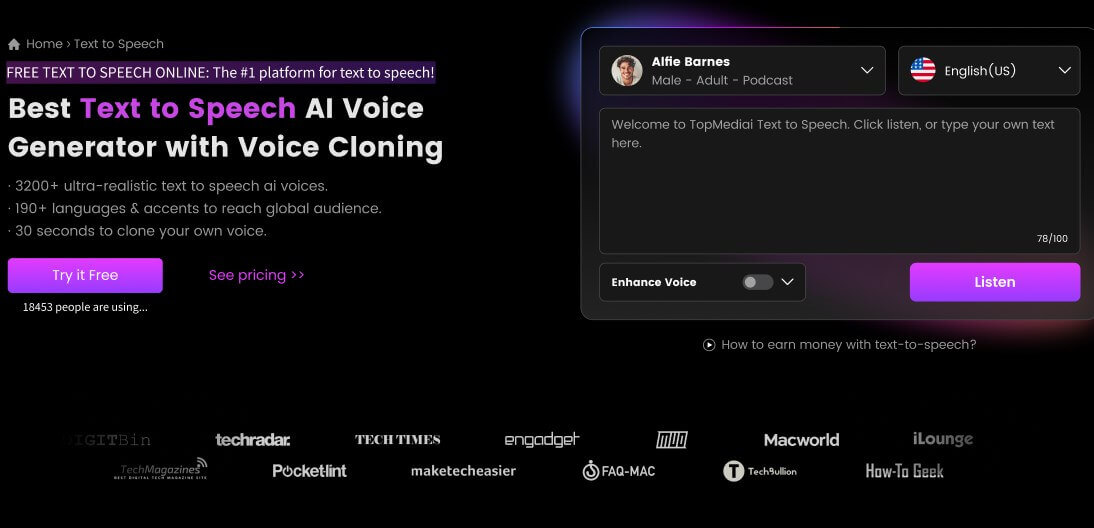 Here is the guide of choosing Juice Wrld's voice:
Step 1: Go to the TopMediai Text to Speech.
Step 2: Put in the text that you want to convert into speech in Juice WRLD's voice.
Step 3: Choose Juice WRLD Voice in the Rappers type. Then click on Convert.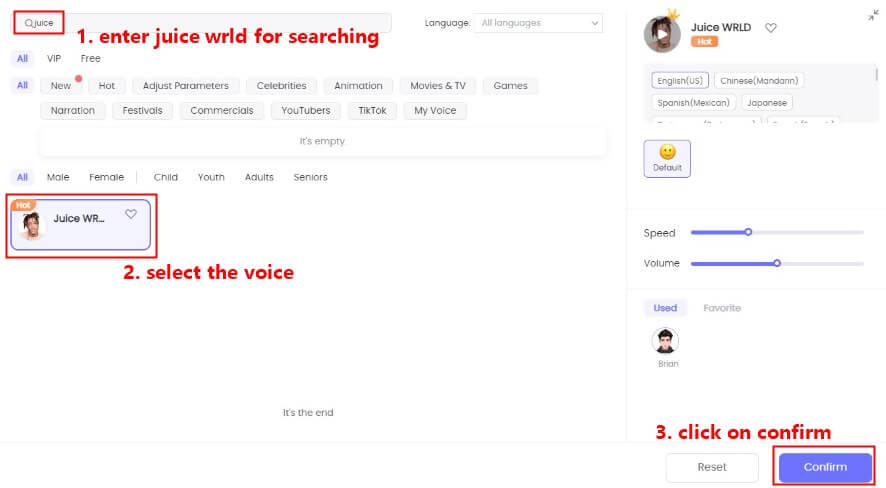 Step 4: Download the final speech output.
Features:
Leading rapper voice generator with ai tech.
Over 3200 voices and 70 languages.
Cutting-edge AI technology enables customization of speech speed and pitch.
Generate all kinds of High quality and realistic human-like voices.
Protect your data security and privacy.
Pros
Easy to use.

There is an extensive range of voices generated by AI technology.

The text-to-speech voices available include Donald Trump's voice and the voices of famous cartoon characters.

Users can use it for free.

Produce a voiceover for the video.
Cons
The desptop version is not available.
2. Voicify ai to Get AI Juice Model
One thing I like about voiceify.ai is that all it's models are independent, and many functions can be realized in one model.

This online website allows users to get many trending ai models, like Juice Wrld, Ariana Grande, Taylor Swift, and Nicki Minaj ai voice models.
It now has released voice cloning and text to speech services. Users can create AI Juice WRLD covers as seen on TikTok and YouTube within a few seconds!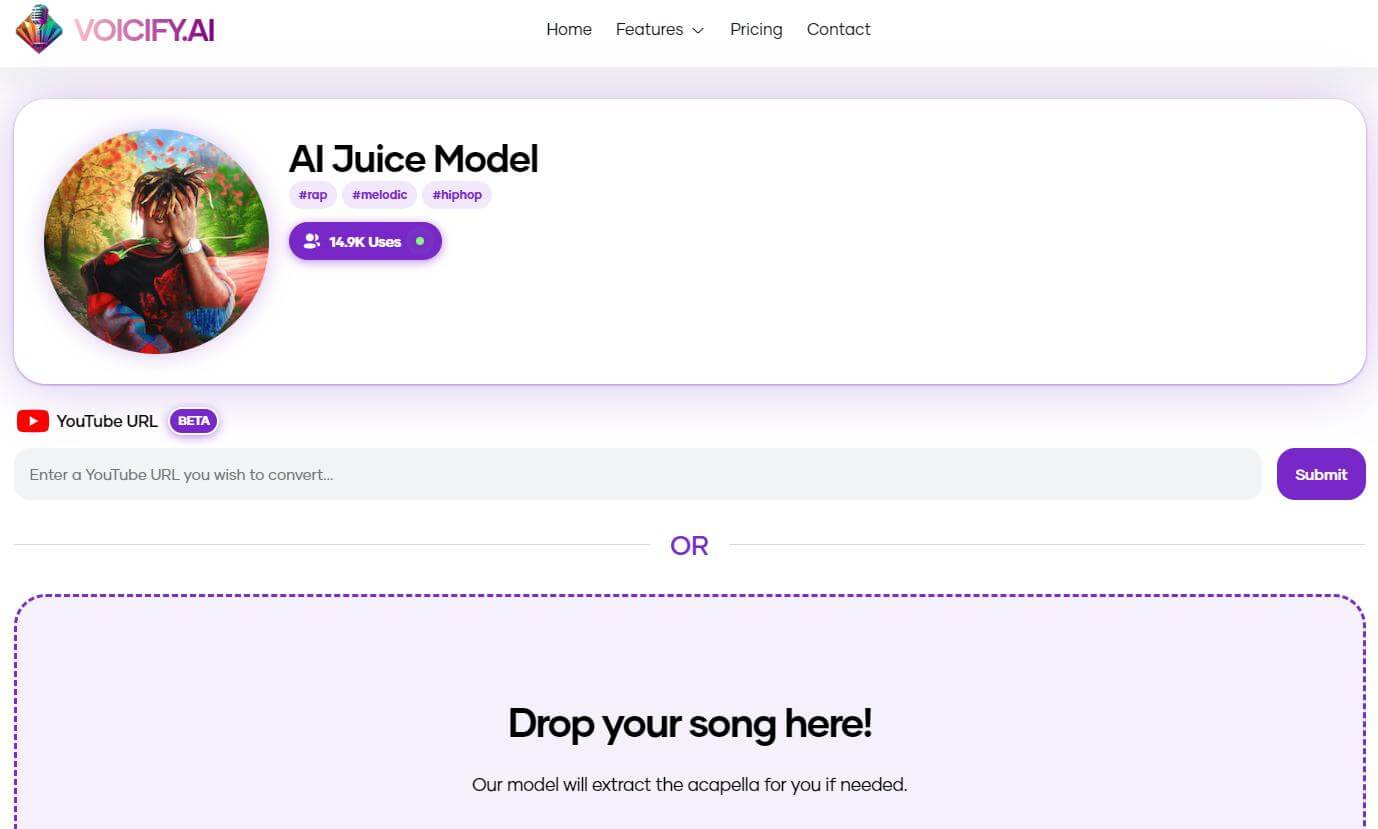 Features:
Independent AI models.
Regular updates.
More features coming soon.
Suitable for Tiktok and Youtube.
Uberduck was the first brand to release voice changer products, but most of their voices have been taken off the shelves and cannot be used, including the Juice WRLD AI voice.
It also has an image generation feature and supports various languages. With Uberduck.AI, users can also synthesize their own custom vocals and voiceovers using over 5,000 expressive voices, making it easy to build killer audio apps in minutes with APIs.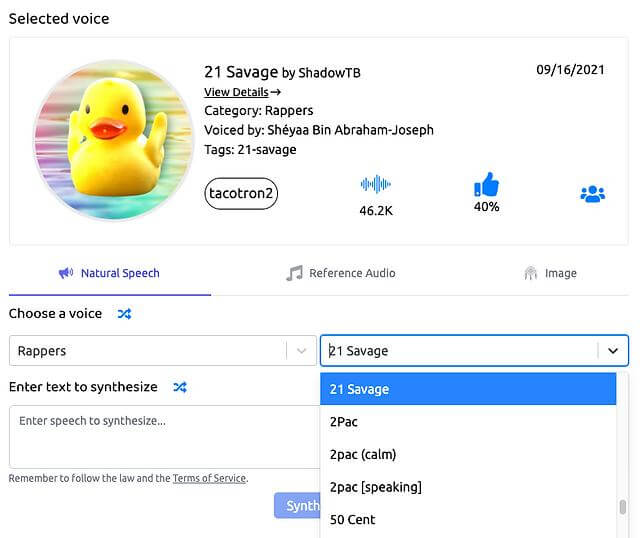 Features:
The text-to-speech generator for Juice Wrld's voice.
Offers a range of voices and languages to choose from.
User-friendly interface.
The customer service is perfect, feel free to contact them if you have any questions.
4. Fakeyou - Juice Wrld Voice Changer
Another online tool that provides Juice Wrld Ai Voice is Fakeyou.com. fakeyou is the most rudimentary of these products. They mainly rely on models uploaded by users to improve their own sound library. One of its features is a Juice Wrld AI voice generator that can be used to create a Juice Wrld AI voice that emulates the late rapper's unique style.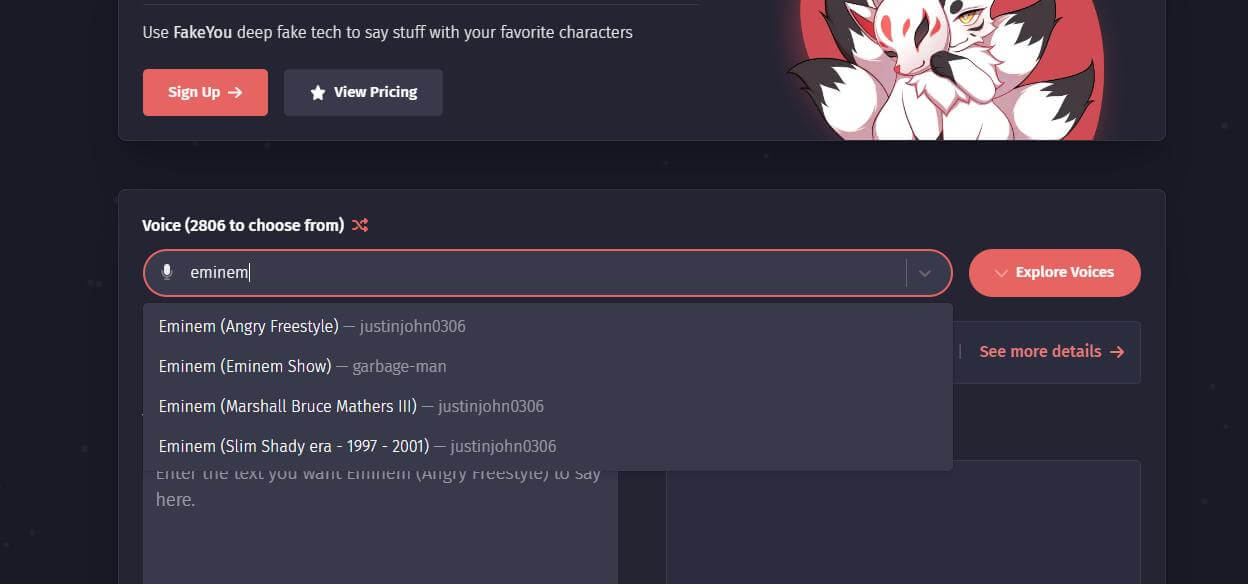 Features:
Both free and paid subscription plans are available to users, offering them the flexibility to choose the one that suits them best.
Users can customize the speech speed and pitch, and download the generated audio files in various formats.
It offers a variety of features, including text-to-speech conversion, voice cloning, and speech recognition.
Easy to use.
Relying on users to upload sounds, the speed of sound expansion is fast.
Price Comparison:
| Plan&Pricing | TopMediai Text to Speech | Voicify.ai | Uberduck.ai | Fakeyou |
| --- | --- | --- | --- | --- |
| Monthly | $12.99 | $24.99 | $9.99 | $7 |
| Per Day | $0.43 | $0.83 | $0.33 | $0.23 |
Part 3: AI Juice Wrld Text to Speech Software
VoxBox is a great dubbing software to generate tts voice. which not only has TTS tech in different 46+ languages and 3200+ voices but also has more other functions like speech to text, voice cloning, video conversion, etc.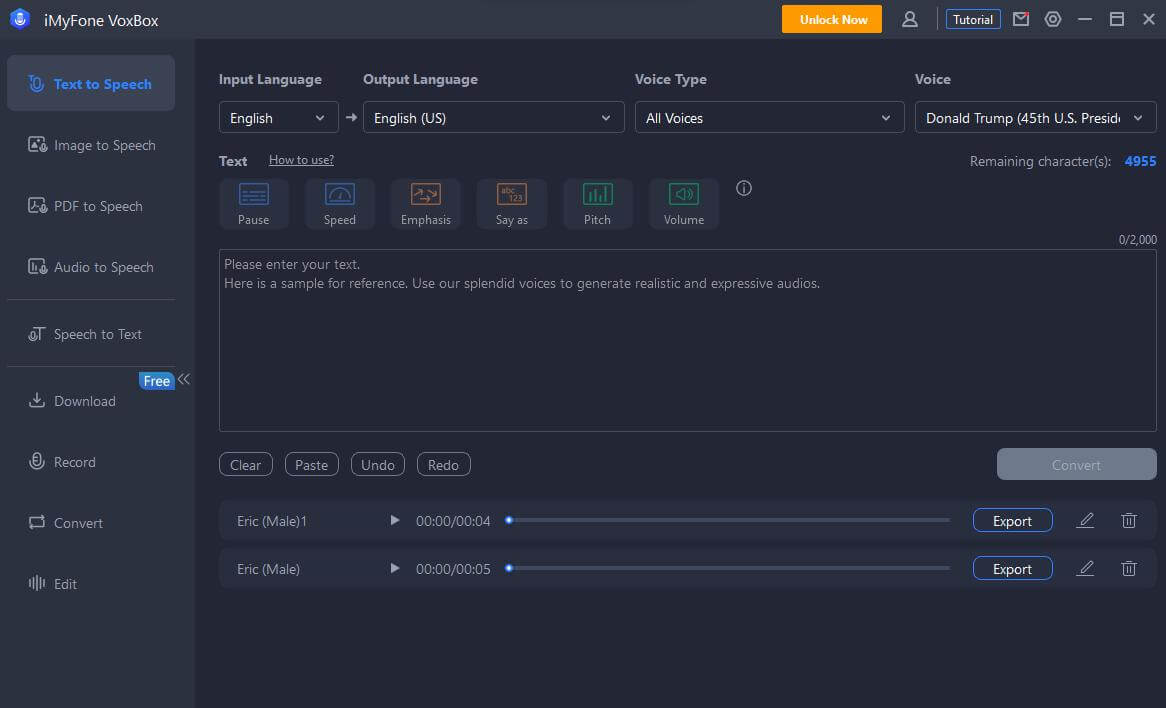 Features:
This online tool offers a vast selection of realistic voice filters, including Cartoon, Scary, and Youtube, among others.
It supports over 46 languages, such as Spanish and Japanese, and provides more than 100 accents to choose from, such as British and Aussie.
Offers various functions, including voice recording, text-to-speech, speech-to-text, and voice cloning, and enables users to adjust parameters like speed, emphasis, volume, BGM, and sound effects.
Pros
Entirely safe, reliable, and user-friendly.

No ads.
Cons
Available for Windows only.
Part 4: Hot FAQs about Juice Wrld AI Voice
1 What is Juice Wrld AI Voice?
Juice Wrld AI Voice is a text-to-speech technology that allows you to generate audio that sounds like Juice Wrld's voice. It uses artificial intelligence to mimic the rapper's vocal style and tone.
2How can I use Juice Wrld AI Voice?
You can use Juice Wrld AI Voice by using a text-to-speech generator that supports his voice. There are several online generators such as TopMediai that can help you create Juice Wrld-like voiceovers.
3 Is Juice Wrld AI Voice free?
While there are some free online Juice Wrld voice generators available, they may not provide the same quality as paid software. Some generators may also have limitations on usage and voice cloning.
4 What are the benefits of using Juice Wrld AI Voice?
Using Juice Wrld AI Voice can be beneficial for content creators who want to incorporate Juice Wrld's iconic voice into their work. It can add a unique touch to audio projects and make them more engaging and memorable.
Conclusion The Juice WRLD AI voice generator is a revolutionary tool that combines artificial intelligence and the unique vocal style of the late rapper Juice WRLD. This innovative technology allows users to generate realistic and authentic Juice WRLD-like vocals for their music compositions, podcasts, or any other audio projects.

Considering which plan is most suitable for you and try it out for yourself and discover the world of Juice Wrld voiceovers!