Are you ready to transform your voice and channel the captivating energy of Bad Bunny? Prepare to be amazed as we introduce you to the groundbreaking AI Voice Generator. Whether you're a die-hard fan seeking to pay homage to your idol, or simply someone fascinated by the world of AI technology.
This article will be your guide on the exciting journey towards creating your very own Bad Bunny AI voice.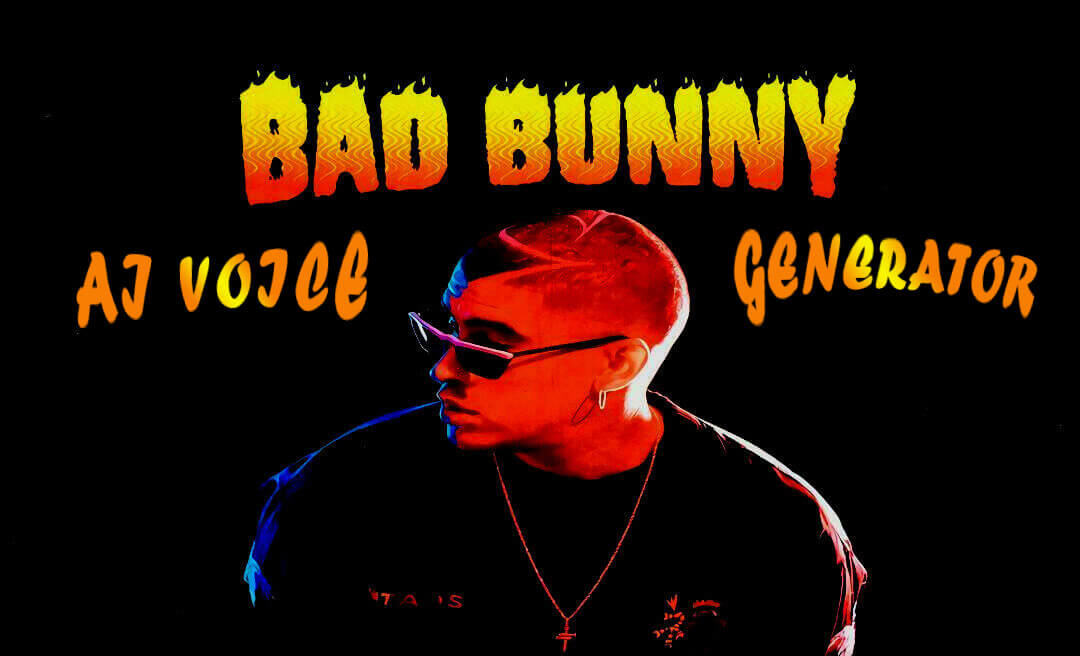 Part 1: [Guide]How can l Generate My Own Bad Bunny AI Voice?
At first we guide to generate Bad Bunny voice. There is Bad Bunny info in Part 2.
TopMediai AI Voice Generator is a cutting-edge tool that empowers users to create AI voices inspired by their \strong>favorite artists. This generator offers an unparalleled level of flexibility and control.
Whether you're a fan, an artist, or simply exploring the potential of AI-generated voices, TopMediai provides a platform to unleash your creativity and craft a unique Bad Bunny AI voice that captures the essence of his captivating style.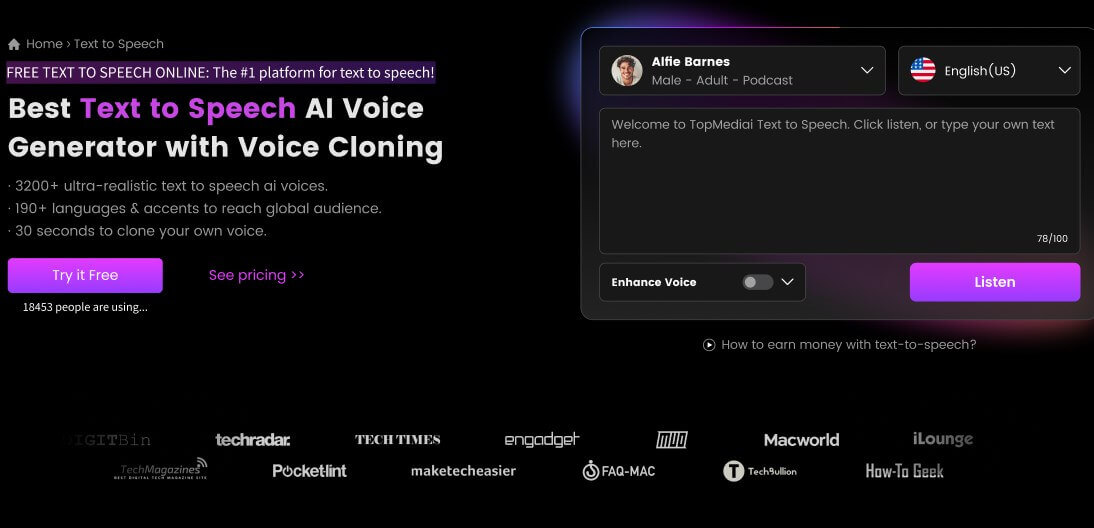 How to Use Bad Bunny AI Voice Generator:
Step 1: Visit TopMediai and access to the AI Voice Generator section.
Step 2: Select the Bad Bunny model from the "Rappers" Option.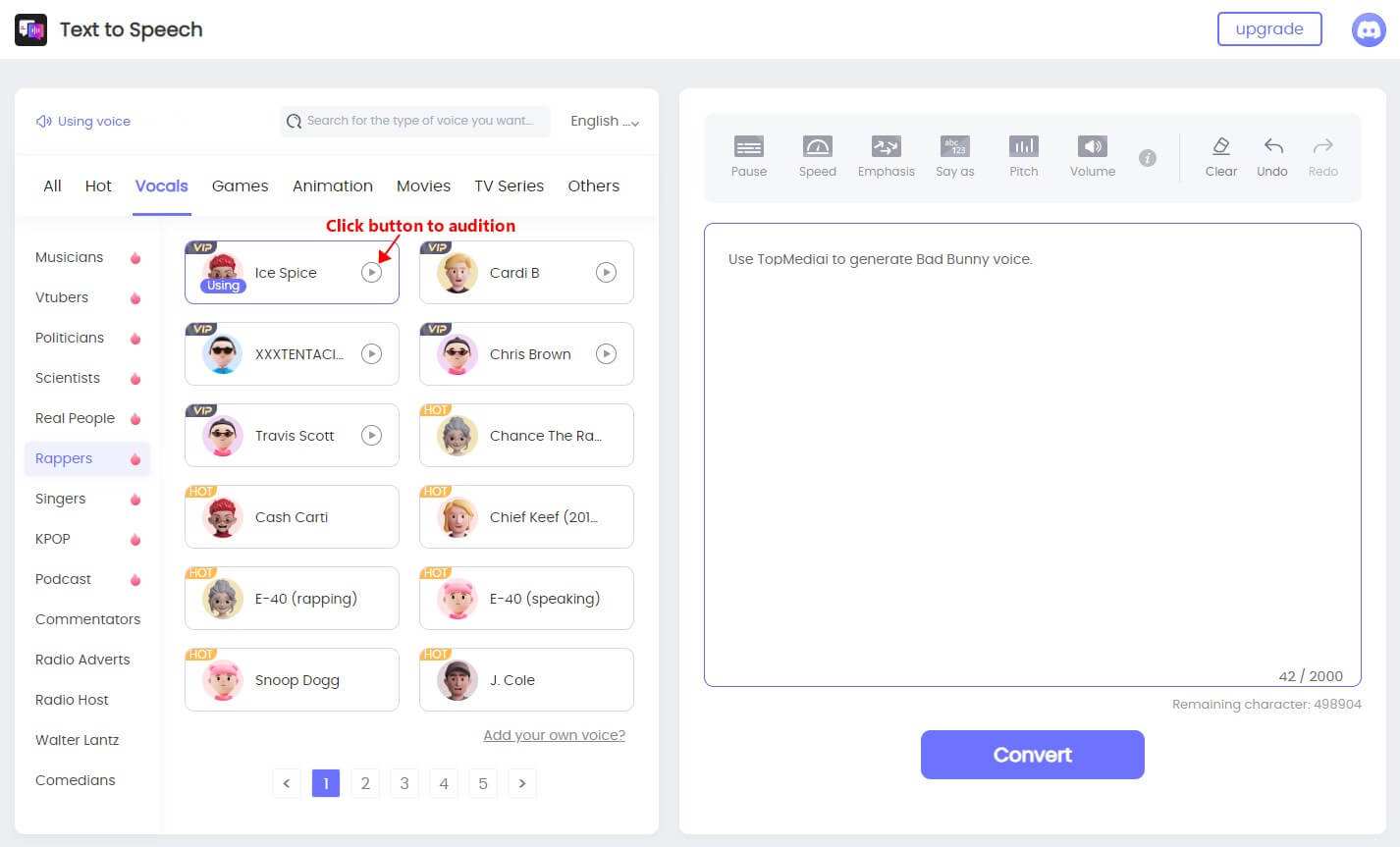 Step 3: Input the desired text or phrases.
Step 4: Customize the voice parameters(Optional) such as tone, pitch, and speed to match your preferences.
Step 5: Click the "Convert" button and without waiting.
Focus Points:
Diverse Voice Selection: Choose from 3200+ voices, including popular artists like Drake and Cardi B.
Multilingual Support: Access 70+ languages for your voice needs.
Voice Customization: Adjust speech speed, tone, volume, pitch, and pronunciation.
Celebrity Voice Option: Generate voices imitating celebrities such as Trump and Biden.
Realistic /strong>Human-Like Voices: The AI system produces lifelike voices for various applications.
Part 2: Who is Bad Bunny?
Bad Bunny, born Benito Antonio Martínez Ocasio, is a Puerto Rican singer, rapper, and songwriter. With his unique style and genre-blending sound, he has become one of the most influential Latin artists. Known for his infectious beats and distinctive vocals, Bad Bunny's music tackles diverse topics and resonates with a global audience.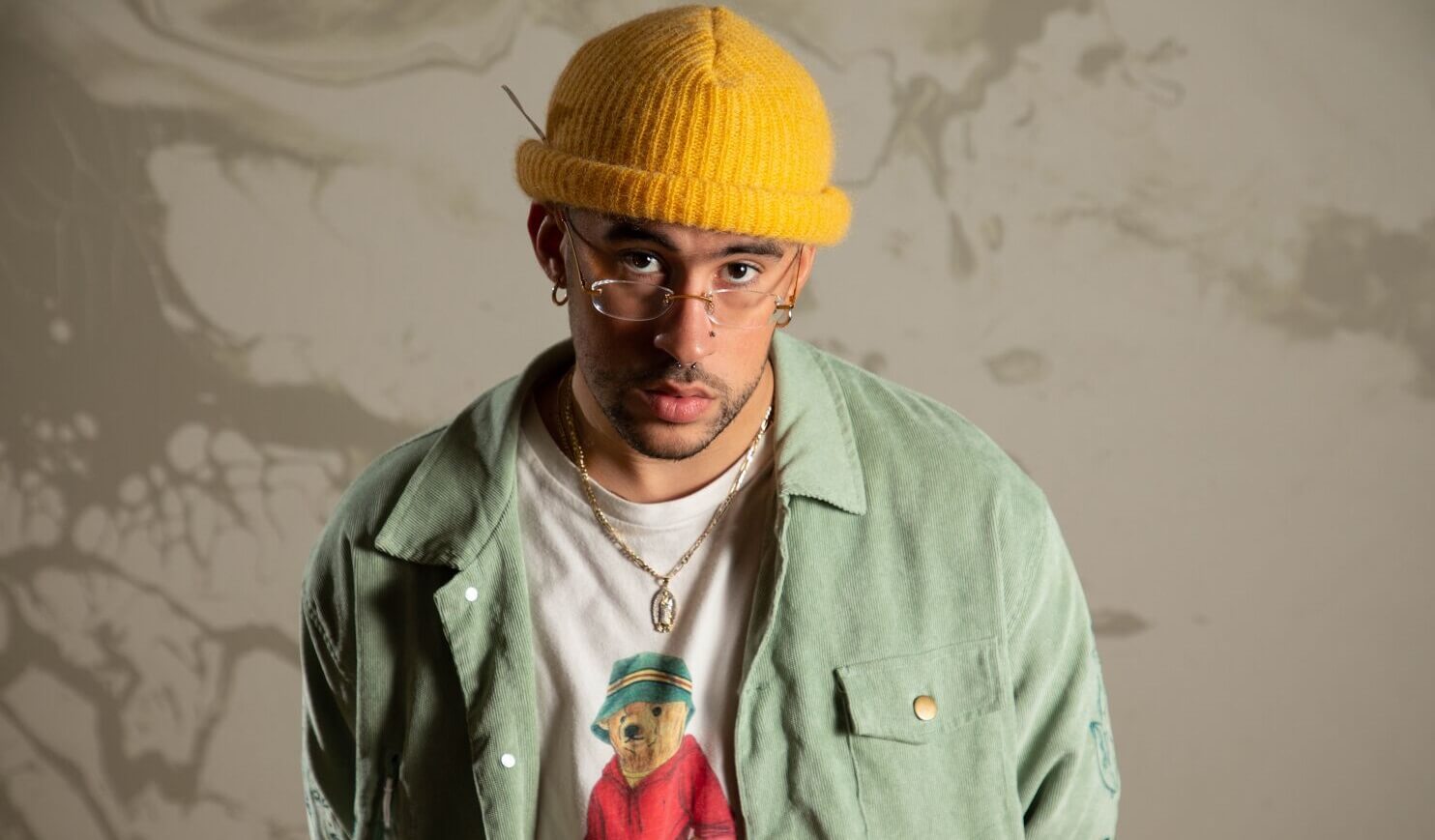 Bad Bunny also challenges norms through fashion, supports LGBTQ+ rights, and speaks out on social issues.
Part 3: How to Get My TTS audios Closer to Bad Bunny's Style?
While the AI voice generator can provide you with an impressive Bad Bunny-like voice, there are additional steps you can take to make your text-to-speech audios projects even closer to Bad Bunny's style(optional):
Step 1: Study Bad Bunny's vocal characteristics, listen to his pronunciation, rhythm, and intonation.
Step 2: Emulate his style, practice speaking or singing along with Bad Bunny's tracks.
Step 3: Adjust voice parameters, experiment with the AI voice generator's settings.
Step 4: Practice and refine, keep generating different audios and analyzing them.
Part 4: FAQs about Bad Bunny AI Voice
1 What and Why does Bad Bunny so popular? Voice or others?
While Bad Bunny's distinctive voice certainly plays a role in his popularity, it is the combination of his versatile music, relatable lyrics, charismatic personality, and cultural representation that have catapulted him to superstardom.
2 How can l Change My voice into Bad Bunny in Real-time?
Of course you could choose a voice changer. Such as TopMediai Free Online voice changer.
Conclusion You've now embarked on an incredible journey to create your own Bad Bunny AI voice with TopMediai voice generator! It's time to take center stage, armed with the extraordinary gift of your Bad Bunny-inspired voice. Share your Bad Bunny AI voice creations on Discord or other platform, collaborate with fellow artists, and let the world experience the magic you've harnessed.
Click the button to try it free now.