In today's digital era, content creators and music enthusiasts are constantly seeking innovative ways to connect with their audience and create unique experiences. One such tool that has gained popularity is the Lil Tjay voice generator.

In this article, we will explore the fascinating world of the Lil Tjay voice changer, its applications, and how it can help content creators stand out in the competitive music landscape.

"Music helps me when no one else does."
Part 1: Who is Lil Tjay?
Lil Tjay, born Tione Jayden Merritt on April 30, 2001, is an American rapper and singer who gained fame with his breakout song "Resume" in 2017. He later signed with Columbia Records and released his debut album, "True 2 Myself," in 2019, which reached number 5 on the Billboard 200 chart.
In 2021, he dropped his second studio album, "Destined 2 Win," featuring the hit single "Calling My Phone" with 6lack, his highest-charting song to date. Lil Tjay's unique voice, heartfelt lyrics, and melodic style have solidified his position as a rising star in the music industry.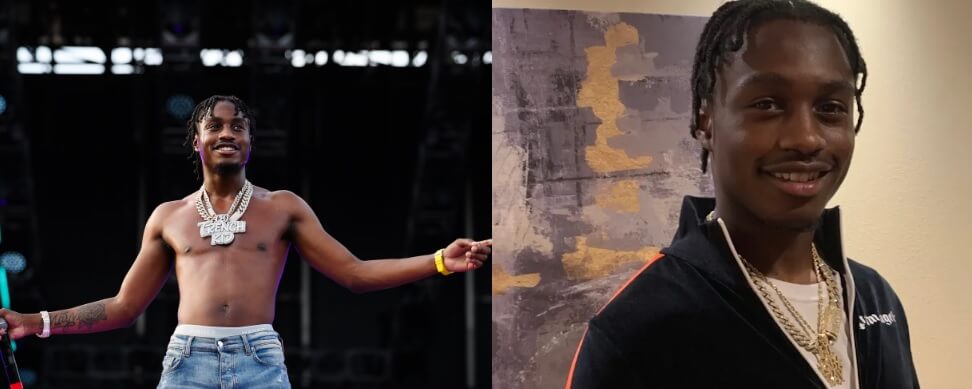 Part 2: Bonus: Latest Song by Lil Tjay!
Lil Tjay, the renowned rapper from the United States, has made an impressive comeback to the music industry with his latest single titled "Scared 2 Be Lonely". This highly anticipated track is a definite must-have for your playlist.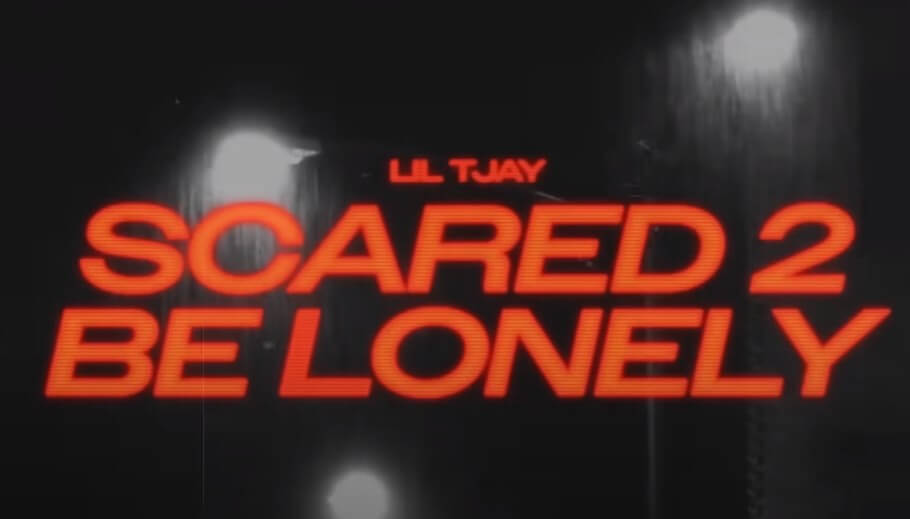 Part 3: How are Lil Tjay's Songs and Voice?
Lil Tjay's voice is characterized by its distinctive tone, melodic delivery, and emotional depth. He possesses a youthful and raw vocal quality that resonates with listeners, making his music instantly recognizable.

Lil Tjay often incorporates auto-tune effects to enhance his vocal performance, creating a unique blend of singing and rapping known as melodic rap.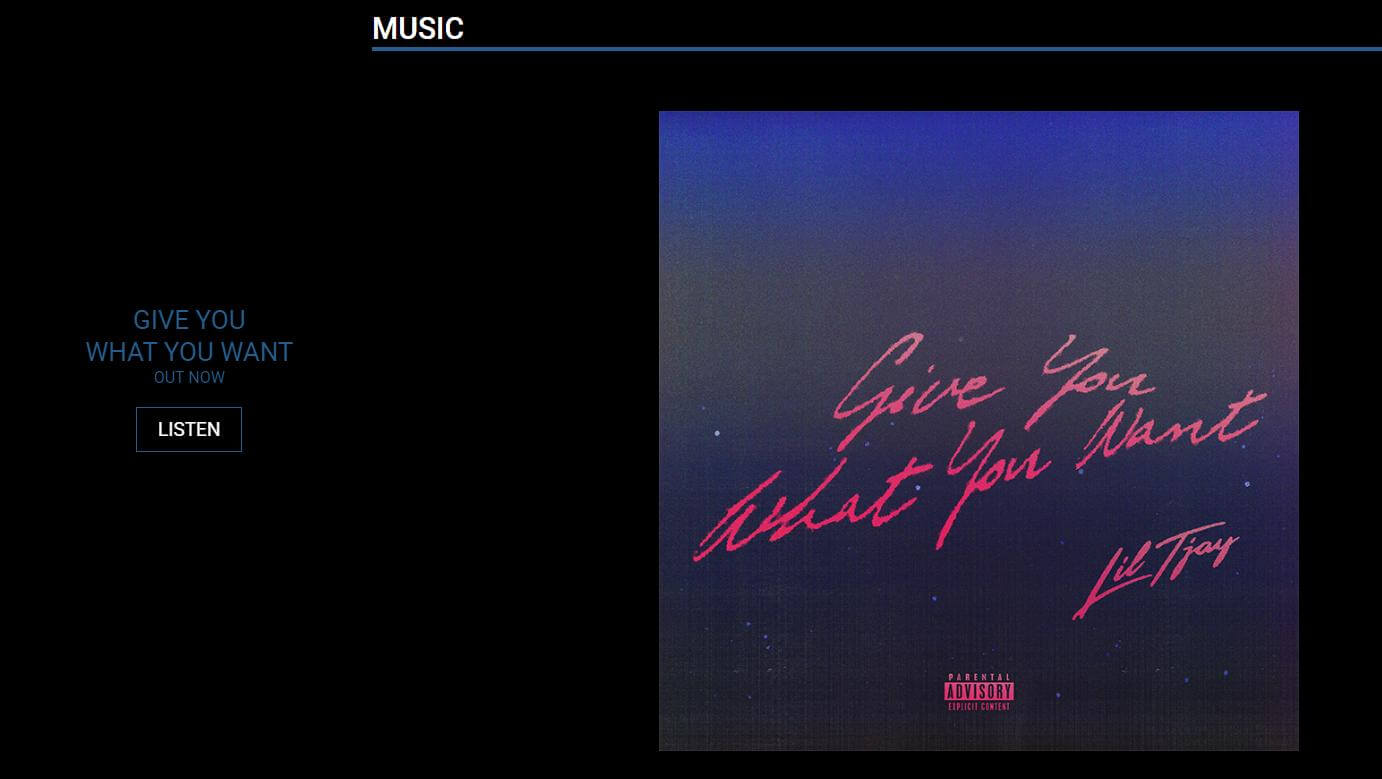 Lil Tjay's songs are known for their compelling and emotive nature, drawing listeners in with their relatable themes and catchy melodies. He effortlessly blends elements of rap and R&B, creating a melodic rap style that resonates with a wide audience.

Lil Tjay often explores personal experiences, relationships, and the challenges he has faced, infusing his music with authenticity and raw emotions.
His lyrics reflect introspection, resilience, and a desire for success, captivating listeners with their vulnerability and relatability. With his unique voice and captivating delivery, Lil Tjay's songs have a powerful impact, leaving a lasting impression on fans and establishing him as a notable force in the music industry.
Part 4: BEST Lil Tjay Voice Generator Online
1.TopMediai - Best Choice to Make Lil Tjay AI Voice Free
Looking to add a touch of musical flair to your projects? Look no further than TopMediai , the go-to online text-to-speech voice generator. This innovative platform offers a diverse range of rapper voices, allowing users to transform written text into dynamic vocal performances that capture the essence of their favorite artists.
At TopMediai, you'll find an extensive collection of rapper voices to choose from. Whether you're a content creator, music producer, or simply a fan looking to experiment with different vocal styles, this platform has you covered.
From Lil Tjay's melodic flow to the gritty cadence of artists like Lil Durk and DaBaby, TopMediai boasts an impressive lineup of voices that cater to various rap genres and styles.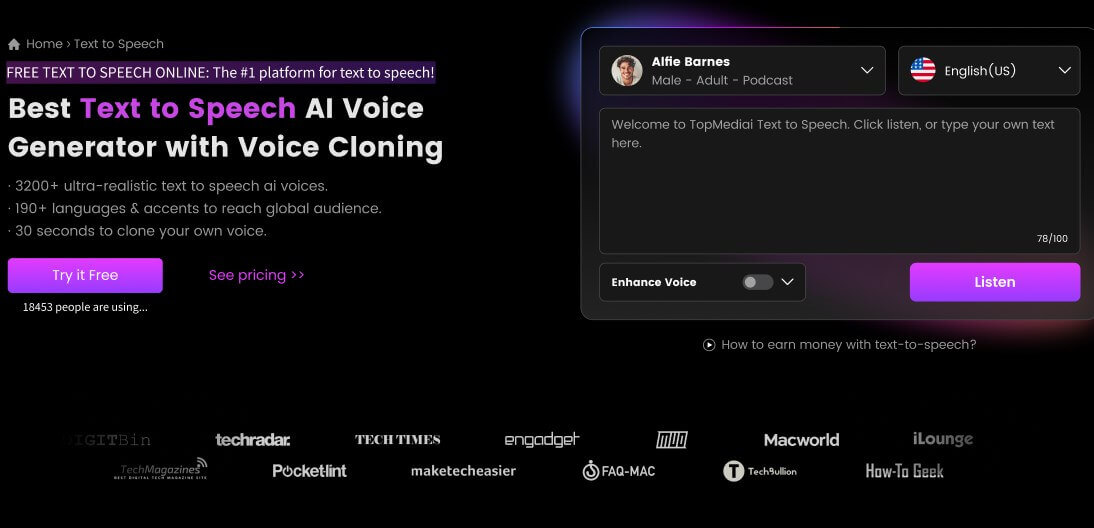 How to Use Lil Tjay Voice Changer?
Step 1: Go to TopMediai text to speech online .
Step 2: Choose rappers's voice type first and then find out Lil Tjay's voice. Or you can search his voice directly.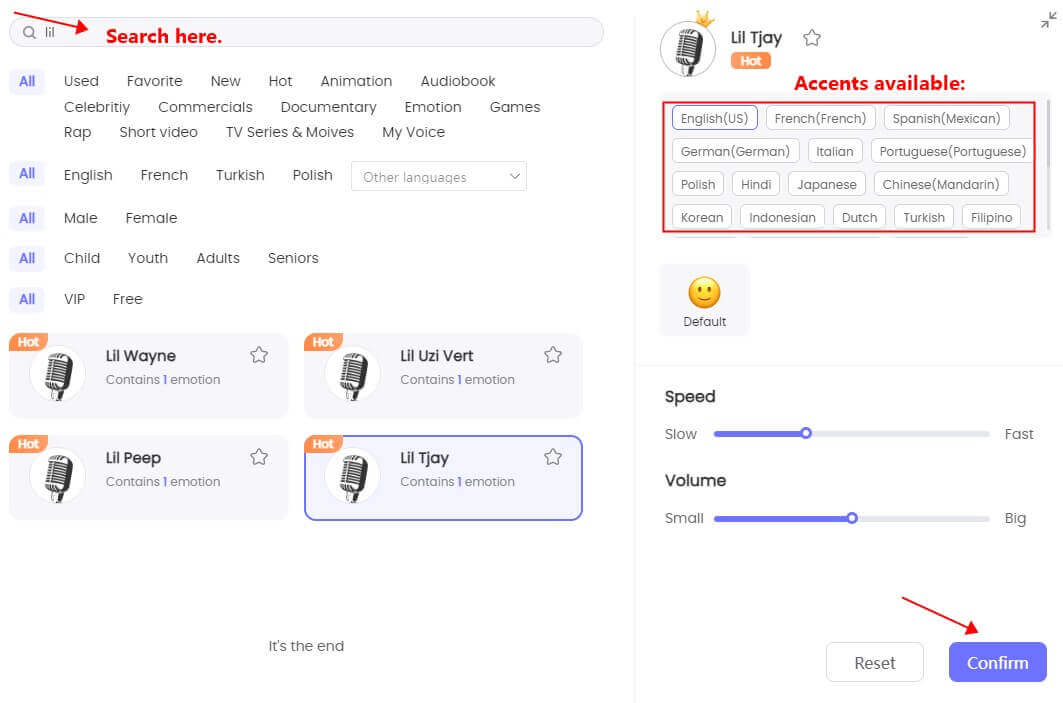 Step 3: Download the audio in Lil Tjay's voice directly once satisfied.
Key Features:
Over 3200+ voices and 70+ languages to choose from, including the unique Lil Tjay text to speech voice.
Customizable voice parameters, allowing users to adjust the pitch, speed, and emphasis in real people voice.
Delivering a high-quality user experience.
Content creators can utilize this powerful tool to enhance podcasts, radio jingles, or voice-overs, infusing their work with the charisma of their favorite rappers.
Multiple other celebrity ai voices are accessible.
2.Voicify.ai to Make Lil Tjay Cover Song AI
The AI cover song generator Voicify.ai is an innovative tool that utilizes artificial intelligence to recreate popular songs in a unique and personalized way.
The AI cover song generator Voicify.ai adapts the song to different musical genres, styles. This allows users to explore creative possibilities and create custom covers that suit their preferences or align with a specific theme or mood.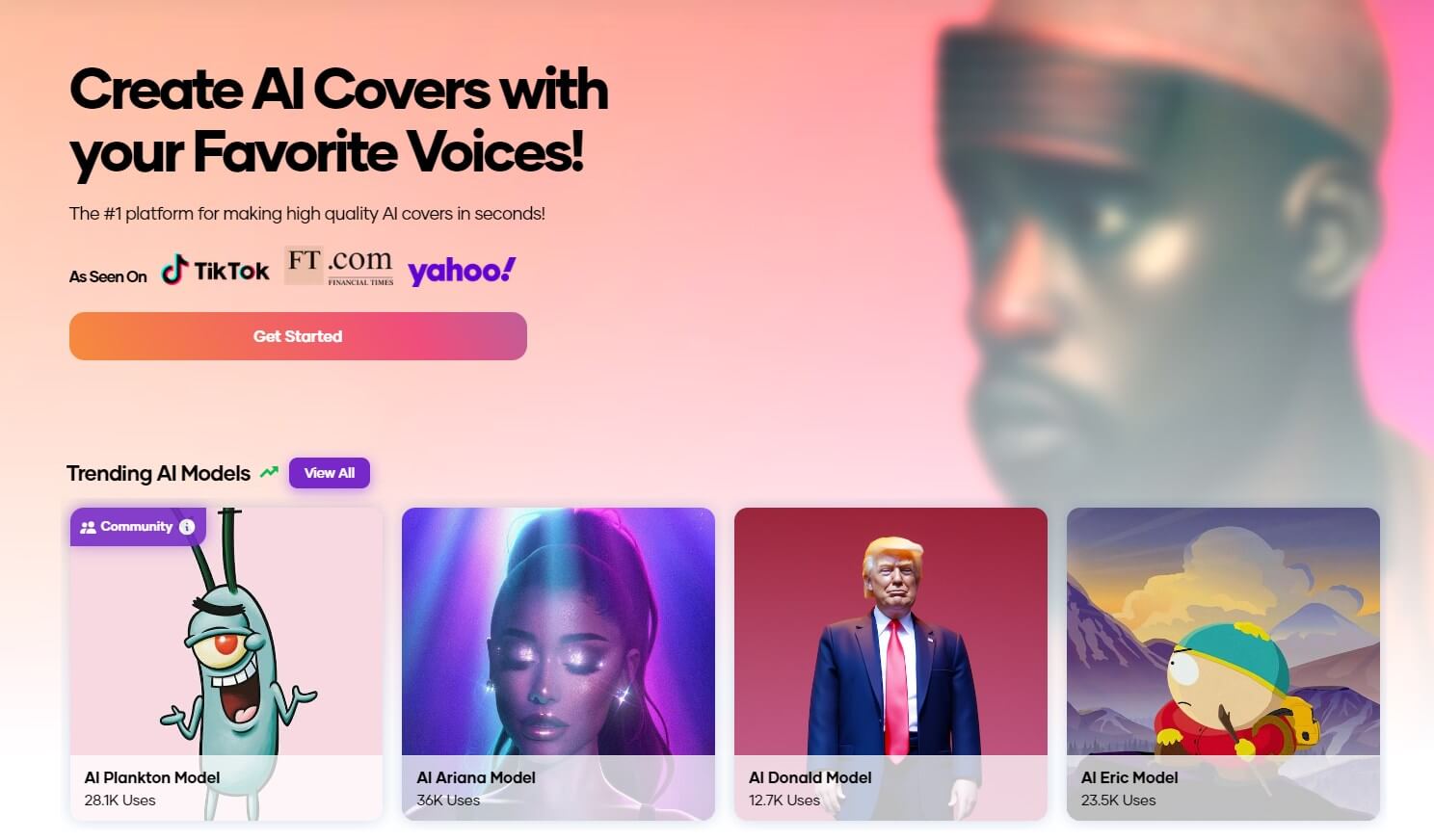 Key Features:
Focus on rapper and celebrity voices.
Tons of AI Model to choose for users.
Users can request the voice they want on the website.
Content creators can utilize this powerful tool to enhance podcasts, radio jingles, or voice-overs, infusing their work with the charisma of their favorite rappers.
Offers a fascinating and innovative approach to cover songs.
Conclusion In the fast-paced world of music and content creation, the Lil Tjay voice generator emerges as a powerful tool to capture the essence of Lil Tjay's vocal style. B

Embrace the Lil Tjay voice generator and unleash your creativity like never before.