Yeehaw! Saddle up and stay with me to sound like a true cowboy with a mysterious power: Cowboy Voice Generator. This tool can replicate the ugged charm of the Wild West voice with a simple click.

In the below content, l'll explore the roots of the cowboy culture, delve into the most iconic cowboy portrayals on film, and guide you through two effective ways to acquire the coveted cowboy voice.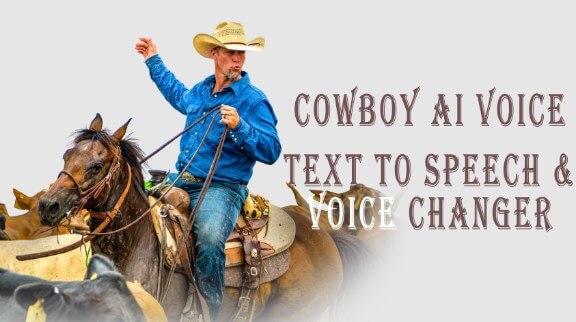 Part 1: When did Cowboy First Appear?
The allure of the cowboy has deep roots in American history, tracing back to the cattle ranching days of the 19th century. The rugged independence, fearless spirit, and distinctive drawl have made cowboys enduring symbols of the Wild West. Uncover the origins of the cowboy persona and understand why it continues to captivate imaginations today.
Part 2: Famous Cowboys in Film History
One of the most famous cowboys in film history is Clint Eastwood. His portrayal of "The Man with No Name" in Sergio Leone's spaghetti westerns, such as "A Fistful of Dollars" (1964), "For a Few Dollars More" (1965), and "The Good, the Bad and the Ugly" (1966), established him as an iconic figure in the genre. Eastwood continued to play notable cowboy roles in films like "High Plains Drifter" (1973) and "Unforgiven" (1992), which won him the Academy Award for Best Director and Best Picture.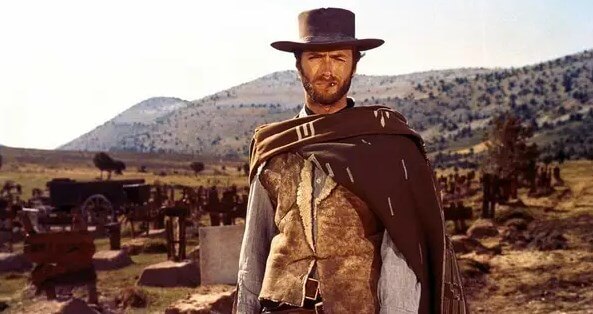 I also provide other 3 famous cowboys on my heart:

Buffalo Bill Cody: William Frederick "Buffalo Bill" Cody was a soldier, bison hunter, and showman who became a famous figure in the American Old West. He created the Buffalo Bill's Wild West show, which toured the United States and Europe.
Wyatt Earp: Wyatt Earp was a lawman and gambler best known for his role in the Gunfight at the O.K. Corral in Tombstone, Arizona.
Doc Holliday: A close friend of Wyatt Earp, John Henry "Doc" Holliday was a dentist, gambler, and gunfighter known for his participation in the Gunfight at the O.K. Corral.
Part 3: Sound Like Cowboy in 2 Ways
Now, let's get down to the nitty-gritty. Unleashing your inner cowboy is just a few clicks away. TopMediai offers two foolproof methods to acquire the perfect cowboy voice.
You have a cowboy-themed script, and you want it to come to life with an authentic drawl. TopMediai Text to Speech feature is your go-to tool. Transforming written words into a genuine cowboy voice is as simple as typing your text and letting the magic unfold.
With Supports more 70 languages and provides many different-theme voices, TopMediai can meets your diverse needs. Whether you're creating content, narrating a story, or just having a bit of digital cowboy banter, this method ensures a quick and hassle-free conversion. How can't l not love?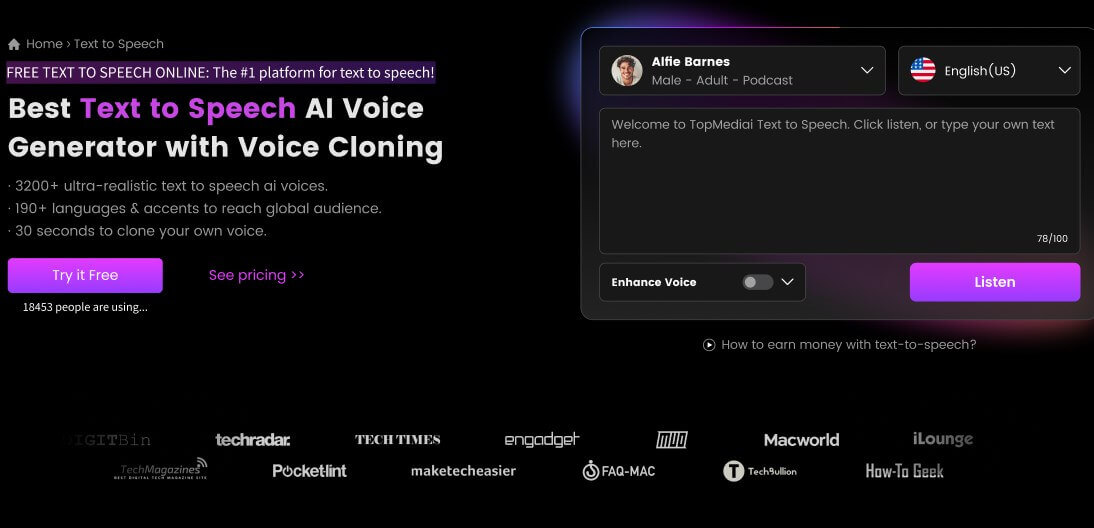 3200+ realistic voice options, including different-style cowboy voices.
Supports adjust speed, pitch, tone and volume of your choosing voice.
Voice cloning. is available for cloning your own cowboy voices or other voices.
Free to try all voices.
API access for developers to integrated in to their platform or software.
How to use Make Text to Speech Cowboy voice:
Step 1: Access to TopMediai Text to Speech.
Step 2: Choose a Cowboy's voice or search a actor who has acted cowboy.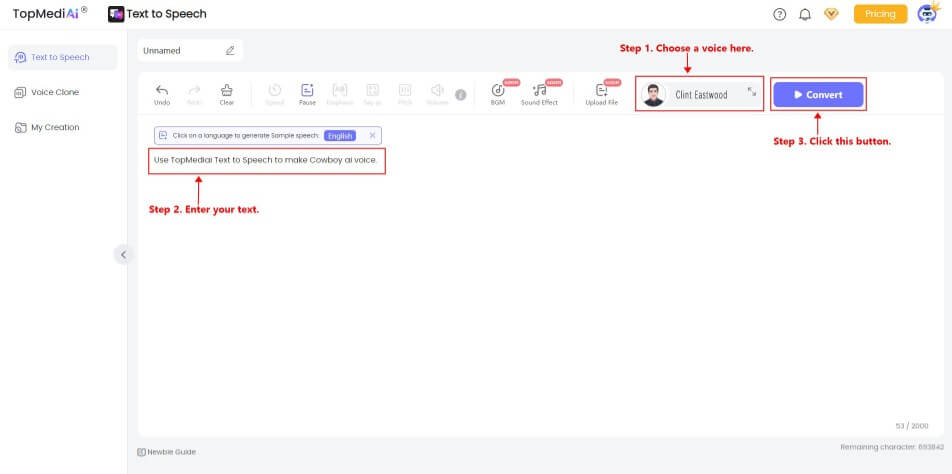 Step 3: Input your text.
Step 4: Click "Convert" to listen to the generated voice.
Step 5: Download your generated voice or review on "My Creation."
Try Cowboy Voice Generator Online >>
For those who crave a more hands-on approach to their cowboy transformation, the Voice Changer feature by TopMediai is your golden ticket. Take control of your voice and tweak it to perfection, immersing yourself in the rugged charm of a cowboy. There are 53+ free voice changing models and you can add sound effects when you are changing voices. Whether you want a wild, sexy or rough cowboy voice changing, TopMediai has you covered.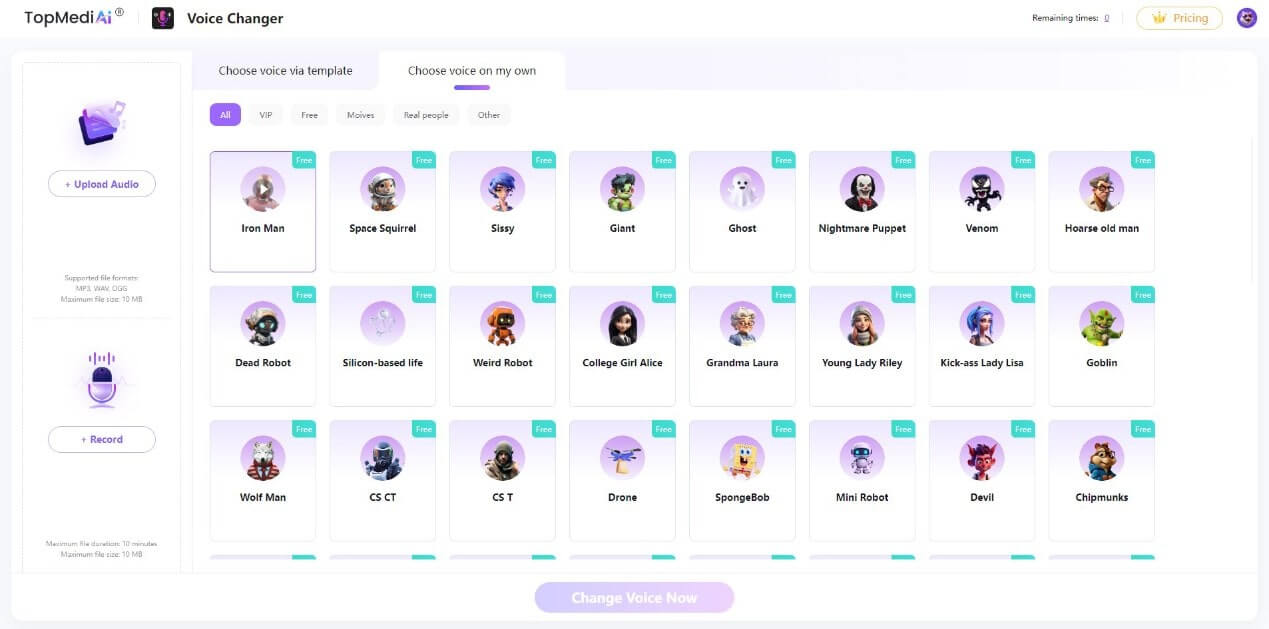 Compatible for both computer and phone.
Supports changing voice by recording voice online or uploading audio files.
Many Free models for you to use.
More custom models updating, you can upload your models soon.
Super-fast changing, and ensures a high-quality output.
How to Use Cowboy voice changer:
Step 1: Visit TopMediai Free Voice Changer Online.
Step 2: Choose a mode: upload files or record your voice.
Step 3: Choose a cowboy voice model.
Step 4: Click "Start" and waiting for the changing.
Step 5: Listen and download your creation.
Part 4: Tips for Generating Text to Speech Cowboy Voice
1. Experiment with Pitch and Tone and Try the Drawl: Slow down the speech rate, using deeper pitches for a traditional feel to capture the characteristic drawl of cowboy speech, you can adjust the speed, tone and pitch of cowboy ai voice on TopMediai.
2. Use Cowboy Vernacular: Integrate cowboy slang and phrases into your text to enhance authenticity.
3. Adjust Intonation: Experiment with intonation settings to add subtle variations for emphasis and emotion.
4. Test Different Texts: Generate the cowboy voice with various types of text to ensure versatility.
Part 5: FAQs about Cowboy AI Voice
1 Can cowboy voice generator replicate the original Wild West-style cowboy voice?
Yes. A good cowboy voice generator can perfect replicate a wild west-style cowboy voice and the similarity is up to 90% and even higher. Also you can adjust their emotion and style, such as happy, savage, sexy and more.
2 Is cowboy AI voice only available in a male voice?
No. Cowboy AI voice both available in male and female voices. There are also female cowboys exist.
3 Is cowboy ai voice is text to speech cowboy voice?
No. Cowboy ai voice is a voice that sound like real cowboy, and text to speech is a tool that can make your text speak in cowboy's voice.
Conclusion Both methods offered by TopMediai cater to different preferences, ensuring that whether you prefer the convenience of text conversion or the hands-on control of voice modification. They are used for different purposes.
So, don your virtual hat, hit the trail, and let your text to speech cowboy voice echo through the digital frontier, you'll be riding high with an authentic cowboy ai voice that truly sets you apart from the rest. Yeehaw, partner!