In the digital age, text-to-speech allowing users to generate lifelike voices for various purposes. One popular choice among voice options is the captivating voice of Lily Rose Depp. With the help of a free voice over generator, anyone can now create their own AI-powered Lily Rose Depp voice effortlessly.
In this article, we will explore how to generate Lily Rose Depp AI voice and the exciting details about the upcoming movie "The Idol."
Part 1: Who is Lily Rose Depp?
Lily Rose Depp, born on May 27, 1999, in Paris, France, is a versatile talent renowned for her acting, modeling, and fashion endeavors. With her father Johnny Depp and mother Vanessa Paradis being prominent figures in the entertainment industry, made her mark as a model, walking for Chanel and gracing the covers of prestigious fashion magazines.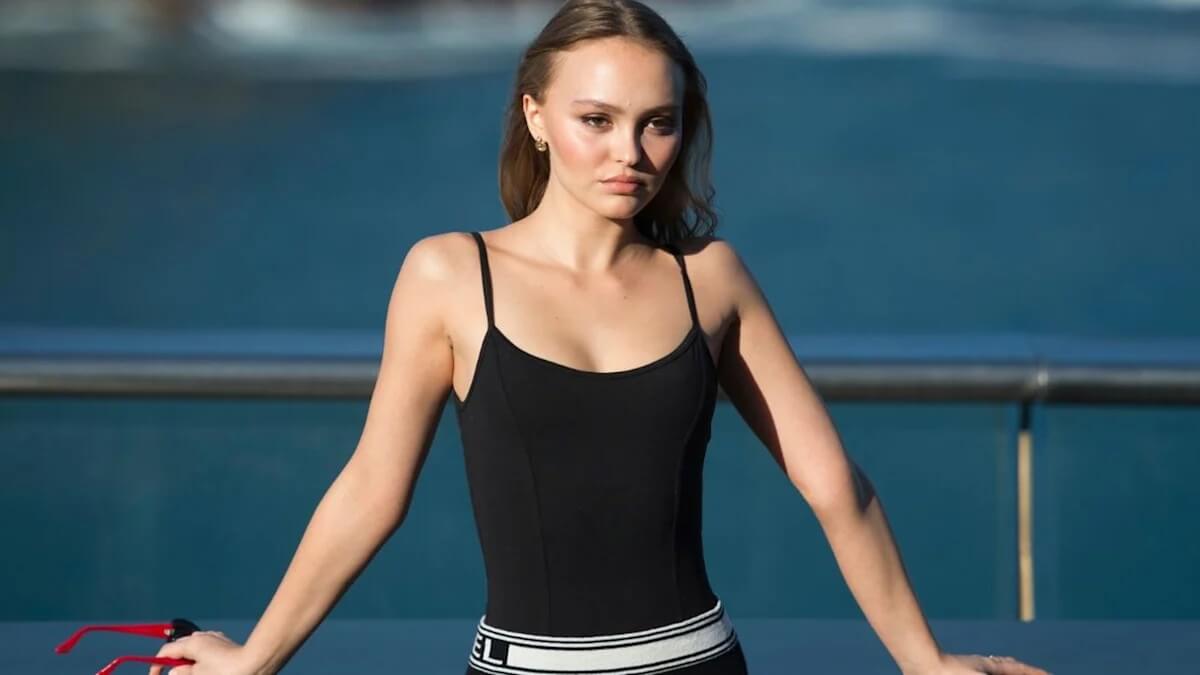 In the acting realm, her breakthrough role as Isadora Duncan in "The Dancer" and in films like "Yoga Hosers" and "Planetarium" have solidified her presence in the industry.
Beyond her professional accomplishments, she is a fashion icon and advocates for important social causes, making her an influential figure for the younger generation.
Part 2: How to Generate The Idol HBO Lily Rose Depp Voice?
To generate the alluring Lily Rose Depp AI voice, you can utilize the advanced capabilities of the TopMediai Text to Speech voice generator. This platform offers an excellent opportunity for fans and content creators to access the mesmerizing Lily Rose Depp voice without any hassle.
It is free to transform text into speech using various celebrity voices, Such as Tom Hiddleston.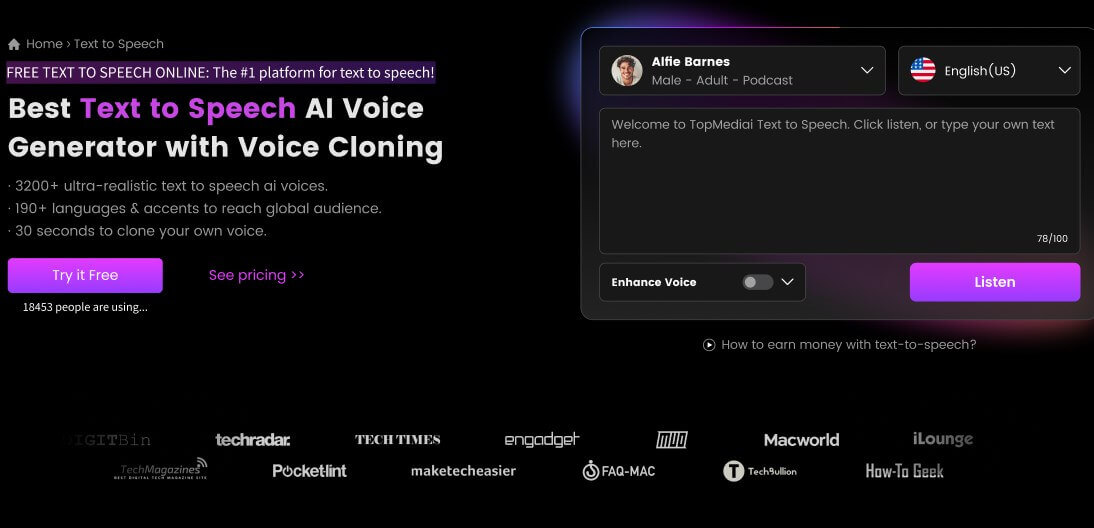 Simply type in the text you want to be spoken in Lily Rose Depp's voice, and the generator will do the rest. You can use this voice for various purposes, such as video narration, voice over, podcasts, and more.
By following a few simple steps, you can bring Lily Rose Depp voice to life in your projects and creative endeavors:
Step 1: Visit the TopMediai and navigate to the Text to Speech section.
Step 2: Select Lily Rose Depp AI Voice in the "Actors" Option.
Step 3: Input the desired text that you want Lily Rose Depp's voice to speak.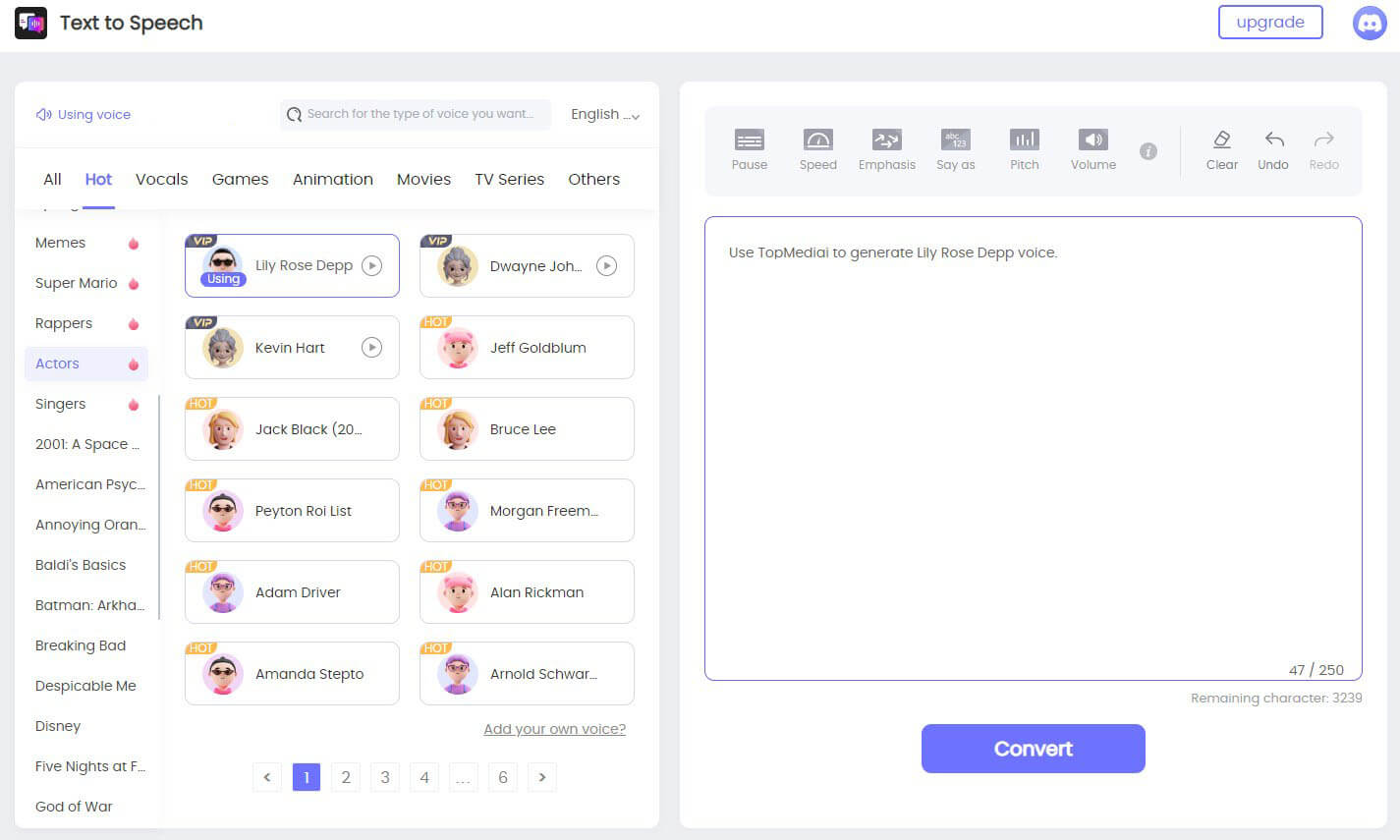 Step 4: Customize the voice parameters, such as speed and pitch, to match your preferences.
Step 5: Clicking the "Convert" button, an audio will be generated immediately, no need to wait.
Step 6: You can download the generated audio file and use it in your projects, voice over, or any other creative ventures.
Key Features:
User-Friendly Interface.
High-Quality Audio Output.
Multiple Applications available such as videos, podcasts, and presentations.
Accessibility and Affordability: TopMediai is accessible online and offers free options for generating AI voices.
Regular Updates: Stays up-to-date with the latest in AI voice generation.
Hot: The Idol Trailer is on the Air
"The Idol" is a drama television series created by Sam Levinson, Abel Tesfaye, and Reza Fahim, which release date is June 4, 2023, on HBO and this show has received criticism for its graphic sexual content and themes after being panned at the Cannes Film Festival in May 2023.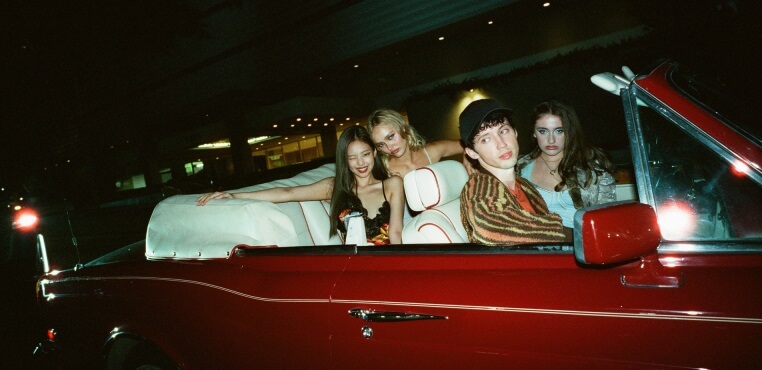 | Characters | Cast | Character Profile |
| --- | --- | --- |
| Jocelyn | Lily-Rose Depp | an up-and-coming young pop idol and Tedros' love interest |
| Tedros | The Weeknd | a self-help guru, lead a modern-day cult with a sordid and mysterious past |
| Benjamin | Dan Levy | Jocelyn's publicist |
| Xander | Troye Sivan | Jocelyn's creative director |
| Izaak | Moses Sumney | a follower of Tedros |
| Nikki Katz | Jane Adams | a record label executive |
| Dyanne | Jennie Kim | Jocelyn's backup dancer |
Part 4: FAQs about Lily Rose Depp Voice
1 What are the Popular Lily Rose Depp Movies and TV Shows?
Some of her popular movies include Tusk (2014), Yoga Hosers, and The King (2019).
2 What is the Song in the Trailer for The Idol?
Lily-Rose Depp, the talented actress in The Idol HBO series, showcases her musical abilities with the single "World Class Sinner." Specifically written for the show, Lily-Rose Depp herself takes on the role of the singer for this captivating song.
Conclusion The ability to generate Lily Rose Depp's AI voice through a voice generator offers an exciting opportunity for fans and content creators alike. Whether you want to add a touch of Lily Rose Depp's voice to your creative projects or simply enjoy hearing her speak, TopMediai Text to Speech voice generator provides a convenient and immersive experience.
Stay tuned for "The Idol" release and TopMediai, and immerse yourself in the voice and charm of Lily Rose Depp.