If you are a fan of Chance the Rapper, you might have wondered how cool it would be to have an AI voice of him. Thanks to advanced technology, you can now generate the voice of Chance the Rapper using AI voice generators.
In this article, we will introduce some information of Chance the Rapper and discuss the best AI voice generators that can make a realistic Chance the Rapper AI voice.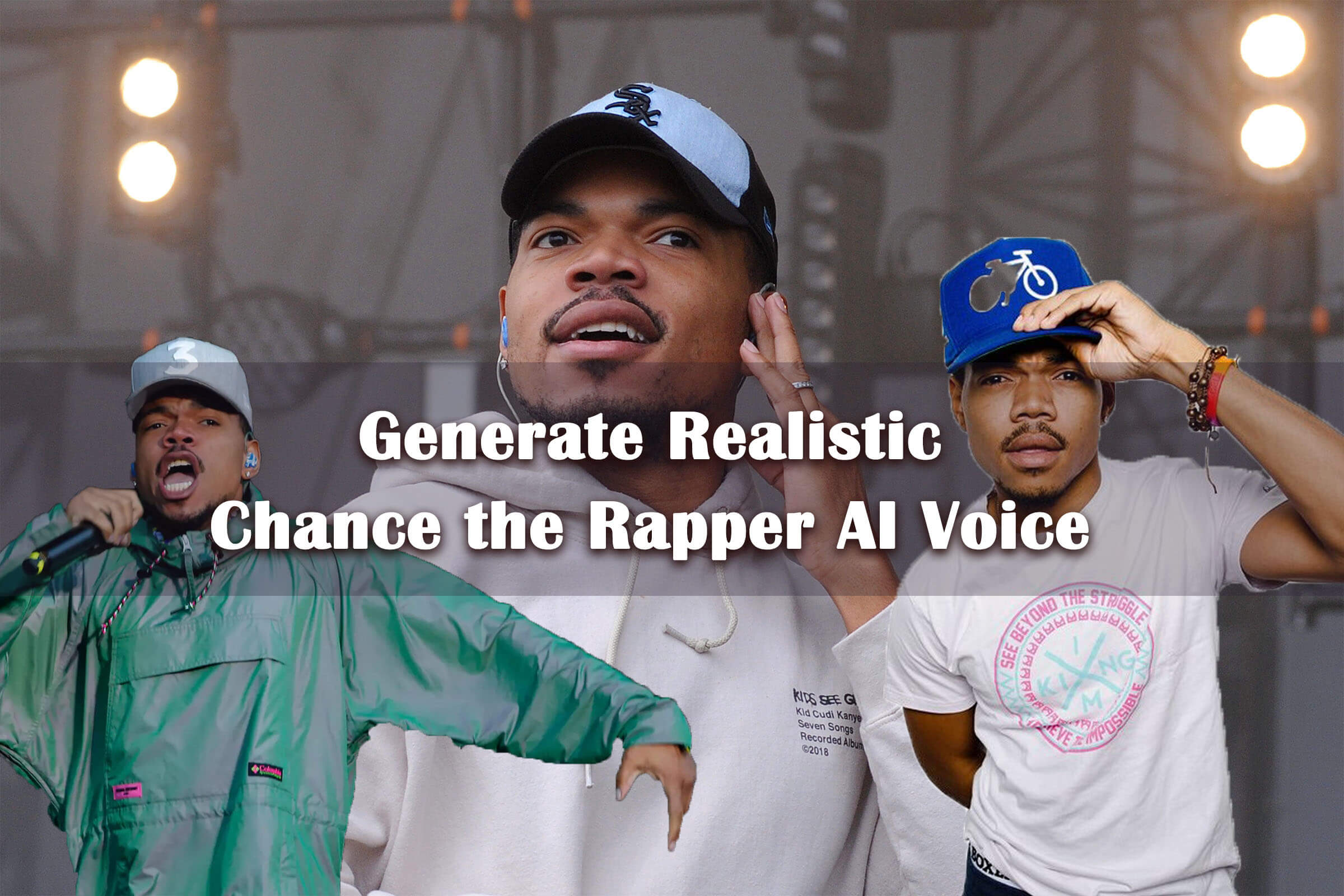 Part 1: Who is Chance the Rapper?
Chance the Rapper, whose real name is Chancelor Jonathan Bennett, is a famous American rapper, singer, songwriter, and record producer.
Chance gained recognition in the music industry with the release of his second mixtape "Acid Rap" in 2013, which received critical acclaim and was included in many year-end lists. He has a unique style that incorporates elements of gospel, soul, and jazz, making him stand out in the industry.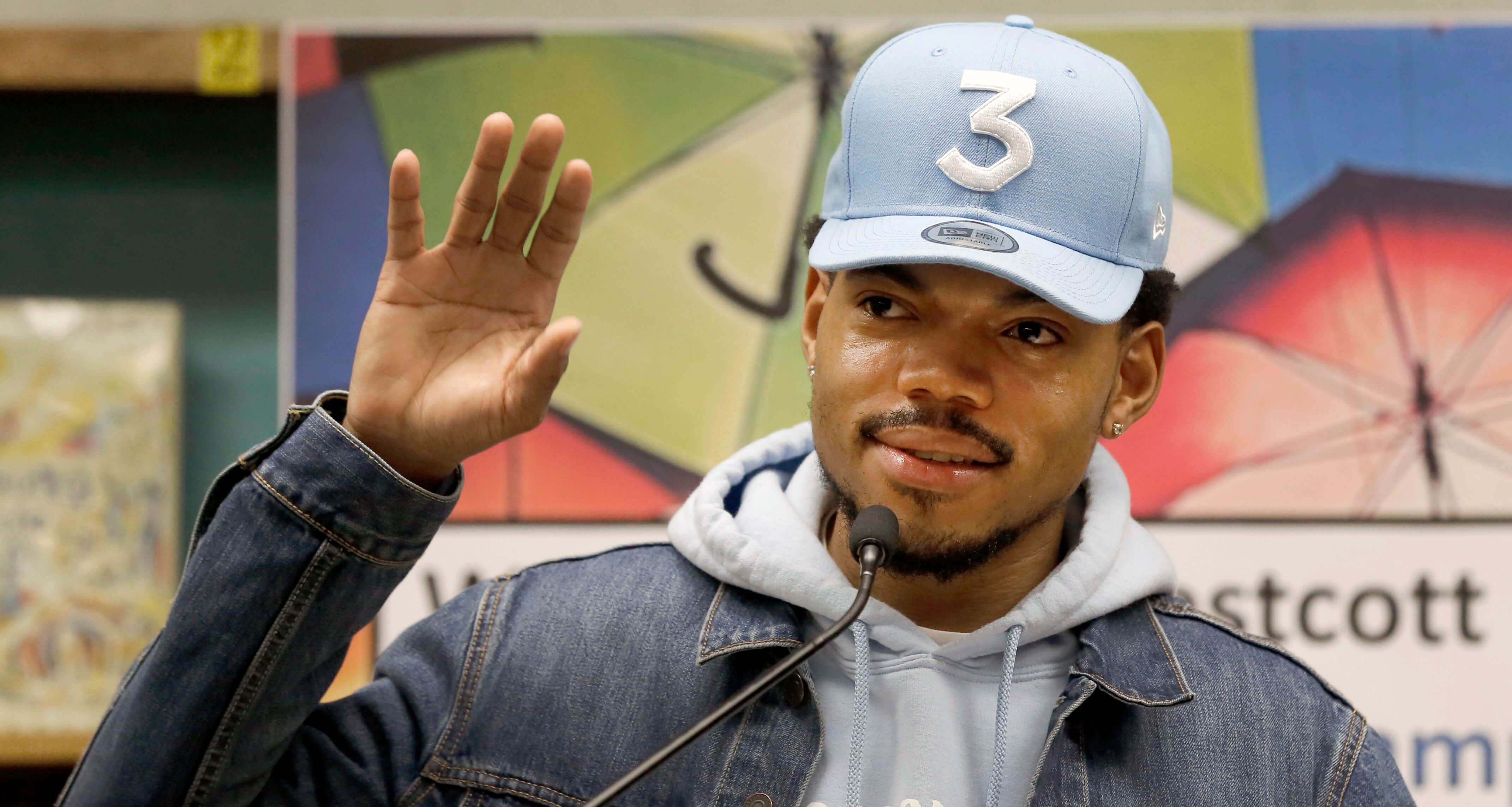 Chance has released several successful projects, including his third mixtape "Coloring Book," which was the first streaming-only album to win a Grammy Award.
Chance the Rapper is considered one of the most influential rappers of his generation and has left a significant impact on the music industry and beyond.
Part 2: Highly Recommended: Best AI Voice Generators Make Chance the Rapper Voice
Are you looking for a way to incorporate Chance the Rapper's famous quotes and phrases into your social media feeds or leave personalized audio messages for your loved ones? Look no further than TopMediai, an online text-to-speech service that can generate Chance the Rapper AI voice.
Whether you're creating political content, educational materials, or just having fun, Chance the Rapper Text to Speech can add a professional and engaging touch to your projects. With TopMediai, you can easily convert written text into high-quality audio that sounds like Chance the Rapper himself, allowing you to enhance your content and captivate your audience.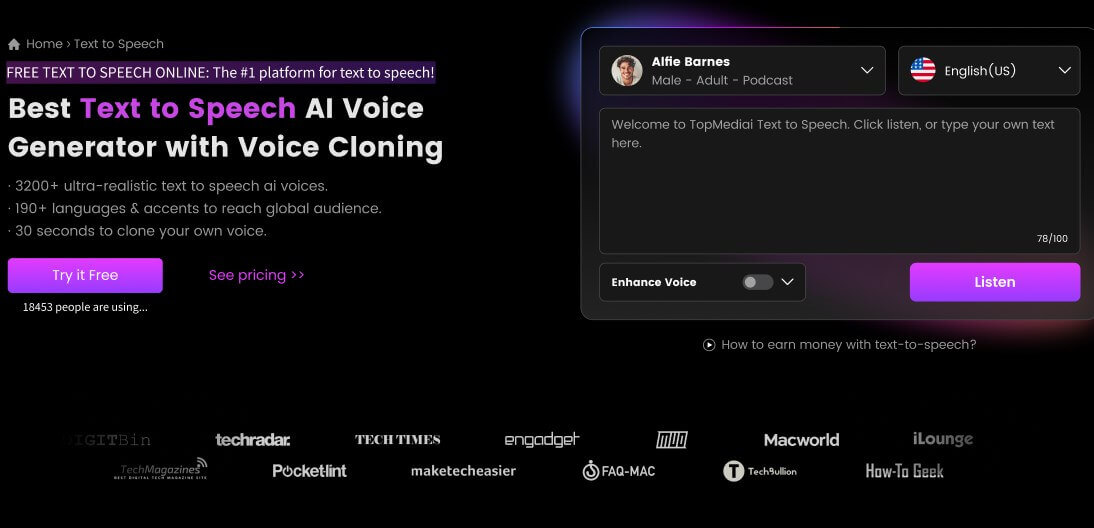 How to Use Chance the Rapper AI Voice Generator :
Step 1: Go to the TopMediai Text to Speech.
Step 2: Upload or copy-paste the text that you want to convert into speech.
Step 3: Choose Chance the Rapper Ai Voice in the rappers voice type .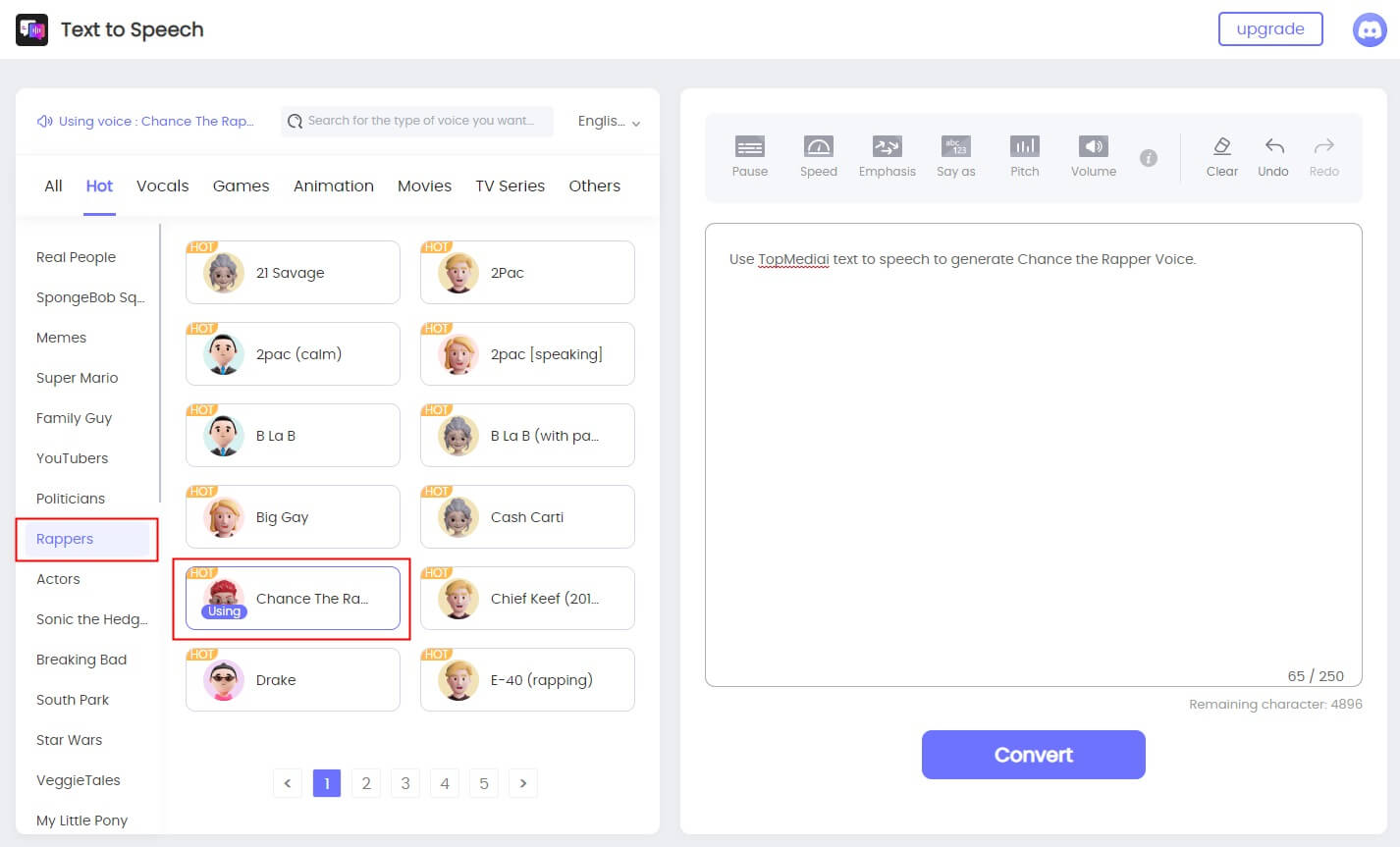 Step 4: Choose the language, voice, and other settings that you prefer.
Step 5: Download the final speech output as an audio file.
Key Features:
Many voiceover options, including president text to speech and memes.Along with rapper text to speech, it also provides you with rapper voice generator STT and TTS.
You can make text to speech voice with more than 70+ languages and 3200+ voices.
The speech speed and pitch are customizable.
Advanced AI algorithms for high quality output everytime.
70+ languages available to work with.
It help you make the ai voice of rappers with deep voice, Chance the Rapper, Kanye West, and Drake.
Pros
Other than rapper ai voices, you can also make characters ai voice as you like.

Customizable speech speed and pitch.

TopMediai does not require any installation.

A useful tool for various applications, such as podcasts, audiobooks.

Simple and easy steps for Joe Biden text to speech conversion.
Cons
You need an internet connection, which comes with an online-only tool.
Part 3: FAQs about Chance the Rapper Voice Generator
Finally, we come to the most asked online questions for Chance the Rapper Voice Generator.
1 What are some of the famous Chance the Rapper's songs?
He has released several hit songs throughout his career. Some of his most famous songs include: "No Problem", "Blessings", "Same Drugs", "Cocoa Butter Kisses", "Angels", "All Night".
2 What are the benefits of using Chance the Rapper voice generator online?
Platform independence: An online voice changer can be used on any device with an internet connection, regardless of the operating system or hardware.
No installation required: Online voice changers don't require any installation or download.
3 Can I use TopMediai to mix the voice of Chance the Rapper and other rappers?
Of course you can. TopMediai AI Voice Generator provides multiple rapper's voices, such as Kanye, Cardi B, etc. Just enter the voice of the rapper you want in the voice change interface and you can mix it easily.
conclusionTopMediai offers an amusing and enjoyable method for emulating the rapper's distinctive speaking style. Its advanced algorithms and state-of-the-art technology ensure the most authentic Chance the rapper text to speech experience for users.
If you're interested in trying to voice like Chance the rapper, give TopMediai text to speech tool a chance today and explore other AI voice generators for rappers.