Having access to a News Reporter Voice Generator can be a game-changer for you to generate a news reporter ai voice.

Whether you want to create a content, for marketer, or just someone looking to add a professional touch to your projects, now explore News Reporter ai voice with me.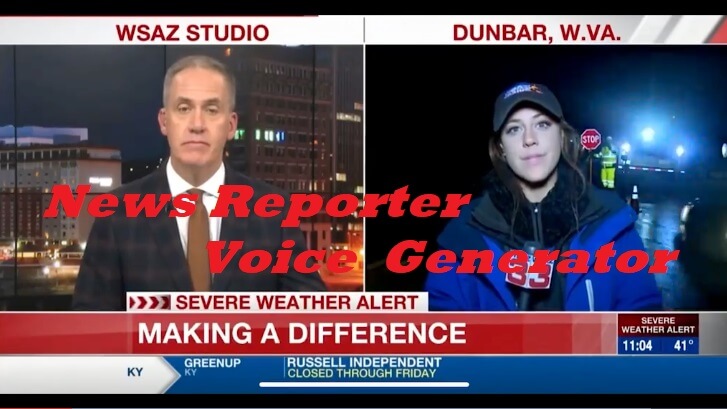 Part 1: 3 Best Online News Reporter Voice Generator [Available for All Browser]
When it comes to generating news reporter voice, there are several online tools available. Here are three of the best options:
Don't miss out! Before learning news reporter voice generator, why not try to generate news reporter voice for free now?

Text to Speech
3 Free Trials of The Selected Voice Below

News Reporter
Conversion failed.
Please check out if there are special characters or multiple languages in your text.
TopMediai text to speech stands out as a top-notch News Reporter Voice Generator. With its advanced AI algorithms, it can generate a news reporter's voice that's both natural and engaging. Whether you're creating podcasts, videos, or narrations, TopMediai provides a seamless experience. It's accessible directly from your browser, making it incredibly convenient.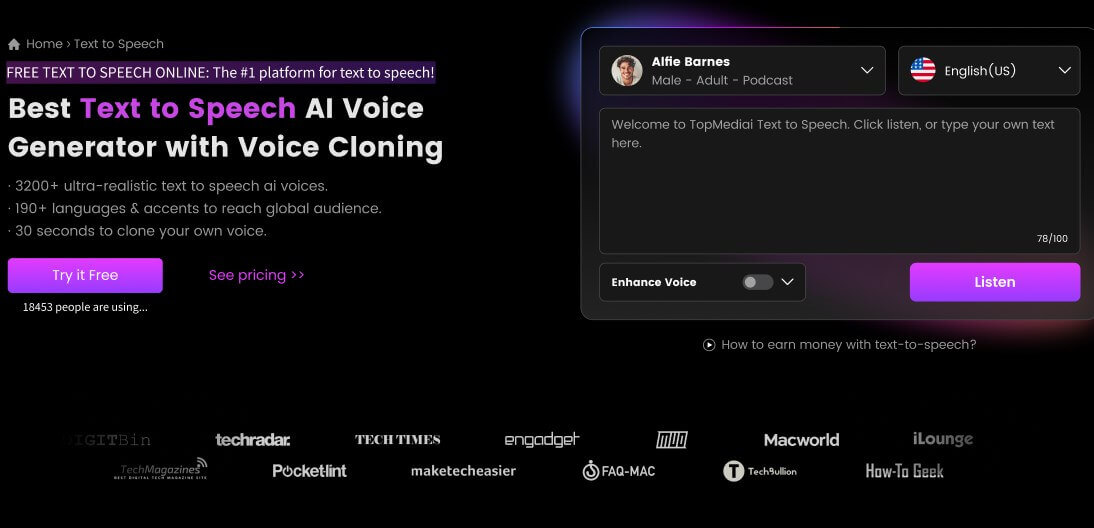 How to generate News Reporter AI Voice using TopMediai:
Step 1: Visit the TopMediai text to speech website.
Step 2: Input the text that you wish to transform into news reporter text-to-speech voice.
Step 3: Choose the voice that suits your video voiceover. You can directly search the name or find it in the Audiobook, Commercials, Documentary or Short video.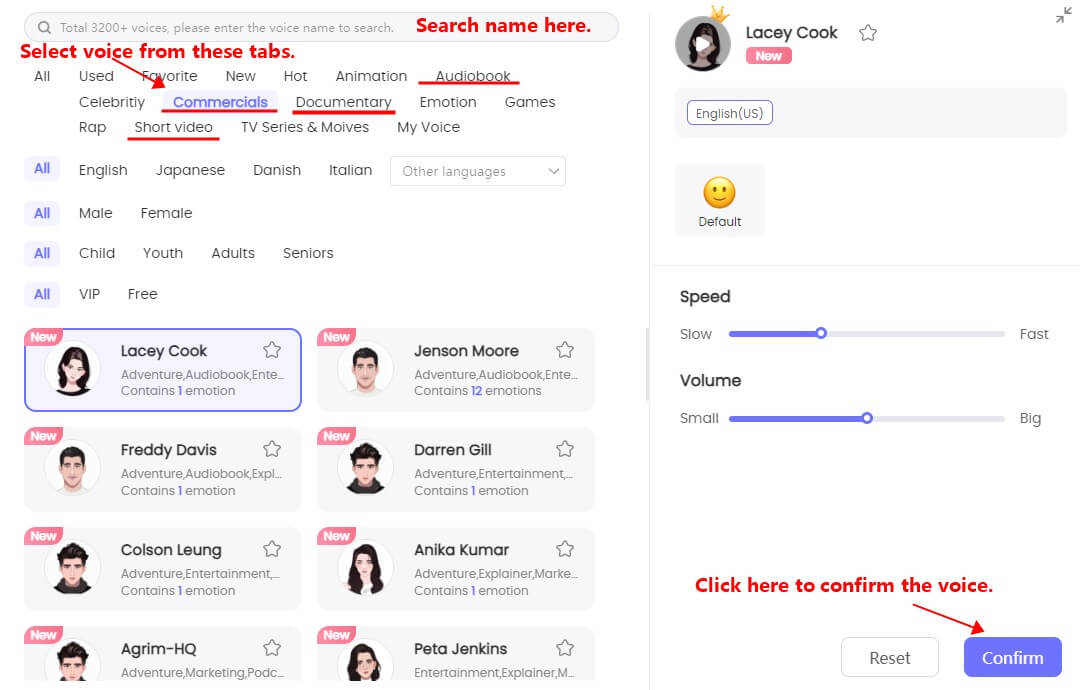 Step 4: When you are satisfied with the news reporter text-to-speech conversion, hit the Download button to save it in formats such as WAV.
Provides more than 3200 voices you can use on different platforms like tiktok and Youtube.
Over 70 languages you can access.
Allows users to customize speech speed, tone, volume, pitch, and say as.
Users can generate their own voice as different professions including singer, rapper, etc.
API access for developers.
Offers a range of superior quality voices that resemble those of humans.
You can export the news-like audio in different formats.
Pros
Natural sounding and realistic voices you will find.

Voice generation is within few seconds.

AI Voice Cloning.

User-friendly interface and simple steps to use.
Cons
You need to use it with good Internet connection.
Uberduck.ai is another noteworthy contender in the realm of News Reporter Voice Generators. This platform boasts an extensive range of voices, including convincing news reporter tones. Whether you need a voice for a video, podcast, or any other media project, UberDuck.ai has you covered with high-quality AI-generated voices.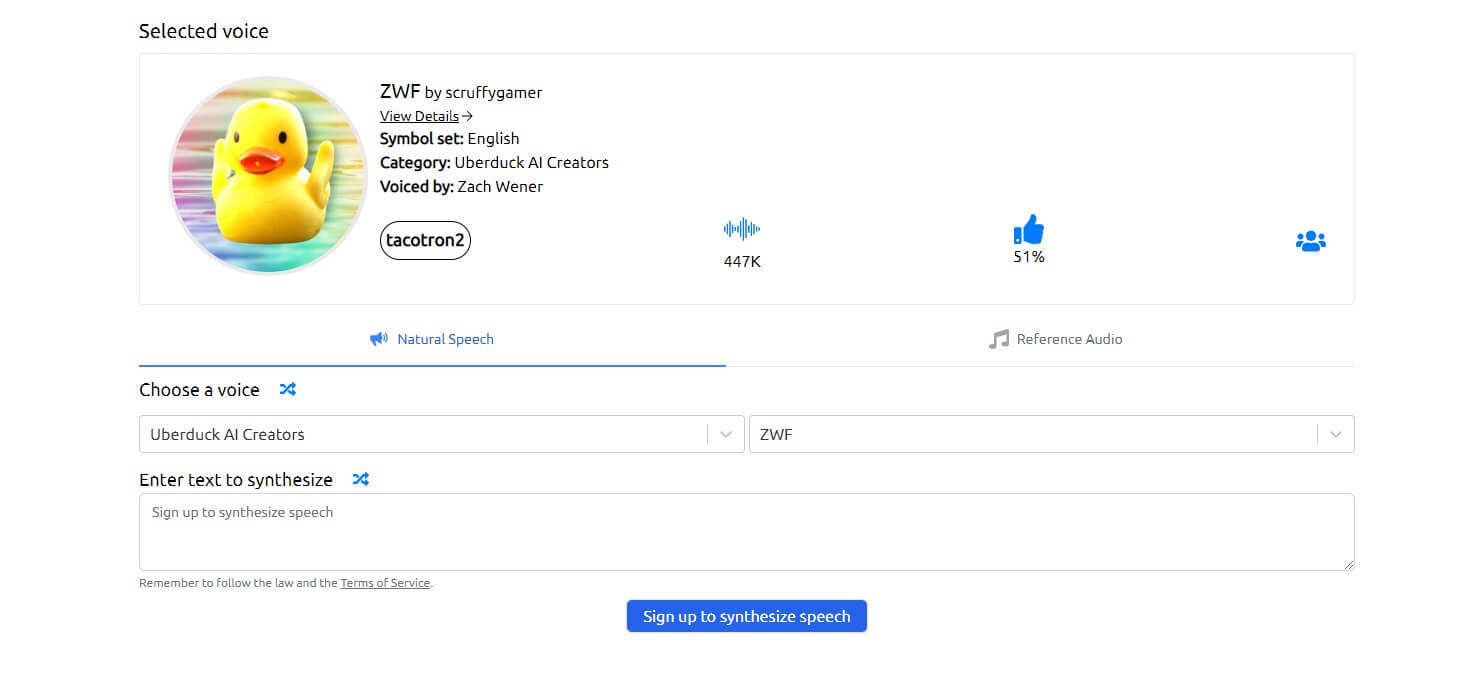 While the voice output quality is generally impressive, some users may find it overly robotic and difficult to understand when dealing with complex sentence structures or intricate topics.
The tool's interface is easy to navigate and allows for quick modifications as needed.
A subscription fee may be required to access some of the program's features.
The tool's interface is easy to navigate and allows for quick modifications as needed.
Don't let the name fool you; Fake You is a serious player in the News Reporter Voice Generator arena. This versatile tool offers a unique twist by allowing users to customize the delivery style of their news reporter voiceovers. With a few clicks, you can adjust the tone, pitch, and pacing to match your specific needs.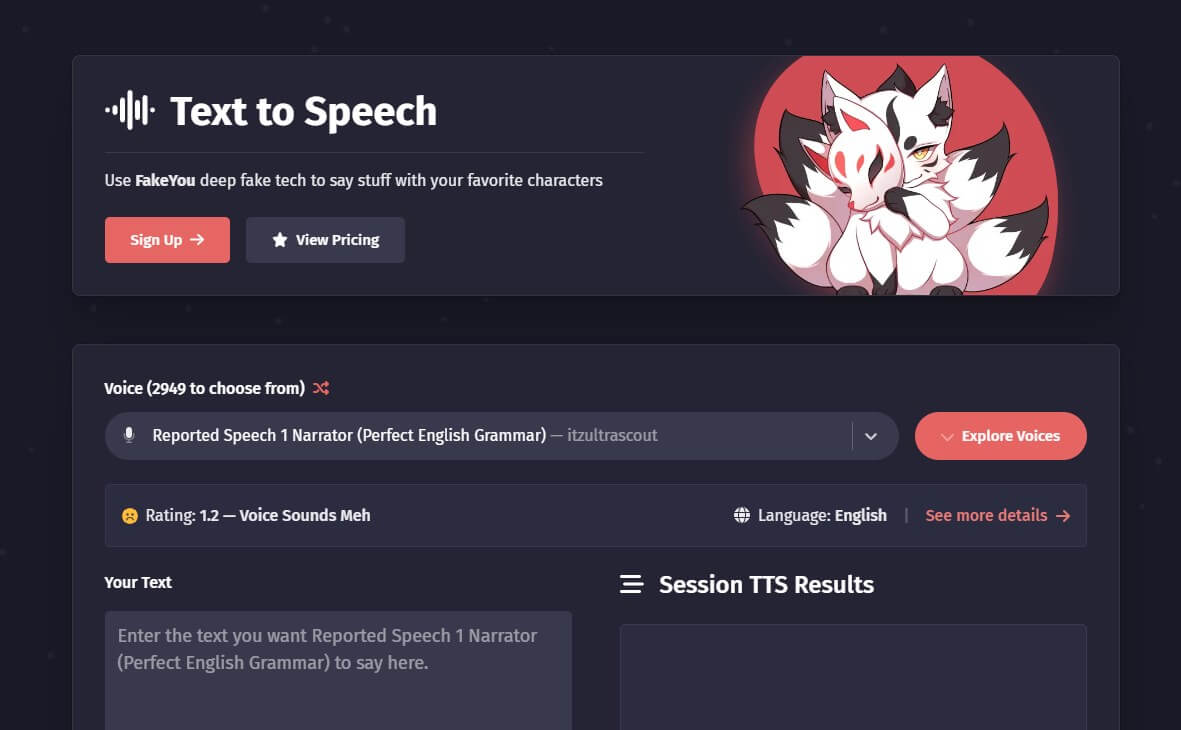 It has a vast library of up to 3439 diverse voices and sounds.
It supports text conversion in multiple languages.
No technical knowledge is required.
Part 2: Recommended: Newscaster Text to Speech on PC
1

iMyfone VoxBox

While online tools are fantastic for quick voiceovers, for more extensive projects and customization, consider using Newscaster Text to Speech software on your PC.

One notable option is iMyfone VoxBox, which provides extensive control over voice modulation and allows you to fine-tune the voice to your liking. This is particularly useful for those who require precise control over the tone and delivery of their news content.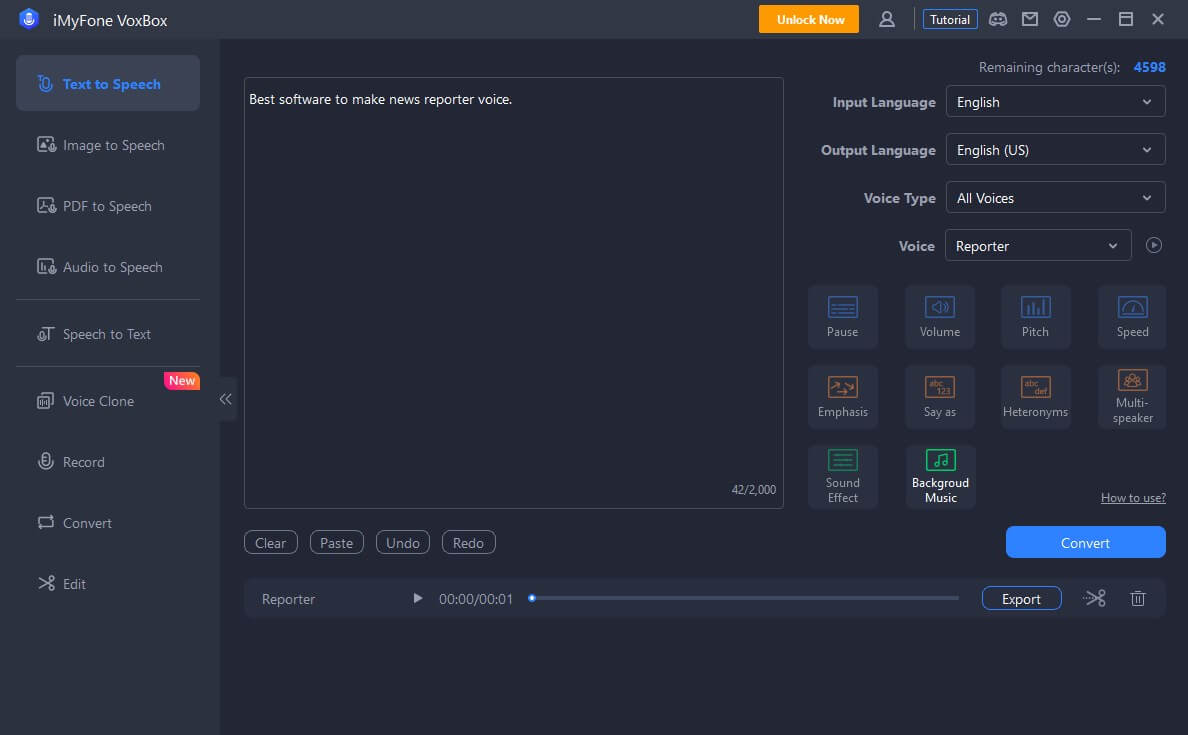 A wide selection of over 3200+ voice effects and 46+ languages.
Multiple functions like text-to-speech, speech-to-text,voice record, video convert, etc.
100+ country accents you can change.
Supported adjust parameters such as Speed, Volume, Pitch, Pause,Emphasis, etc.
Price Comparison:
| Pricing&Licenses | TopMediai Text to Speech | Uberduck | Fakeyou | |
| --- | --- | --- | --- | --- |
| Monthly | $12.99 | $9.99 | $25 | |
| Per Day | $0.43 | $0.33 | $0.83 | |
| Available Voices | 3200+ | 2500 | 2400 | |
| Free words | 2000 | 2500 | unknown | |
| Other Licenses | AI Voice Cloning | Commercial Use | Video Lip Sync | |
Part 3: What can I Use News Reporter's Voice For?
Podcasts: Create engaging and professional-sounding podcasts.
Video Narration: Enhance your videos with news reporter-style voiceovers.
Content Creation: Generate audio content for your blogs or articles.
Presentations: Make your presentations more captivating with lifelike voices.
Entertainment: Have fun experimenting with AI-generated voices in various creative projects.
Part 4: FAQs about News Reporter AI Voice Generator
1What is a news reporter AI voice generator?
A news reporter voice generator is a software or tool that utilizes text-to-speech technology to produce voices that sound like professional news reporters or anchors.
2Can news reporter voice generators produce different accents?
Yes, some news reporter voice generators offer a range of accent options to choose from, such as British, American, Australian, or Indian.
3Are news reporter voice generators free to use?
Some news reporter voice generators like TopMediai may be free to use, but many require a subscription or payment to access all features and options. It is advisable to check the terms and conditions before using any such tool or software.
Conclusion The ability to infuse your projects with a polished news reporter-style narration is now easily attainable with TopMediai text to speech. So, don't hesitate to step into the shoes of a news reporter ai voice and elevate your content to new heights.

Your audience will thank you for the engaging and authoritative news reporter voice you bring to your work.