Text-to-speech technology is an innovative solution that allows individuals with visual impairments or reading and writing difficulties to listen to AI voices instead of exerting the effort to read.

In this article, we will introduce TOP News Reporter Voice Generator and Newscaster text to speech tools with a step-by-step guide.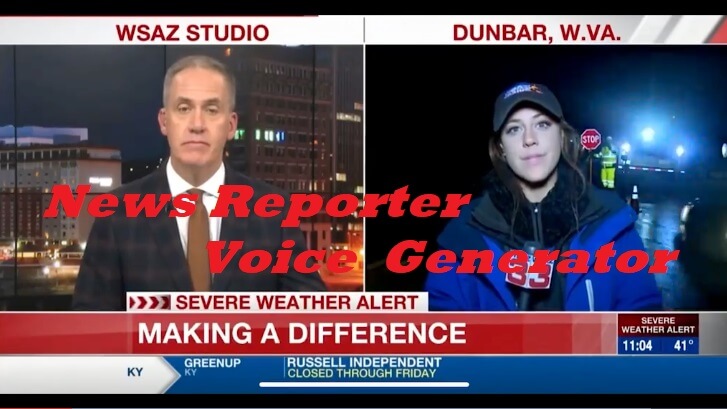 Part 1: 3 Best Online News Reporter Voice Generator
Here are several online news reporter text to speech generators suggested for you, and you will find the most suitable one to become a news reporter!
TopMediai text to speech is a widely recognized online service that utilizes sophisticated AI technology to produce top-notch news reporter voice based on textual input. Its news-like recordings are remarkably realistic, making it challenging to differentiate them from genuine the voice of news reporter.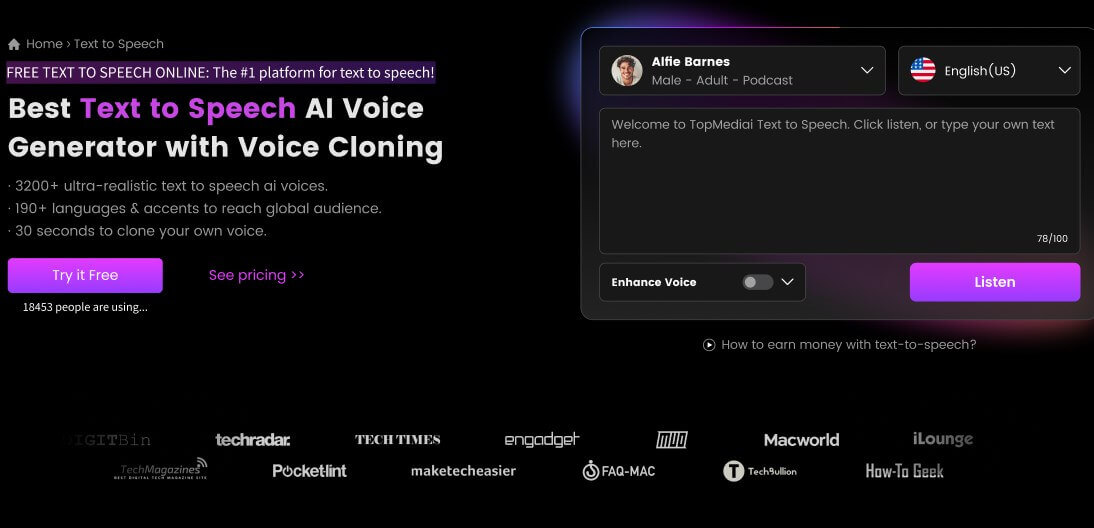 How to generate News Reporter AI Voice using TopMediai:
Step 1: Visit the TopMediai online website.
Step 2: Input the text that you wish to transform into news reporter text-to-speech voice.
Step 3: Select the news reporter voice filter from the provided list, and customize the audio. Then, click on the convert button.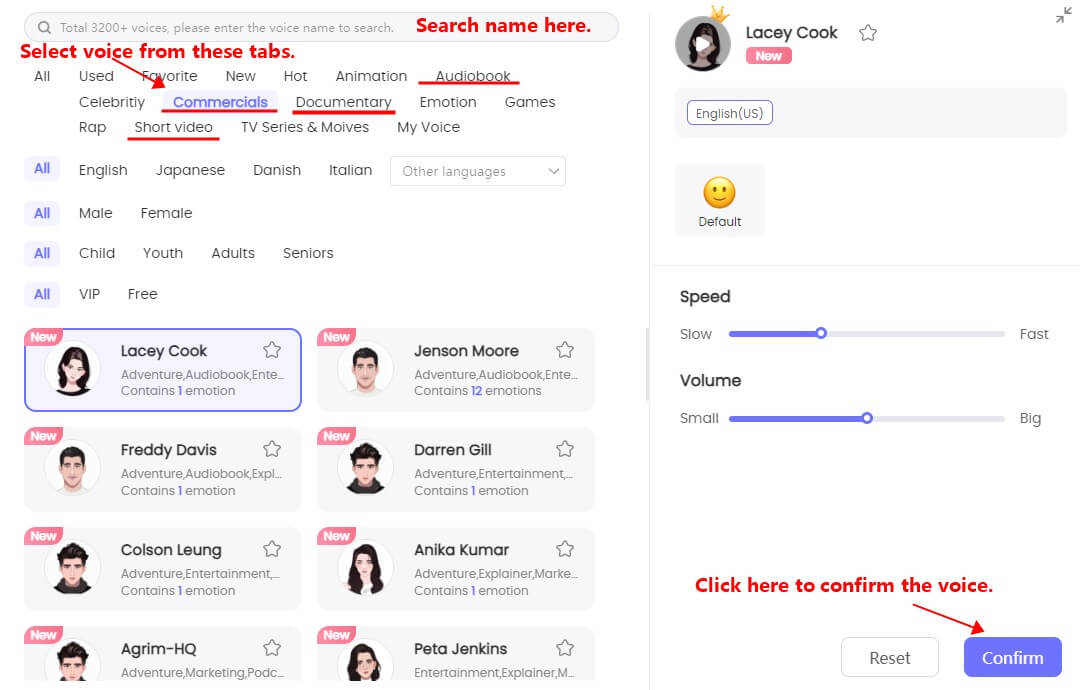 Step 4: When you are satisfied with the news reporter text-to-speech conversion, hit the Download button to save it in various formats such as MP3 or WAV.
Features:
Provides more than 3200 voices you can use on different platforms like TikTok.
Over 70 languages you can access.
Allows users to customize speech speed, tone, volume, pitch, and say as.
Users can generate their own voice as different professions including singer, rapper, etc.
The text-to-speech conversion is extremely fluent.
Offers a range of superior quality voices that resemble those of humans.
You can export the news-like audio in different formats.
Pros
Natural sounding and realistic voices you will find.

Voice generation is within few seconds.

User-friendly interface and simple steps to use.
Cons
You need to use it with good Internet connection.
Uberduck.ai provides a complete text-to-speech news reporter voice generator that covers a broad spectrum of languages. Moreover, it empowers users with the freedom to customize various elements of the produced speech, such as velocity, intonation, frequency, and modulation, with exceptional accuracy.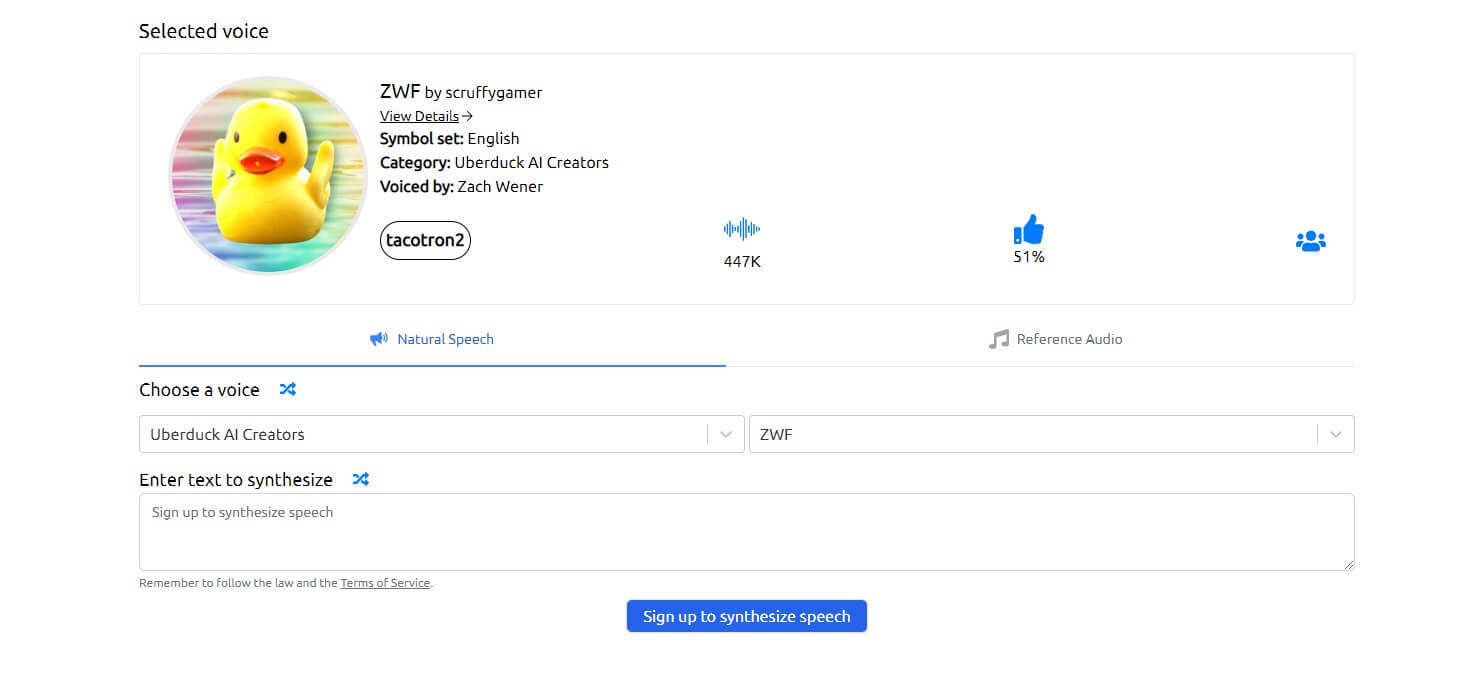 Features:
The tool's interface is easy to navigate and allows for quick modifications as needed.
The audio output generated by the voice generator is of exceptional quality
A subscription fee may be required to access some of the program's features.
While the voice output quality is generally impressive, some users may find it overly robotic and difficult to understand when dealing with complex sentence structures or intricate topics.
Fake You is an internet-based voice generation tool that specializes in creating various voices. It operates using machine learning technology and can carry out tasks instantly with just a single click. With Fake You, users can generate a variety of voices, including those of news reporter, musicians, celebrities, and character sounds.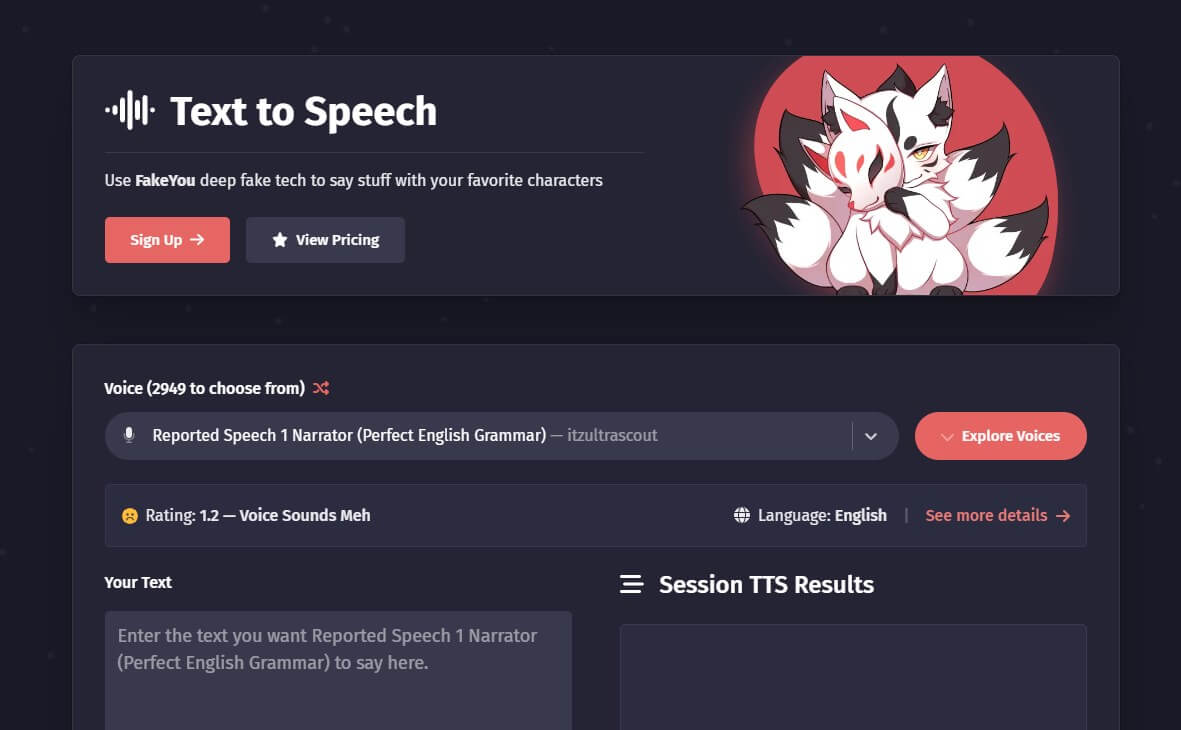 Features:
It has a vast library of up to 2400 diverse voices and sounds.
It supports text conversion in multiple languages.
No technical knowledge is required.
Part 2: Recommended: Newscaster Text to Speech on PC
3. iMyfone VoxBox
One significant benefit of utilizing Voxbox is that it allows users to effortlessly create news-like audios that possess a professional-quality sound, regardless of their proficiency in news reporting or singing.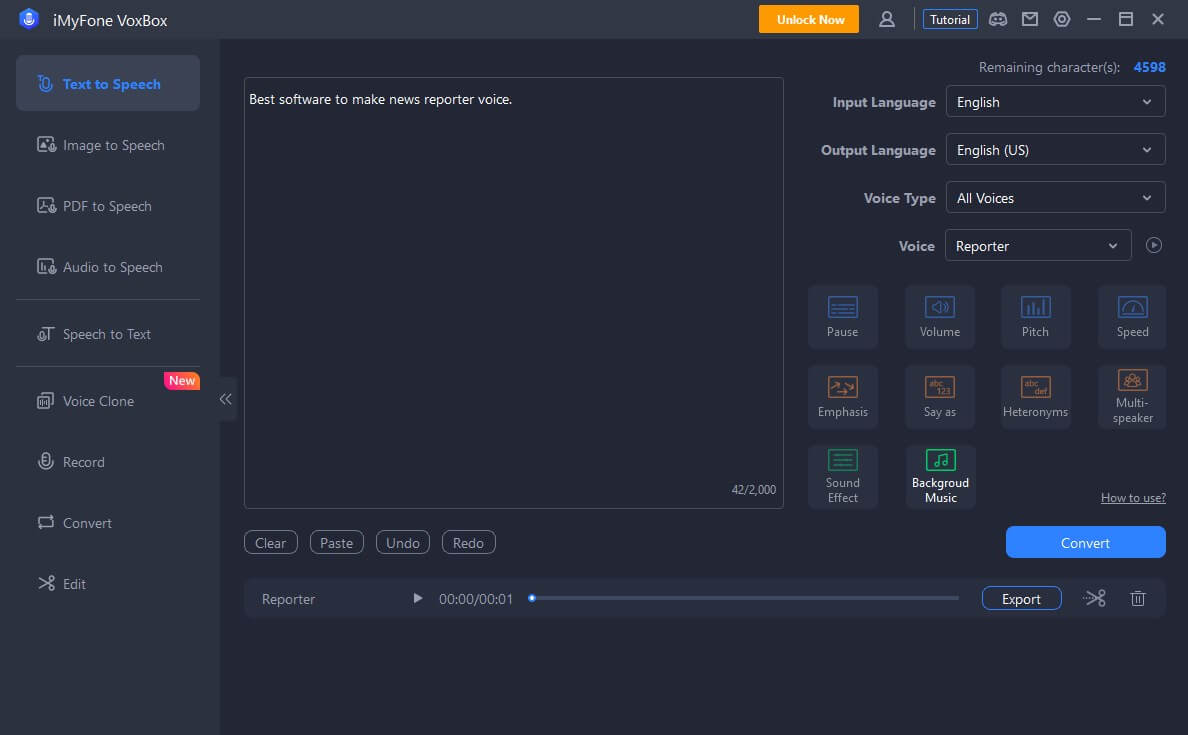 Features:
A wide selection of over 3200+ voice effects and 46+ languages.
100+ country accents you can change.
Multiple functions like text-to-speech, speech-to-text,voice record, video convert, etc.
Supported adjust parameters such as Speed, Volume, Pitch, Pause,Emphasis, etc.
Part 3: FAQs about News Reporter AI Voice Generator
1What is a news reporter AI voice generator?
A news reporter voice generator is a software or tool that utilizes text-to-speech technology to produce voices that sound like professional news reporters or anchors.
2Can news reporter voice generators produce different accents?
Yes, some news reporter voice generators offer a range of accent options to choose from, such as British, American, Australian, or Indian.
3Are news reporter voice generators free to use?
Some news reporter voice generators like TopMediai may be free to use, but many require a subscription or payment to access all features and options. It is advisable to check the terms and conditions before using any such tool or software.
Conclusion Whether you require a professional voice generator to create a realistic news reporter AI voice or simply want to add a voiceover to your video, TopMediai is the ideal choice.

As we previously mentioned, it can generate multiple natural voiceovers and global languages. Don't hesitate any longer - Try to use the News Reporter voice generator - TopMediai for free now.