Voice actors play a crucial role in bringing life to animated characters, commercials, audiobooks, and various other media projects. Are you tired of spending hours trying to find the perfect voice actor for your project? Fortunately, the development of AI voice actor generators offering a cost-effective and efficient solution.
In this article, we will explore the benefits and possibilities of leveraging a free AI voice actor generator to create outstanding audio and video works.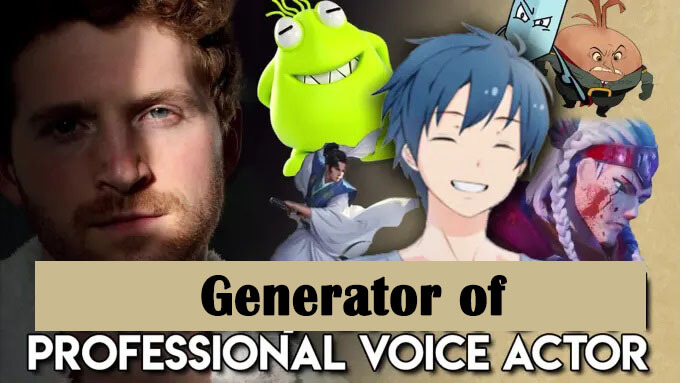 Part 1: What is AI Voice Actor Generator?
An AI voice actor generator is a revolutionary tool that utilizes artificial intelligence algorithms to replicate the voices of human voice actors. It employs deep learning techniques to analyze and mimic the nuances, intonations, and speech patterns of various individuals, resulting in remarkably realistic voice outputs.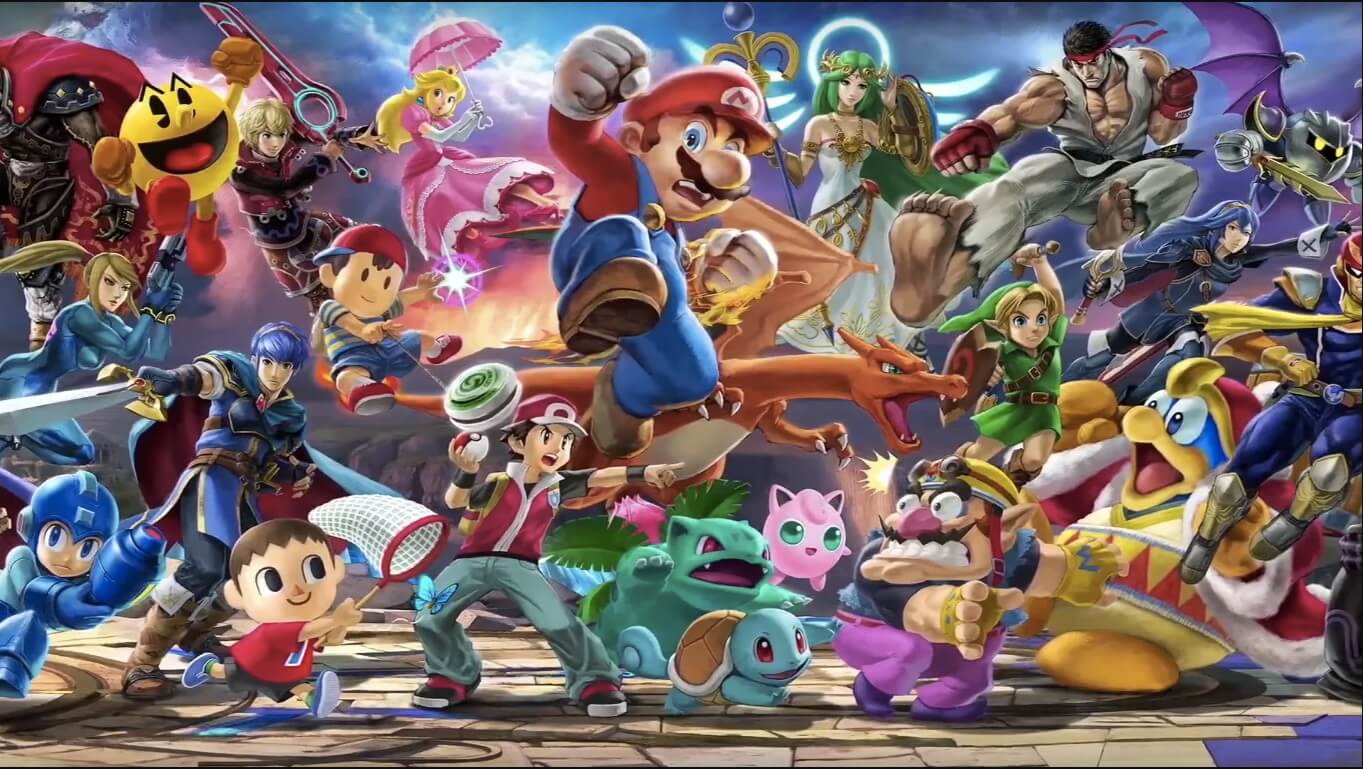 By inputting text into the generator, users can obtain high-quality voice recordings in different languages, tones, and styles. Voice actors are not only found in cartoons and anime, but also in games, movies and TV shows, and many other fields.
Part 2: How to Create Wonderful Audio/Video Works with AI Voice Actor Generator?
TopMediai is a renowned provider of AI voice actor generators, offering a comprehensive platform for creators to generate high-quality voiceovers for their audio and video projects.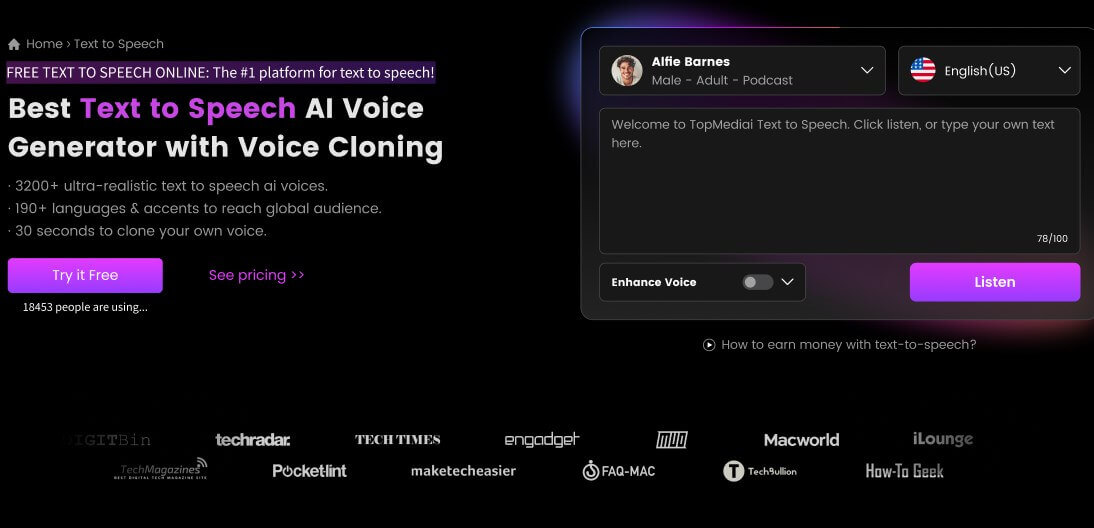 TopMediai offers a versatile platform for creating top-notch audio content, including videos, podcasts, audiobooks, and more. The tool boasts an extensive library of voices, including popular characters like Goku and Spongebob, which adds a unique and entertaining flair to your audio projects.
How to Use TopMediai AI Voice Actor Generator:
Step 1: Go to the TopMediai Text to Speech.
Step 2: Upload or copy-paste the text that you want to convert into speech.
Step 3: Choose An Actor you want in the Typing Box.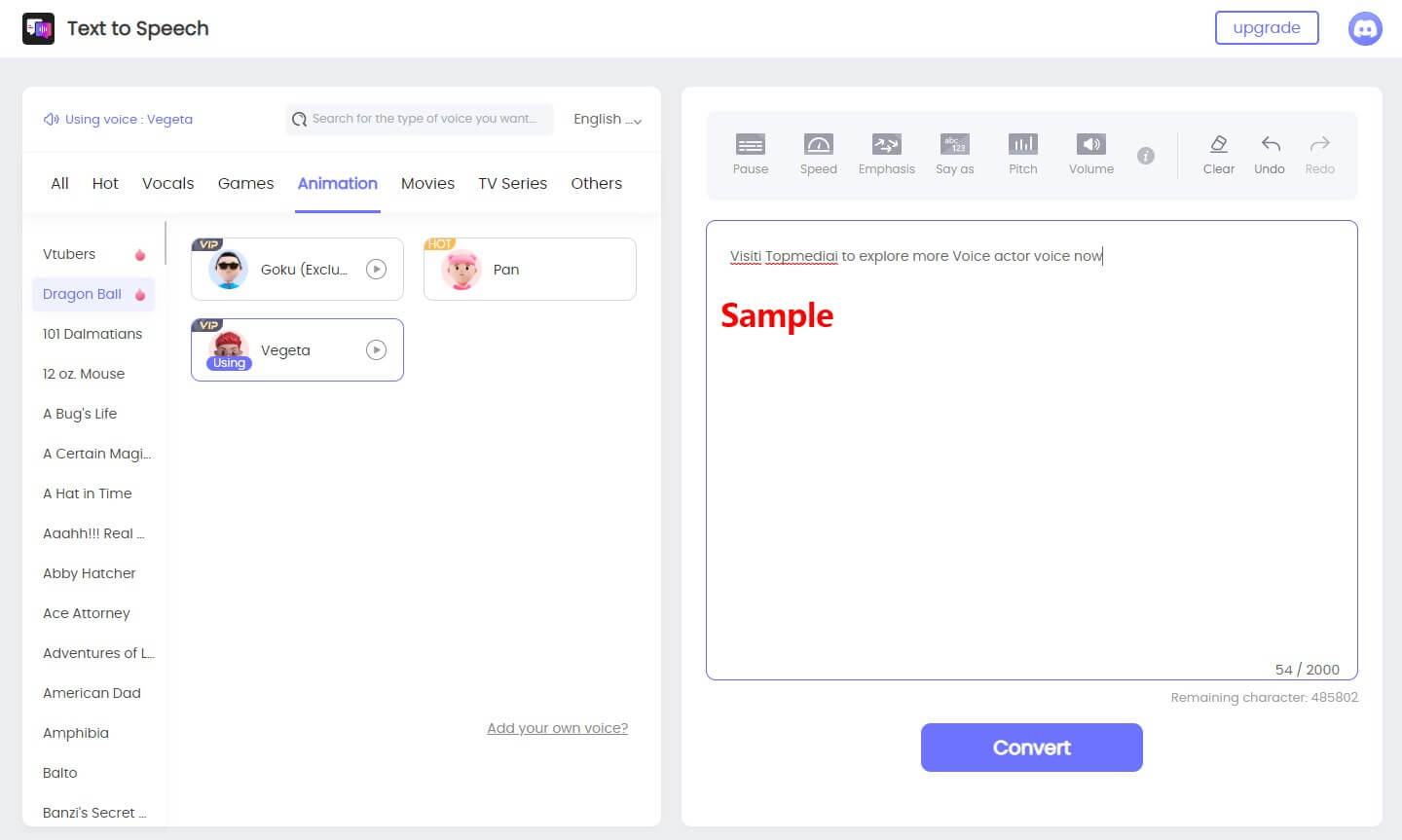 Step 4: Choose the language, voice, and other settings that you prefer.
Step 5: Download the final speech output as an audio file.
Pros
Extensive Voice & Language Options: Offers 3200+ voices and supports 70+ languages for diverse project requirements.

Advanced AI Technology: Utilizes cutting-edge AI technology to create realistic and expressive voice recordings resembling human voice actors.

Customer Support: TopMediai offers reliable customer support to assist users with inquiries or technical issues, ensuring a smooth experience.

User-Friendly Interface: Has a user-friendly interface for easy navigation and quick voice generation, suitable for beginners and experienced creators.

Quality Assurance: Ensures high-quality voice recordings through rigorous testing and quality assurance measures.

Integration and Download Options: Creators can seamlessly download voiceovers in popular formats like MP3 or WAV, allowing easy integration into editing software or platforms.
Cons
Need to sign up before converting.
Voicify offers a wide range of voice effects and filters, allowing users to sound like different characters or add funny effects to their voice in real time. It's commonly used by gamers, content creators, and people who want to have fun with their voice during online interactions.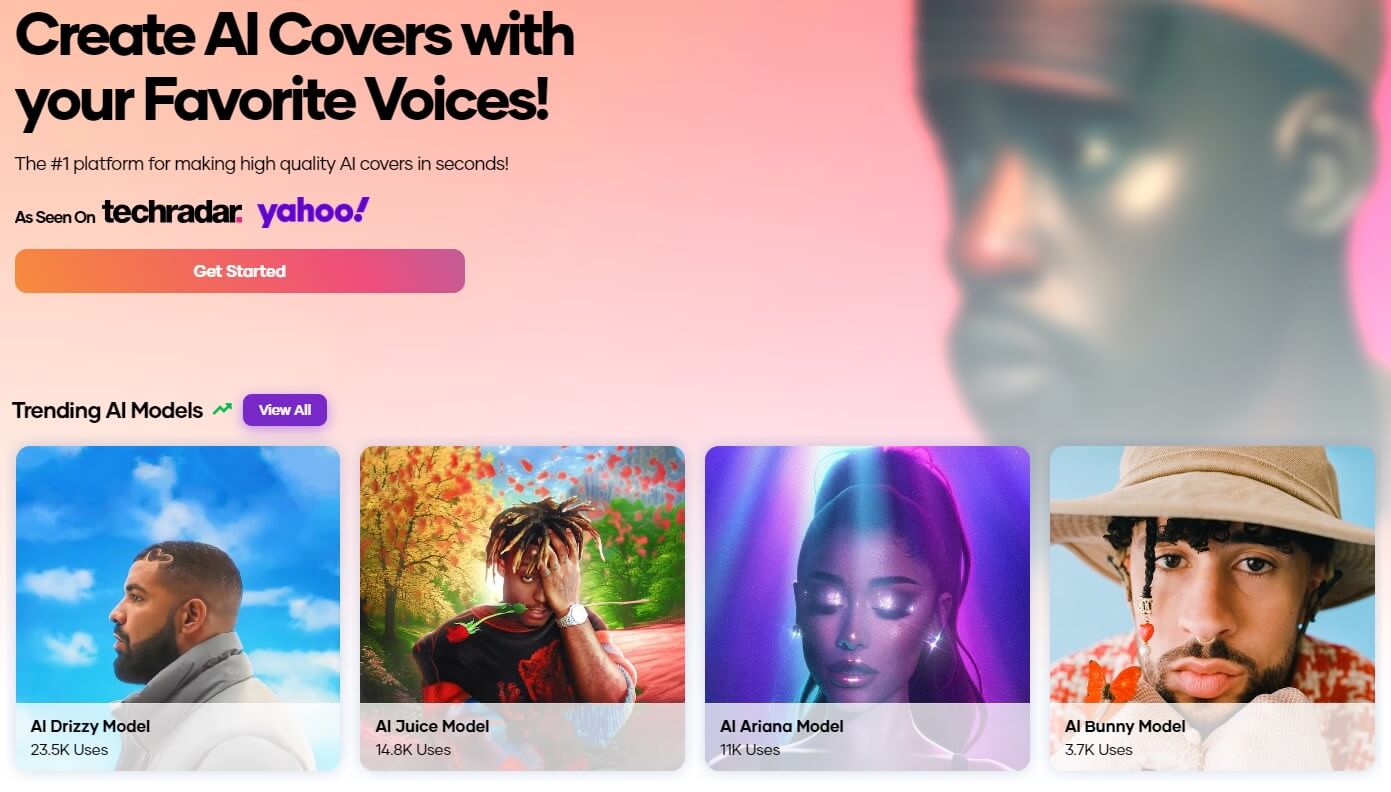 Pros
Cost-effective: Voice actor generators are cheaper than hiring professionals, ideal for budget constraints.

Consistent: Voice actor generators provide uniform quality and tone for brand image.

Time-saving: AI-generated voiceovers save time, freeing you for other project tasks.
Cons
the desktop version of this tool is not available.

May not be suitable for every project, as some may require a specific voice or tone that cannot be replicated by a generator.

Quality may vary depending on the generator used and the level of customization available.
Part 3: Some of the most popular voice actors
Frank Welker
Scooby-Doo (Fred Jones)

Garfield (Garfield and Friends)
Tom Kenny:
SpongeBob SquarePants (SpongeBob SquarePants)

Ice King (Adventure Time)
Kevin Conroy
Batman (Batman: The Animated Series)

Thomas Wayne (Flashpoint Paradox)
Mark Hamill
The Joker (Batman: The Animated Series)

Luke Skywalker (Star Wars: The Clone Wars)
Conclusion
The TopMediai AI Voice Actor Generator is a game-changer for anyone looking to create high-quality audio and video works. With its ease of use and variety of voice options, it's no wonder that more and more people are turning to this tool for their voice over needs.
Give it a try and see how it can take your projects to the next level.